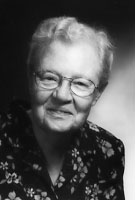 Sister Muriel Vollmer, MM
Born: July 5, 1925
Entered: September 6, 1947
Died: October 18, 2007
Early on the morning of October 18, 2007 at 12:15 AM, Sister Muriel Vollmer's spirit gently and peacefully flowed into the full embrace of her beloved God. Our sisters had been keeping a prayer vigil with Muriel as she steadily declined but it was Sister Noel Devine who was present with her at the sacred moment of her passing. Muriel was 82 years of age and a Maryknoll Sister for 60 years.
Muriel V. Vollmer was born July 5, 1925 in Stratford, Ontario, Canada, to the late Matilda and Anthony Joseph Vollmer. She was the eldest of five sisters and one brother. Muriel attended Immaculate Conception Grammar School and graduated in 1943 from Loretta Academy, both in Stratford. She then attended St. Joseph's Hospital School of Nursing in Guelph, Ontario, graduating in 1946. Muriel worked in St. Joseph's Hospital, Sarnia, Ontario until she entered Maryknoll on September 6, 1947 at Maryknoll, N.Y. At Reception, Muriel received the name Sister Mary Joseph Anthony in honor of her father. She made her First Profession of Vows at Maryknoll on March 7, 1950.
Following her Profession, Muriel was assigned to the Maryknoll Sisters' first venture in a large government hospital in Sri Lanka, then known as Ceylon. It was here that she pronounced her Final Vows on March 7, 1953. As nursing supervisor in the pediatric and maternity wards, Muriel was capable and efficient, but she was also a beloved presence among the staff and the 60 little ones who were sick. Sister Madeline Dorsey shares that the presence of the sisters within this Buddhist country was specifically of a professional nature with no provision for proselytizing — and so it was a great challenge to reflect Christ's love through actions rooted in loving kindness. When the country became intensely nationalized, the religious sisters were gradually invited to leave. By this time Muriel had prepared local nurses to take over the wards for which she was responsible.
In 1960, Muriel was assigned to Tanzania, East Africa. In preparation for her work in Africa, she took a course in midwifery at Our Lady of Lourdes Hospital in Drogheda, County Louth, Eire, and graduated as a certified midwife in 1962. Muriel worked over twelve years in Tanzania, in Nassa, Kowak, Mipa, Shinyanga and Sayu Sayu in safari clinics and maternity centers. In each of her mission stations she trained local people to take over. Her work in Tanzania was interrupted for a year in 1968, when the foundations were laid for a hospital in Mombasa, Kenya. Muriel was involved in this foundation with Sisters Lucia Yu, Noel Doescher and Paula Marie Kuntz. After leaving Africa, Muriel worked in the Residential Care Facility at Bethany, Maryknoll, New York from 1975 to 1976.
Muriel was assigned to the Contemplative Community on January 1, 1976. She lived, prayed and worked within the Cloister building at Maryknoll until 1990, when she and Sister Rachel Lauze began a contemplative presence in Udon Thani, Northeast Thailand. Muriel served in this prayer presence, open to dialogue and sharing, giving prayerful support to the Diocese of Udon Thani and the Maryknoll missioners in Thailand. Muriel's training in spiritual direction also enabled her to accompany many of the missioners on their faith journey. She remained in Udon Thani until 1994, when she returned to New York.
At the Contemplative Community Assembly in 1999 the decision was made to leave the large Cloister building on the hill and move to the Chalet. Muriel's wisdom and generosity were integral to this lengthy process. In 2000 she moved to the Chalet with Sisters Consuela Torrecer, Marion Phillips and Grace Myerjack and participated fully in the formative experiences of this smaller community. In 2002 Muriel was assigned to the Eden Community. This transition drew from Muriel a greater depth of personal faith, acceptance and loving surrender.
There is no doubt that Muriel was a woman of profound faith and compassion. Her entire Maryknoll life had been an expression of great sensitivity to the physical and emotional needs of others. As a member of the Contemplative Community she practiced a form of meditation rooted in the steady recitation of one particular mantra. This she learned from Father John Main, Benedictine, and this she faithfully executed in the name of all her sisters and brothers. In this practice she found a place of Universal Love and Communion within herself. In these past few years, as her physical condition declined, the sisters of the Contemplative Community experienced a peace within Muriel that transcended her suffering. It seemed as though her personal mantra "Maranatha" "Come Christ Jesus" had penetrated to her depth and she lived in a realm that was indeed Christ's coming. What greater mission could there be!
Our eternal thanks go to each person who cared for and about Muriel within the Eden Community. And our profound sympathy embraces each of Muriel's family members.  We extend a heartfelt welcome to our brother and companion in mission, Father Michael Duggan,MM, who is our celebrant for this Liturgy of Christian Burial.