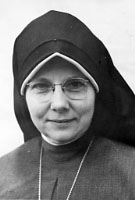 Sister Nancy Bone, MM
Born: October 20, 1911
Entered: December 23, 1930
Died: April 2, 1990
We are gathered here once again as a community to celebrate a Liturgy of Resurrection for one of our Sisters who has entered into the fullness of life. Sister Nancy Bone's 60 years as a Maryknoll Sister ended early on the morning of April 2 in our Maryknoll Nursing Home.
About three weeks previously Sister Nancy found that she had a very short time to live, a fact she understood and accepted with the same evenness of disposition evidenced throughout her life. It was an unusually warm day, full of promise and renewal, so the Sister driving the car rolled down the windows and took the long way home through the grounds of Bethany and the Seminary to enjoy the crocuses and forsythia, knowing that it would probably be the last time Nancy would experience the signs of spring this side of heaven. She expressed her gratitude for this kindness as she did for all the gentle care received from the Nursing Home Staff. With an innate refinement she was uncomplaining and soft spoken until the end of Monday morning.
Nancy Eleanor Bone was born on October 20, 1911 to Anna Browne and Robert David Bone in Kansas City, Missouri. Nancy was just eight years old when her mother died, so arrangements were made for her to live with her Aunt Elisia Browne. The deep relationship that grew between them motivated some of Nancy's significant decisions throughout life, including her entrance into the Congregation of the Sisters of St. Joseph of Corondolet in St. Louis rather than Maryknoll, where she had originally applied. She wanted to be near Aunt Elisia. However, less than two months later, she left the novitiate and wrote again to Mother Mary Joseph at Maryknoll, "Even when I entered there I had a sneaking feeling that my vocation was to the Foreign Missions."
Aunt Elisia gave her blessing but Nancy's father was very opposed. In her forthright way of relating the facts, Nancy commented, "I fought the matter out and won his reluctant consent". So Nancy joined a large group of postulants here in December of 1930. At Reception she received the name Sister Rose Virginia.
Always an exceptionally bright student, Nancy had begun her higher studies at Kansas City Junior College before entrance, then was sent as a novice to the College of Mount St. Vincent, New York, where she graduated magna cum laude in 1935, with a B.A. degree in French and Philosophy. Having made her First Profession of Vows in 1933, Sister received an assignment to our Mission in Los Angeles where she taught two years in the school for the Japanese. Sister's Final Profession was made there in 1936.
Twelve years in Hawaii followed, in the Punahou and Waikiki Schools where her enthusiasm and love of teaching were given full rein and gained her the lasting respect and friendship of her students. The Islands also afforded many opportunities for cultural enrichment and were a source of great delight for this devoted student of nature.
Assigned back to New York in 1949, Sister Nancy taught for a time in Chinatown's Transfiguration Parish before being sent to Fordham University where she received in 1954 her Masters degree in Philosophy. Change came again and diploma in hand Sister found herself facing her new students in the Maryknoll Convent Secondary School in Kowloon, Hong Kong. Here she taught mostly English Language and Literature, using her gifts of storytelling with a dramatic flair well as remembered by her students. As one of them retells it, Sister Nancy used Shakespeare's works as a universal language that transcended cultural differences and articulated a sense of mission in a new way for them.
Sister Nancy studied Cantonese but never had a chance to master it, though she was fluent in French and Latin and later learned Biblical Greek. Extracurricular activities after school involved coaching the Speech and Drama Clubs. From the awards won, both coach and performers must have been very good.
During the Hong Kong years, Sister confided her concern for her Aunt Elisia who was living alone in California, in failing health. She had visited her Aunt on her regular Renewal trip to the U.S. in 1962 and enjoyed a visit with her half sister Janet and family, but the distance and the separation remained a worry. When the opportunity was offered in 1968 for further studies, Nancy enrolled in the University of San Francisco for a Masters Program with an emphasis in Scripture and Contemporary Theology. Many changes were taking place in religious life and in the Church since Vatican II and she was caught up in the challenges. This arrangement allowed her to look after her Aunt as well, so she stayed on in California after her studies where she was involved in Adult Religious Education and later returned to teaching both in Arizona and Los Angeles. Her health did begin to decline which led to her retirement from teaching and her assignment from the Western Region to Monrovia, California in 1979. When Sister's condition became worse, she was transferred to the Nursing Home at the Center last December. It was here with other members of her Group that Nancy celebrated her 60th Anniversary as a Maryknoll Sister in February.
Those who knew her best describe her as one who always sought to embrace God's Will as she perceived it, a person with a sense of wonder and a great thirst for knowledge, a marvelous teller of tales whose humor and powers of expression were ever a source of "quotable quotes." One newspaper interviewer said she was "a mine of endless anecdotes and observations." When she was asked some weeks ago to fill out a one-page form requesting her transfer of membership to the Center she responded to the question of why she preferred to be here with the one liner: "'The Lord loveth a cheerful liar' – I need the nursing care." When an older companion in the Nursing Home, somewhat confused with her new surroundings announced in no uncertain terms she wanted to return to Monrovia, Sister Nancy pronounced to her, "The decision has been made, we are going no where." In a more serious vein, when asked before the Jubilee celebration: How have you experienced change and growth over the years? She replied, "Growth, I hope, in tolerance, a sharpening of spiritual vision, in an understanding of prayer; most especially, in a deepening appreciation of just how wonderful people really are."
As we reflect on and celebrate the life, death and Resurrection of Sister Nancy Bone, we remember in a very special way her friend and family. The words found in the first chapter of Paul's Letter to the Ephesians – one of Sister's favorite texts used in today's Mass – speak of ultimate peace and fulfillment:
"For in Christ our release is secured… therein lies the richness of God's free grace lavished upon us, imparting full wisdom and insight."
Her release is secured and the yearning for completeness is fully satisfied. Let us rejoice and be glad!
We welcome Fr. Peter Ruggere, our Maryknoll brother, who will lead us in this Liturgy of New Life.