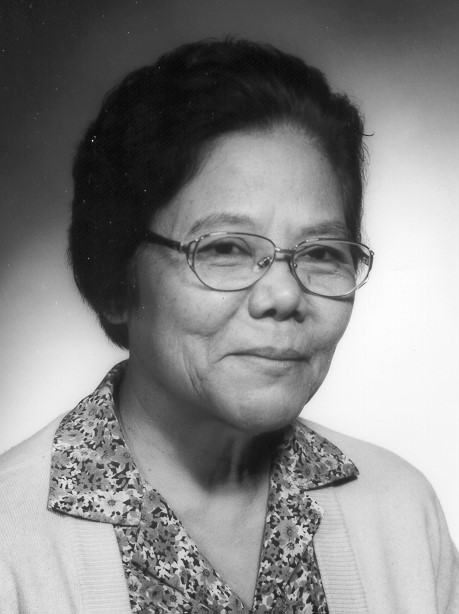 Sister Norma Valdemoro, MM
Born: September 2, 1935
Entered: June 26, 1966
Died: November 28, 2022
Today, we are gathered here at the Maryknoll Sisters Center, New York to celebrate the life of Sister Maria Norma Valdemoro, a woman of peace who has offered her life to God through mission with Maryknoll. She had a quiet manner with great sensitivity and dependable spirit of cooperation, self-giving in community with a good dose of common sense and a delightful sense of humor.
Just as she lived her life with serenity and generosity, Maria Norma slipped quietly into the God's embrace on November 28, 2022, at the Maryknoll Sisters Home Care. She was 87 and had been a Maryknoll Sister for 56 years. The Sisters who came to accompany her in the last hour of her life, held her hands and sensed the peace that penetrated her whole body. It was the First Monday of Advent, a time of waiting for the coming of the One she loved. It was also the birthday of her father who gave full support in her vocation to become a religious missioner.
Maria Norma was born in Baleno, Masbate, Philippines to Filomeno and Amada Laurio Valdemoro on September 2, 1935. She was the third of 9 children, 4 brothers – Rev. Filomeno, Jose, Herminio, and Huberto, and four sisters – Purita, Linda, Nimfa, and Teresita. She is survived by all but two brothers, Filomeno and Jose, and a sister, Purita who went before her. Hubert, nieces, nephews, grandniece, relatives and friends are with us today. We welcome all of you who have come in person and others who have joined us through this livestreamed liturgy.
Maria Norma finished schooling at Aroroy High School, Masbate in 1953, and graduated with a Bachelor of Science in Elementary Education (BSEEd) from Bicol Teachers College in Legaspi, Albay in 1957. Maria Norma took courses during Summers since 1959 – 1964 and 1969, until she finished a Masters in Education (MA ED) at the Abad Santos Educational Institute, Manila, now Ortanez University, in 1970. She also attended Clinical Pastoral Education (CPE) in 1976 at St. Luke's Medical Center, Manila during her first Renewal.
Before her Entrance into Maryknoll, Maria Norma taught at Maryknoll High School in Lupon, Davao where she was much appreciated by the Sisters, administrators and her students. From her parish, St. Raphael Archangel, she entered the Holy Rosary Novitiate in Quezon City, Philippines as a postulant with 15 others on June 26, 1966. She was assigned as a Novice to Pakil, Laguna as all of her Entrance Group were assigned to different missions in the Philippines in 1968. Her First Profession was on June 22, 1969, in Quezon City and her Final Vows, on September 2, 1972 in Chile.
In preparation for Final Commitment, Maria Norma wrote that she wanted "to develop a deeper relationship with our Lord using my personal gifts in service of the Church in mission". On the program leaflet of her Final Profession in Parroquia La Asuncion, Maria Norma chose this quotation from Teilhard de Chardin, SJ: "Permiteme que te de, Senor Jesus, Todo mi Ser tanto arbol como fruto, tanto trabajo terminado como fuerza generadora" (Allow me, Lord Jesus, to give you my entire being, both tree and fruit, both completed work and creative energy).
After language study in Bolivia in 1970, she was assigned to Talcahuano, Chile to a Primary School administered by the Maryknoll Sisters. From 1971-72. She taught Religion and English and was the adviser to the Girl Scouts. She was well liked by the teachers and students; she fit well with the Chilean temperament, a Maryknoll Sister Administrator remarked. After the school was turned over to the Diocese, she did youth work in 1973-1979. Her rich mission experience in Chile prompted Maria Norma to spend her Renewal to reconnect with the socio-political and economic situation of her country of origin. She also did mission education and vocation promotion with the youth in Davao and Cotabato, Mindanao, Philippines, where the Maryknoll Fathers, Brothers, and Sisters were engaged in evangelization work. This experience in January 1980 – April 1981 gave her an opportunity to promote a deeper awareness of service in mission among the youth using Cebuano, the language that she knew well. Many hearts were enkindled for mission among the youth, as was her hope.
Maria Norma served in the Treasury Department from September 1981 – January 1984. In that same year, she stayed in the Cloister for almost a year after which she returned to Chile to do Pastoral Work through Basic Pastoral Ministry in Pudahuel, Santiago in February 1985 – 93. This time, she worked with women's groups teaching them crocheting and knitting among other skills for encouraging the formation of Basic Christian Communities. In 1994 – 2001, she helped in Huecharaba, Chile as a Parish Minister.
Maria Norma worked at the Development Department in 2003 – 2006 and again at the Treasury Department until 2007. During her time at the Center, she volunteered to crochet unlimited number of winter scarves, hats and doilies for visitors who came to the Annual Bazaar to find valuable and unique gifts for the Christmas season.
In all the places in which she worked, Maria Norma was deeply appreciated for her presence in community, her dedication to mission and her love for her students, and for mothers with whom she shared deep faith. She did this through retreats that she co-facilitated with Sr. Joan Ratterman. In all of these encounters, her faith shone through, mirroring the love of Christ.
Her life was characterized by a deep appreciation for Maryknoll. She was grateful that Maryknoll "deepened my faith, hope and love for the person of Jesus Christ" and that the Maryknoll community has provided "me with the opportunities to live the Gospel in constant search for the manifestation and presence of Christ in the world today". She felt "privileged and grateful to share this search with my Sisters and the people to whom we are committed". She wrote: "the daily flow of God's Spirit and love makes it easier to mirror Him (God) to others".
The Sisters with whom she lived in community were very appreciative of her reliable presence among them. They mentioned "her commitment to discipleship", her kindness, gentleness, and diligence in whatever she took on, her calm manner, her evenness of temper. She used her gifts to attract those she met to Christ and the Church. She was also remembered for the delicious cakes she baked for birthdays and celebrations, nourishing both the body and community spirit.
Having served for 35 years in three different missions in Chile, she moved to the Center-Rogers in 2010, after recovering from an illness. In 2011, she joined the Eden Community until her death on the November 28, 2022.
We thank Maryknoll Father Joseph LaMar, for presiding in this Eucharistic Liturgy of the Resurrection. We thank the dedicated caregivers at the Maryknoll Home Care for the extraordinary attention they gave her. We thank her family for sharing their deep appreciation of her as a sister, a friend, and as a faith model. And finally, let us thank God for all the good things that God has done in Maria Norma's life.