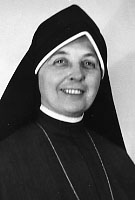 Sister Pascal Brennan, MM
Born: August 19, 1898
Entered: June 2, 1932
Died: February 9, 1982
Sister Mary Pascal Brennan died a week ago, February 9th, in Monrovia. Sister Peg Hanlon and I had visited Sister at Santa Teresita Hospital on Sunday, February 7th, a few days after she underwent surgery. When we told her that the Sisters from The Center sent their love and prayers she replied, "That's something we have plenty of in Maryknoll, love and prayer." As I learned more about Sister Pascal last week, and how utterly sincere she was, I realized that those words must have told of her own life in Maryknoll – love and prayer. Sister's condition began to deteriorate on Monday, and she passed over quietly and peacefully. Now, she has full understanding of the significance of her name "Paschal".
It was a blessing for Peg and me to be at Monrovia at the time of Sister Pascal's death and burial – and now to be here with our Center Community, remembering our Sister and celebrating her life.
Alice Marie Brennan was born August 19, 1898 in St. Louis, Missouri. Her parents were James Brennan and Margaret Frierdich. Alice attended school in St. Louis: Yeatman High School, St. Louis Commercial College and Weltner Conservatory of Music. Alice first requested to enter Maryknoll in 1928, and kept alive her desire for more than three years, during which time she cared for her mother who was in failing health.
Alice Marie Brennan entered Maryknoll on June 2, 1932. This is her Golden Jubilee year. At reception, she received the name, Sister Mary Pascal. Sister made her first profession on January 6, 1935 and final profession on January 6, 1938.
Sister Pascal served in various Maryknoll communities around the U.S. She had fine skills for business and secretarial work – always a need within Maryknoll. She spent a number of years in service to the Maryknoll Fathers at Los Altos, California, and here at the Seminary. Sister Pascal worked from 1950-59 in the Secretariate. There, she began a lasting friendship with Mother Mary Columba, which was to continue at Valley Park, where Sister Pascal went in 1959 to become Mother Mary Columba's secretary. Sister Pascal remained at Valley Park until 1972, when she was assigned to Monrovia.
The funeral liturgy at Monrovia, on February 11th, was concelebrated by Father Howard Geselbracht, M.M., Chaplain and Fathers Raymond Hill, and Thomas Golden, from Maryknoll, Los Angeles. Sister Pascal is buried in Queen of Heaven Cemetery, Rowland Heights, California (near Monrovia).
Let us remember Sister Pascal in prayer, thanking God for the gift of her life, in Maryknoll, and to the Church in mission.