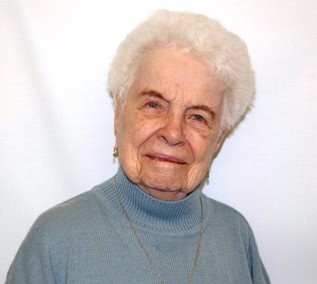 Sister Patricia Desaulniers, MM
Born: July 23, 1921
Entered: October 5, 1946
Died: February 8, 2021
In a small booklet next to Sr. Pat's bed was this quote from the book Meeting Jesus Again for the First Time: "The root of 'believe' is 'give one's heart to' —"believing" involves one's self at the deepest level to Jesus." What a mutual embrace there must have been late in the morning of February 8, 2021. Sister Patricia surely gave her heart, her deepest self to Jesus.
Each of us has flowing memories of her as family, friend, teacher, sister in community. We gather that boundless love here. As Maryknoll Sisters we express our special gratitude for her 74 very full years of life and mission with us.
Marie Patricia Desaulniers was born in Boston, MA on July 23, 1921, to Marie Teresa Dolan and Eugene Wilfred Desaulniers. She was the oldest of six children. Marie Patricia had two brothers, Eugene and Charles, and three sisters Ruth, IHM Sister Eleanor and Marguerite Smith. In 1926 the family moved to Williamsport, PA when her father accepted a mechanical engineer position in a recently formed company.
In 1939, after 12 years in St. Joseph's Elementary and High School in Williamsport, PA, Patricia graduated with academic honors. During her senior year she also studied commercial subjects in night classes offered at Williamsport Technical Institute. After graduation she was employed for 3 years in the office of CA Reed Company as a billing clerk. During World War II, qualified by United States Civil Service, she worked for the United States Army Air Forces at Lycoming Division of the Aviation Corporation, where she served as secretary to the Officer-in-Charge. During that time, she joined Lycoming's flying club. Preparing for her first solo she witnessed an accident that destroyed one of the club's planes, killing pilot and passenger. Because of her family's distress she did not pursue a pilot's license. After the war, she was a secretary/receptionist for 1 year for 2 radiologists.
Patricia was a member of Annunciation Parish, Williamsport when she entered Maryknoll Sisters in New York on October 5, 1946. At reception she was given the religious name Sister Miriam Emmanuel; later she returned to her baptismal name. Two years after entering Maryknoll, Sister Patricia was assigned to study at Maryknoll Teachers College, graduating in 1952 with a BS degree in Education. She made her First Profession of Vows in 1949 and Final Vows in 1952, both at Maryknoll, NY. Also in 1952 she began to study Korean for one year at Yale University's Institute for Far Eastern Languages in preparation for her assignment to Pusan, Korea. Sister Patricia served for 3 and 1/2 years in Korea – admitting patients to a children's clinic, teaching Korean grammar to newly arrived sisters, in catechetical ministry, teaching English for a term in a public school, and briefly giving instructions in teaching methods. In 1956 Sister was assigned to the Philippines where she remained for 18 years. Those years encompassed both teaching and administration at Malabon (Rizal), Pakil (Laguna), Santiago (Isabela), Lupon and Santo Tomas (Davao) and Jimenez (Osamis Occidental). She later served as a member of the Regional Governing Board for planning. In 1972 she earned a Master's Degree in Sociology from Asian Social Institute in Manila, after which she taught for two terms.
In 1974 Sister Patricia returned to NY for Congregational Service, first in the Planning Office and then at the Special Letters Desk of the Communications Office. In 1976 she was assigned to the Eastern US Region. Her ministry was first in Kentucky and later in Tennessee. In Kentucky she was part of a pastoral team in Buresville (South Kentucky Missions, Archdiocese of Louisville). She also worked part-time in a small personal-care home as a Social—worker designate. She enjoyed contact with the patients whose fascinating background made them, in many ways, a subculture of the US. She and her co-worker, a Charity Sister, were members of the local ministerial association. They attended monthly breakfast meetings with other ministers and took their weekly turns for 15-minute religious radio broadcasts. As Catholics, the two sisters were a novelty as this was an area of mistrust due to much misinformation rooted in local lure. In Tennessee sister worked for a short time with a community development team at White Oaks, a small mountain settlement. There she made a preliminary survey which later helped ten miles of unincorporated settlements to obtain a water and sewage system.
In early 1979, because of her mother's health, Sister Pat returned to Williamsport, PA where she lived for over twenty years in family ministry. While 'at home' she occasionally substituted for teachers at St Joseph's School and served the Eastern US Region in several capacities, including the Maryknoll Women's Network and two terms on the Regional Governing Board.
In November of 1999 Sister Patricia returned to the Maryknoll, NY where she ministered for nine years as the Business Manager for Maryknoll Mission Institute.
At the beginning of 2009, at the age of 88, she retired… but never from maintaining connections with family and friends, fully participating in community events, keeping up with news and passionate responses to it, extensive reading and special appreciation of poetry. In 2016, Pat requested a move to the Eden Community where increased needs for assistance could be met. New and important relationships grew there as she learned the names and special aspects of each one who interacted with her. Her parting is felt by all.
Patricia left this letter for us in preparation for this day. I humbly read…
March 2009
Good Morning! I am not sure, as I write this, when my death will occur. Maybe I will live long after this is written and those to whom I now think it is addressed will not be around then either. However, whoever is in chapel when this is read, it is in one way or another addressed to you.
We call this document a Letter of Appreciation. Notwithstanding that title and its implication that appreciation comes from others, I want to share here some final words of my own. For archival purposes, data and dates will be included later in this letter. Those data and dates are not unimportant. Yet they have been simply way stations on my life's journey. They have not been the journey itself. At the Vespers service some of you may have told of your experiences, your impressions, of me. I thank you for those remembrances which, I am sure, were kind. Others have certainly known me in some ways better than I have known myself. That is the way things are for all of us. So, as our lives touched and interacted, many others certainly helped me to become this person I call myself. A person whom, by God's grace, I love.
As I walked my life's journey the core was always relationship. Every relationship in my life – the loving, the enlivening, the nourishing, the enriching, even the occasional difficult relationship – helped me, challenged me and shaped me in one way or another. Prized in a special way were those who offered me laughter. Do I need to say that family, friends, Maryknoll Sisters were truly positive and creative influences toward the best I became? I love those dear ones and I honor them in this letter.
Special people in Korea, the Philippines, Appalachia and Williamsport pushed my personal horizons wider and wider. They broadened my attitudes, my ways of thinking, my approaches to difficulties – all beyond measure. For all this, large thanks is due and now rendered.
The essence of everything good and graced in all these relationships was my relationship with God – a relationship that evolved and deepened as I journeyed despite my failing to keep covenant time and time again. God called me in love to a personhood beyond any capacity I might have thought possible. A call that was unique, personal and for others. And that call continues beyond death. Of that I am sure.
I have never known myself fully, of course. Only God knows any one of us fully, knows any one of us truly. So my journey is not over. Without doubt I am experiencing in "eternity" a new freedom beyond all former limits into the person God still calls me to become. That's why I sing today of a glad new morning, a glad new morning that is forever. And all who have called me friend, sister, daughter, teacher, or whatever, are still part of me in this new morning. There I love you as I could never have loved you before. All are part of my new life in God.
Yes, this letter is truly one of appreciation – it is a love letter of thanks, praise and worship addressed to the God of my heart.
+++++++++++++
(Poem read after communion)
**********
I would like to end with some lines from a poem by David Whyte called ALL THE TRUE VOWS:
There is only one life
You can call your own
And a thousand others
You can call by any name you want.
Hold to the truth you make
Every day with your own body,
Don't turn your face away.
Hold to your own truth
At the center of the image
You were born with.
Those who do not understand
Their destiny will never understand
The friends they have made
Not the work they have chosen:
Nor the one life that waits
Beyond all others.
As a Dominican my life's journey was always a search for an assent to truth. A search for my personal truth, which like all truths, nested in the great truth of God. Nestled also in the truth of my call to Maryknoll, part and parcel with the truth of each of you – my family, my friends, my Maryknoll sisters.
I thank you so very, very much.
**********
Sister Patricia Desaulniers will be interred in our Maryknoll Sisters Cemetery, Maryknoll, New York.
We are grateful for Sister Claudette LaVerdiere, MM for presiding at this Communion Service to celebrate the memorial of Cristian Burial. Gratitude also for those who made the virtual participation possible.