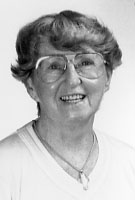 Sister Patricia Fitzgerald, MM
Born: March 12, 1921
Entered: September 6, 1949
Died: May 8, 2003
"The Spirit of the Lord is upon me. Who has anointed me to bring good news to the poor, to proclaim liberty to captives, to give new sight to the blind, to free the oppressed announce the Lord's year of mercy." Luke 4:18-19
This passage from Luke sums up Sister Patricia's life. She let herself be led by the Spirit and felt anointed, called to share the good news with the poor, the little ones in Yap, the captives in the Philippines, the oppressed in her prison ministry in Mississippi. Sister brought hope and new life to those with whom she shared mission.
Today, we assemble as a Community of Sisters, relatives and friends to celebrate with Sister Patricia her entrance into New Life.
Sister Patricia passed away on Wednesday, May 7, 2003, at 1:00 p.m. in our Maryknoll Residential Care Facility, surrounded by many of the nursing staff. She was eighty two years of age and had been a Maryknoll Sister for fifty-three years.
Patricia Ann Fitzgerald was born in Bridgeport, Connecticut, on March 12, 1921, to Gerald and Mary (Harrison) Fitzgerald. She has two sisters, Veronica and Teresa, and one brother Gerald.
In 1939, Patricia graduated from Central High School in Bridgeport, Connecticut. She attended Butler Business School in the evenings for ten months, while working as a clerk at General Electric Company in Bridgeport. She worked at General Electric for eight years.
On September 6, 1949, she entered Maryknoll from St. Charles Parish. At Reception, she received the Religious name of Sister Grace Patrick. Sister Patricia made her First Vows on March 7, 1952, and her Final Vows on the same date in 1958. Both ceremonies were at Maryknoll, New York.
When asked what attracted her to religious life, she wrote: "To bring Christ to other people. I hope only to serve wherever I may be, at any time in my life."
After First Profession and until 1957, she worked in the administration offices of the Maryknoll Fathers Seminary. She studied at Maryknoll Teachers College and then at St. Joseph Hospital, Lowell, Massachusetts, where she qualified for a Medical Secretarial Certificate in 1961. Later that year, she was assigned to work in the Philippines where she taught grades two and three in Manila until 1965. While in the Philippines, in 1963, she received her Bachelors in Education Degree from Maryknoll Teachers College.
In 1965, Sister Patricia was assigned to Yap in the Caroline Islands. There, until 1972, she served as acting principal and teacher in the elementary school. She enjoyed teaching and was always grateful for the opportunity to use her creativity with the children. She was greatly loved and remembered by her students.
Vatican II brought a change in focus for the mission work in the Philippines Region. Sister Patricia took a course in pastoral ministry in 1973 at the East Asian Pastoral Institute in Manila. She continued in pastoral ministry in Lupon, Davao Oriental, as Family Life Coordinator, building small Christian communities among grassroots farmers, fishermen and laborers and working to find leaders among them. In Ormoc City, Leyte, she worked as a community organizer. She was a forerunner in the inter-congregational community that later became the Rural Missionaries.
In 1979, Sister Patricia returned to the Center to give congregational service in the Development Department. Here, she did promotion and mission education for justice. She volunteered in many tasks during her time at the Center: reception desk, nursing home activities, Mission Institute. She also helped form the Center-Cerns Committee in 1980.
She was known for her kindness, childlike simplicity, generosity, delightful sense of humor, always thoughtful and considerate of others. She would say of herself, "I have a good sense of justice, fair play, honesty. I am a self-starter, can take initiative, but am better as a team player."
She returned to the Philippines in 1984 and was a staff member on the Justice and Peace Commission and the Task Force for Detainee Workers in Ipil Prelature, (Mindanao) Buug, Zamboanga. There, she experienced the sufferings of the poor whose human rights were being abused. This led her to devote her time and energy to justice concerns, especially for the political detainees. She followed up with families whose members were detained. She went all over taking care of these families and assisting them with their problems. Many moments in her life were intensified by her dedication and self-giving to the poor and the oppressed. In 1988, she wrote of her hopes, "To respond in friendship and service to the poor and to make their cause my own, even to the point of risking my life."
In 1990, Sister Patricia was asked to be a Secretary for the General Assembly. She accepted saying, "I would like to think I have the necessary skills to perform this service and would only hope that I could meet the expectations. I feel it is a challenge and feel open to enter into this historical moment. What a privilege and thank you."
In 1991, she was assigned to the Western U.S. Region in Rosedale, Mississippi. When asked why she was leaving the Philippines, she responded: "When I made a five-year plan in 1987, I projected beginning a new direction. I felt strongly that Mission U.S. is a viable call to work in justice and peace…to work among the deprived and discriminated against. I also feel the Philippines can be on their own… They have grown in maturity and leadership."
When she arrived in Rosedale, Mississippi, she wrote: "Let's pray for the bursting through of all that is hopeful in Rosedale."
In the Sacred Heart Parish in Rosedale, her ministry was pastoral with emphasis in prison ministry, ecumenism and education. Sister Vivian Votruba wrote: "The Dominican Fathers who had served the parish had to withdraw and they wanted a Dominican presence to replace them in the Dominican Delta Ministry. We were the 'pastors.' As pastors, we divided duties. Pat took on the prison ministry at Parchman. We all shared liturgy preparation and delivered the Sunday homilies. The parishioners used to say Pat's homilies were the 'best' because they touched their hearts."
Pat had a good rapport with the young people, especially the girls, who looked to her for style and charm. But her deepest concern was for the prisoners of Parchman and their families. She visited the prisoners faithfully, sometimes under difficult conditions and with many frustrations with the authorities of the prison. Some of the men in Parchman still talk about Pat with great fondness. She was really a true Dominican – preacher of the word of God.
An e-mail sent to Sister Vivian Votruba and received Monday, May 12, reads, "The inmates prayed for Pat yesterday and several of them were there when Pat was the Catholic Coordinator at Parchman. They remember her with great respect and much fondness. Mass here at Sacred Heart will be for her this morning."
In 1993, Sister Patricia returned to the Center and participated in Rogers Community, sharing her many gifts and creativity and helping whenever and wherever there was a need. We remember her crocheting hats for the bazaar. As her health diminished, she was transferred to our Maryknoll Residential Care Facility on February 4, 1998. She spent most of her time quietly knitting and reading in her room. Whenever we visited with Sr. Patricia, she was always so grateful, would call you by your name, and asked how the Sisters were. The person was always important to her.
Sister Patricia kept close relationship with her family. She enjoyed visiting them and would come home and share with us the wonderful time she had and how much she loved them. In these last years, she was delighted when they would come to Maryknoll to visit with her.
We remember Sister Patricia's family and friends and our Sisters in the Western U.S. Region – Sister Patricia's prayer ministry.
We also extend our gratitude to the Maryknoll Residential Care staff for their goodness and kindness in caring for our Sister Patricia.
We welcome our Maryknoll brother, Father Carroll Houle, M.M., who will preside over the Eucharistic Celebration of Resurrection.
And now Pat, may you burst into JOY with the God whom you loved and served!