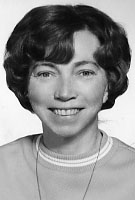 Sister Patricia Lowery, MM
Born: March 17, 1927
Entered: September 6, 1945
Died: April 9, 2001
Sister Pat died peacefully at Phelps Memorial Hospital on April 9, 2001. She was seventy-four years of age and had been a Maryknoll Sister for fifty-five years.
Patricia Lowery was born in St. Louis, Missouri on March 17, 1927 to James and Josephine McCarthy Lowery. She had six brothers and one sister. Pat attended Sacred Heart Grammar School and graduated from St. Alphonsus High School in 1945. She entered Maryknoll on September 6, 1945 from Sacred Heart Parish.
At Reception, Pat received the religious name of Sister Bernard Mary. She made her First Profession of Vows March 7, 1948 and Final Profession on the same date in 1951. Both ceremonies were at Maryknoll, NY. Pat graduated from Maryknoll Teacher's College with a Bachelor of Education degree and received her assignment to the Bolivia/Peru Region in 1951. She was a pioneer in Peru as she and the late Sister Rose Jude, not only opened our first Peruvian mission presence, but also founded the first parochial school in Peru. This school called Santa Rosa, was a bilingual educational system for poor children which was a new concept in Peru. Pat taught the elementary grades and loved the students. This past December, some sixty-five students, who had been in her first grade class, came to Maryknoll to express their appreciation for all they had received from Pat and other Sisters who had taught in the school. For Pat, it was a graced time to renew old friendships and it brought her much joy. Upon hearing of Pat's death, many of her former students sent E-mail messages expressing their love and appreciation for Pat and all she had been in their lives.
In an article published in the 1976 Review for Religious entitled, "To God Via Peru," Pat shared some of her thoughts on her assignment to Peru and her years of service there. She wrote: "When I left New York harbor destined for Peru on the feast of Saint Rose of Lima, I instinctively felt that I was making a journey that would shape my life. As I stood at the rail, face to face with the ocean, the fact that I was going to a strange country, to a mission that was yet an empty lot, to work with people I did not know and whose language I could not speak, seemed not to frighten me. I was too caught up in the journey itself. I was blinded by enthusiasm. I feel that I came to Peru almost as a child, unsure of many things, and here I grew up, formed in the school of joy, struggle, suffering, achievement and love. My teachers were often uneducated people whose only book was the testimony of their lives. I knew somehow that in such a book were contained the lessons I desperately wanted to learn."
In 1958, after seven years of teaching in Santa Rosa, Pat was assigned to Bolivia where she became superior and principal of a Maryknoll school in Riberalta, and then in Cobija, both small, isolated towns in the Vicariate of the Pando.
In 1962, Pat began working with Maryknoll Bishop Edward L. Fedders in Juli, Peru to establish a Peruvian religious  congregation that was called "Madres de Maria Immaculata." Since she was to begin the novitiate training of women interested in religious life, she spent most of 1962 at the novitiate in Valley Park, Missouri for in-service training. The first novitiate group entered on January 6, 1964. In speaking about that time, Pat wrote: "Living with these young women gifted me with learning new insights into the Peruvian culture and the strong abiding faith of the Peruvian people."
In 1968, Pat moved to Arequipa, Peru. It was here, while also serving as bookkeeper to the Maryknoll Fathers and Brothers and the Maryknoll Sisters, that Pat became involved in the Christian Fraternity of the Sick, an international movement of the sick for the sick, founded in France in 1942. While preparing for her Golden Jubilee, Pat recalled her ten years in this ministry saying: "My idea of mission changed. When faced with personal suffering, the will to go on living without bitterness is to be called to enter more deeply into God's redemptive mission. The Suffering Servant became the model of mission and healing ministry. I sought out and found many sick and handicapped people in Peru; we ministered to one another and became friends."
While Pat loved the Peruvian people and her ministry, in 1978 she decided to return to Maryknoll for Congregational Service as Director of Pastoral Ministry in our Residential Care Facility. Before returning to take up this position, she wrote: "I look forward to my next and final stop — Maryknoll. It seems that I've been in the process of change for a long time now. It will be good to settle down and begin my new life. God has always opened up for me new and beautiful horizons, and I know it will be the same this time. So it is with enthusiasm that I look forward to 1978! My slogan is: "At fifty-one, I've just begun!"
Due to illness, in 1997 she moved to our Residential Care Facility. Pat continued to be active visiting and praying with Sisters who were ill and always attended talks, meetings and events at our Center.
In an interview published in the Catholic Teacher's Guide, Pat shared that "Since taking my place among the sick, I discovered the greatest challenge of my twenty-three years of missionary activity in Peru. For me and for others, the Christian Fraternity of the Sick turned what might have been a hopeless burden into a responsibility of love."
In closing, I would also like to honor Pat's request to share with you some of her thoughts as expressed in her Living Will. Pat wrote "I believe that death is the final step taken in the darkness of faith as a loving response to God's call, not unlike the many smaller acts of faith made in darkness during my lifetime. I believe that human suffering has redemptive value when united with Jesus, the Suffering Servant, and born in solidarity with the suffering people throughout the world. I believe that God can bring good out of evil, strength out of weakness and life out of death. I lovingly embrace whatever form of suffering that may yet be in God's plan for me. It is with a full heart that I thank God, our Blessed Mother and all those who have shared my journey for a lifetime of fulfillment and happiness. I ask that you accompany me to the end with your prayers." Today, we continue to accompany Pat as we rejoice with her and celebrate her entrance into new life in this liturgy of Christian Burial.
Once again, I extend our condolences to Pat's family and friends. Let us join with Pat's brother, Father Wilfred Lowery, C.S.S.R., who will preside at this Eucharistic Celebration of Christian Burial, as we thank God for Pat's life.