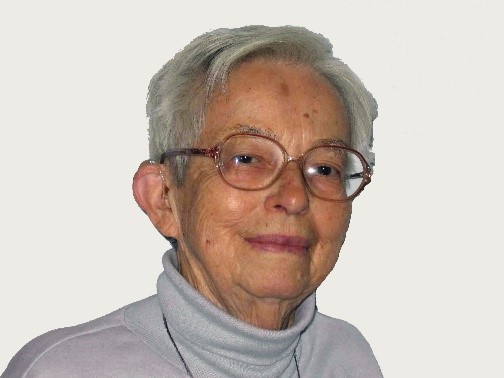 Sister Patricia Noble, MM
Born: May 6, 1924
Entered: September 6, 1947
Died: April 4, 2020
Death claimed Sister Patricia Noble on April 4, 2020 after a long illness in our Maryknoll Sisters Home Care Unit at our Center.  She had completed 72 years as a Maryknoll Sister, and was just a month short of her 96th birthday.
Patricia Alice Noble was born in Erie, PA the second of two children of Edward and Minnie May (Bartels) Noble. Her brother, Edward died in 1987. She graduated from Millcreek High School in Erie, PA in 1942 and in 1945 received a BA in English Literature from Villa Maria College, Erie, PA with advanced courses from University of Pittsburgh during 1942-1944.  Later Patricia was to obtain an MA in English Literature from St. Louis University, St. Louis MO (1962) and ultimately received an MA in Library Science (1982) from Pratt Institute, Brooklyn, NY.
In her application to Maryknoll, Pat described herself as a convert of three years. She carried an enthusiastic recommendation from Rev. E. P. McManaman, of St. Peter's Cathedral, Erie, PA.  Her entrance was at our Motherhouse in Ossining, NY, on September 6, 1947.  At her Reception of the Habit Patricia received the religious name, Sister Miriam Augustine. She professed her First Vows March 7, 1950, and three years later she made Final Vows in Hawaii in 1953.
Her first Mission assignment was to augment the teaching staff in Hawaii at Kalihi, and Punahou 1950-1954. Her next ministry took her to the Philippines, in 1956 to Quezon City, to the then Maryknoll College, where she taught English Literature and Journalism.  She was a fruitful contributor to the English Literature Department, working with Sister Rose Marie O'Callahan in developing policy for teaching literature to maturing young women. That was a time when the Church was fearful of letting young minds deal with realities that come via the literary word.
Sister Patricia was next missioned in Pakil in 1964, and later, in 1970, Santo Tomas High School, where, among other things, she supervised the working students.  Sister Pat deeply felt a need to re-study our missionary call in this most traditional of mission countries.  Long had she worked to study the local language in order to be able to communicate with the folk who lived on the sides of our buildings.  This brought Pat to ask for a return to the Center for time-out; she requested and received a leave of absence, completed it, and made her decision to remain a Maryknoll Member.  From this time she undertook a number of Center Assignments, and we recall her being in Data Processing, in Housekeeping, and for the space of 11 years in our Education Department where she helped give shape to our Rogers Library.
Her transfer to Monrovia, our retirement residence in California in 1988, gave her the opportunity to engage in any number of activities for which Monrovia has been famous.  She enjoyed hands in the soil, and good companionship.  As a volunteer there from 1989 to 2003 she set up and maintained the library of the Peace and Justice Center of Southern California, Los Angeles. From 2001 to 2006 she also worked as a volunteer once a week at the Los Angeles Arboretum: one year as an assistant in the Arboretum Library and six years as assistant in the herb garden. From 1988 – 2006, she also maintained the two libraries at the Sisters' Monrovia Residence. It was in 2006 that Pat returned to the Center in New York, where for eight years she remained a member of the Rogers community until her transfer to the Eden Community, our Residential Care unit.