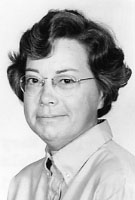 Sister Patricia Nolan, MM
Born: May 19, 1924
Entered: October 31, 1947
Died: November 4, 2009
We gather today to celebrate the new life of our Sister and friend, Patricia Nolan. As Sister Patricia lived so she died with an open and honest spirit and a dry sense of humor. For the last weeks of her life's journey, Sister Patricia graced us with her inner peace and acceptance of her illness. She was appreciative of the vigilant presence of her sister and her sister's husband, and the daily flow of Sisters to her room on the 4th floor of Maryknoll Residential Care. The entire staff was attentive to all Sister Patricia's needs, which she graciously received in return for her years of service as a volunteer in Maryknoll Residential Care.
Sister Mary Anne O'Donnell's faithful presence day and night was such a blessing for Pat. Sister Mary Anne remembers how she did not complain. Our Sister Jean Fallon during a visit with Patricia noticed lady bugs crawling around her window. Jean offered this Haiku.
To all those waiting with Pat
Lady bugs playing
In soft afternoon sun light
Warming sadden hearts.
We remember with gratitude the whole of Sister Patricia's life. She was born on May 19, 1924, to George Francis and Rose M. (O'Grady) Nolan in Brooklyn, NY. Her parents and a brother have predeceased her. She is survived by her only sister.
Patricia studied at St. Catherine of Siena Grade School in St. Albans, Queens, New York, and St. Agnes High School, Rockville Centre, Long Island, graduating in 1942. After high school she attended St. John's College in Brooklyn for one year and then studied nursing, obtaining her RN in 1946, from St. Mary's Hospital School of Nursing also in Brooklyn. She worked in Kew Gardens General Hospital on Long Island for one year.
On October 31, 1947, Patricia entered Maryknoll from St. Catherine of Siena Parish in St. Albans, Queens, as a member of the first group at the Maryknoll Sisters Novitiate in Valley Park, MO. At Reception she was given the religious name of Sister M. George Francis. She made her First Profession of vows on May 8, 1950, at Valley Park, and her Final Profession on the same date in 1953 in Siuna, Nicaragua.
Pat ministered in Latin America from 1950 through 1978: in Nicaragua from 1950 to 1954; Bolivia and Peru from 1954 to 1960; and Guatemala from 1963 to 1966.
During these years Sister Patricia cared for the poor in clinics and taught women classes on childcare and nutrition. She was involved in parish ministry and health promotion during her last years in Nicaragua.
From 1966 through 1969 Sister Patricia gave Congregational Service throughout the midwest in Maryknoll's Mission Awareness Promotion Department. Following her service, she completed her studies at Mary Rogers College, graduating with a B.S. in Adult Education in 1971. She then returned to Nicaragua.
In September 1978 due to military violence in Nicaragua, Sister Patricia and two other Maryknoll Sisters were encouraged to leave Nicaragua. They traveled by jeep to Guatemala. After resting in Guatemala, Sister Pat came to the United States where she spoke out in favor of the poor of Nicaragua.
In December 1978, when Sisters Patricia and Estelle Coupe were returning to Nicaragua driving their jeep, they met with a very serious accident in Mexico. Both suffered severe injuries and eventually returned to the U.S. Sister Patricia remained at our Center and became a member of the Rogers Community.
For many years Sister Patricia helped feed patients in Maryknoll's Residential Care and shared current community and world topics in her reading group with them. Pat was an avid reader of books, newspapers, magazines and recipes. She always was concerned with social justice and the environment and kept up on TV news and political discussions.
Hilighted in a book in her room, The God Who Comes by Carlo Carretto are the words: "The conquest of God is not in the race, but in the patience of death."
For her prayer ministry Patricia had taken Guatemala and the Philippines.
In the name of your family and all the peoples you have served in Latin America, we thank you, Sister Pat, for your testimony of patience in the transformation of your life.
We welcome with us today, Sister Patricia's sister and her husband, their family members and relatives. Also present for the celebration are Maryknoll Society members, Fr. Ted Custer, our celebrant, Bro. Bob Butsch and Bro. John Blazo. Maryknoll Sisters Rita Owczarek, Joan Uhlen, Peggy Dillon, Julie Miller, Pat Edmiston, Pat Murray, and Gerri Brake were with Sister Patricia in Nicaragua in 1978.