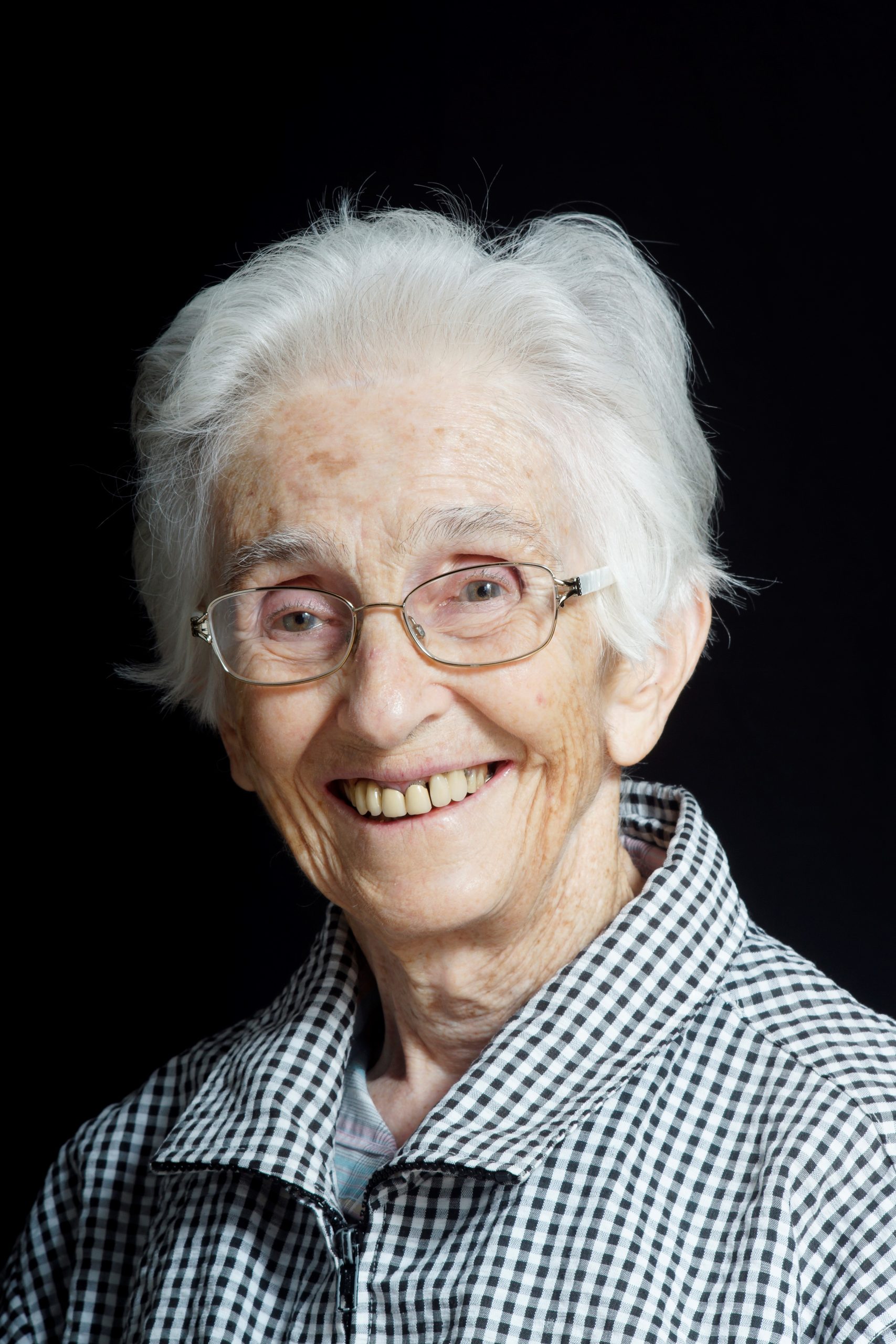 Sister Patricia Norton, MM
Born: January 4, 1928
Entered: October 10, 1946
Died: December 1, 2022
Our beloved sister, Patricia Norton entered eternal life on December 1, 2022, here in our Maryknoll Nursing facility. She had been a Maryknoll Sister for over 76 very active years.
Mary Patricia Norton, "Pat", was born in Milwaukee, WI on January 4, 1928, to Harry Norton and Marion (Ducey) Norton. She had three brothers Robert (Red), Michael, and Terry. Her brother Robert has predeceased her. Michael and Terry, and their wives, LaVrene and Jennie, are with us today. Pat donated her body to science so we, with the family, decided to celebrate Pat's life on her 95th birthday.
It was a challenging task to bring together the many threads of Pat's life, as her missionary zeal touched the lives of people in the U.S., Ceylon, Korea, and China during the 76 years of her life as a Maryknoll Sister.
After graduating from Holy Angels Academy High School in Milwaukee, Pat attended one year at Marquette University before entering Maryknoll on October 10, 1946. A record 120 candidates entered that year in the post war boom! When the time came to receive their habits, they had to borrow one from older Sisters until material arrived to make their own. She made her First Profession of Vows on April 6, 1949 at the Maryknoll Sisters Center, New York, and her Final Profession of Vows three years later, also at the Maryknoll Sisters Center.
After First Profession, Pat attended Mount Saint Vincent College, graduating with a Bachelor of Science Degree in Nursing in 1952. She was then assigned to Ceylon, (now Sri Lanka), and worked in a government hospital for the next 10 years, until the government no longer granted missionary visas.
Pat then spent a year caring for our older Sisters in our old Bethany facility before beginning studies for her Masters in Surgical Nursing, at Catholic University, Washington, DC. After graduation in 1964, Pat began her mission in South Korea, where, after two years of language study, she was appointed Principal of the Nursing School in Pusan. After six years as Principal, Pat asked to be relieved of the responsibility and to continue as a faculty member.
In 1978, Maryknoll turned over the Nursing School in Pusan, to the Diocese, where it eventually became the Nursing College within the Catholic University of Pusan. This move freed Pat to become involved in other urgent ministries. She moved to an east coast fishing village with two other Sisters. For the next five years, they started an outpatient clinic as well as a home visiting and credit union, all while training villagers to take over.
Time to move on again, back to New York, this time to share her nursing skills as Director of Nursing in our Maryknoll Sisters Skilled Care Facility. One of the women she trained in this job is still with us today as nurse in charge of our current assisted living facility, Fatima Fragoso.
In 1985 Pat returned to Korea where she established a center for youth factory workers on the outskirts of Seoul. This was a center for education, relaxation, community building, and spiritual opportunities. Sisters Rose Guercio and Norie Mojado joined Pat in this work. Pat then left behind a dedicated Korean leader who continued this ministry.
Next, Pat and our Sister Lucia Yu were invited to join the Korean Benedictine Sisters to begin a hospital in Meihekou, southwestern China. They spent the next eight years preparing for work in the hospital and later teaching English in the university in Jilin City. This time was interrupted by a severe automobile accident in China, which necessitated the return of Pat and Lucia Yu back to Seoul for medical care at a hospital. Sisters Dolores Congdon and Ann Boland made an arduous journey to bring these sisters back to Seoul. You would think this would end the China venture, but no, after 6 months of recuperation and therapy, both Pat and Lucia Yu were back in Jilin Medical College teaching English and braving the icy streets.
Together, Pat and Lucia Yu returned to Seoul, and from 2004-2006 they worked in a clinic for the poor and homeless founded by a dedicated catholic doctor. What next? In 2006 Pat decided it was time to return to the States, to our Monrovia, CA retirement community. There she was busier than ever as clinic nurse, member of the coordinating team, and had various ministries in the city. Pat decided that she would remain in Monrovia until her 90th birthday, after which she returned to Maryknoll Assisted Living at the Maryknoll Center, NY where she spent the next 4 ½ years until her death.
Pat was one of the most delightful Sisters I had the privilege of living and working with during my Maryknoll life. She blended a keen sense of humor with competence and responsibility. She was a compassionate nurse and loyal friend. She was generous in sharing her time and skills, and was lots of fun. Her network of friends was wide and she kept in touch by phone and visits. We enjoyed hearing about her great family over the years. Two of her nieces, Patty and Ann Mary, visited Pat in Pusan and her brothers and their wives visited her in Monrovia. She kept in contact with our Korean Nursing graduates wherever they were in the world and continued to grow in fluency in the Korean language. Pat was one special person and we will miss her so much until we join her in her new life. Thank you, Pat, for being such a precious part of our lives.
We welcome Michael and LaVrene Norton, Terry and Jennie Norton, who joined us. Also, Yunie and Rusty Driscoll, representing the alumni of our nursing college in Pusan.
We are grateful to our brother Fr. Thomas Egan, MM, our Eucharistic celebrant, and to our Maryknoll brothers who are with us today.
The following is a Prayer of Transformation, originally published in Matthew Kelly's book, "Rediscovering Jesus". It was found among Sr. Patricia Norton's personal papers and read at her funeral as a testament to the prayer's significance in her life.
Loving God,
Here I am.
I trust that you have an incredable plan for me.
Transform me.  Transform my life.
Everything is on the table.
Take what you want to take and give what you want to give.
Transform me into the person that you created me to be.
I can live the life which you envision for me.
I hold nothing back.
I am 100% available.
How can I help?
Amen.