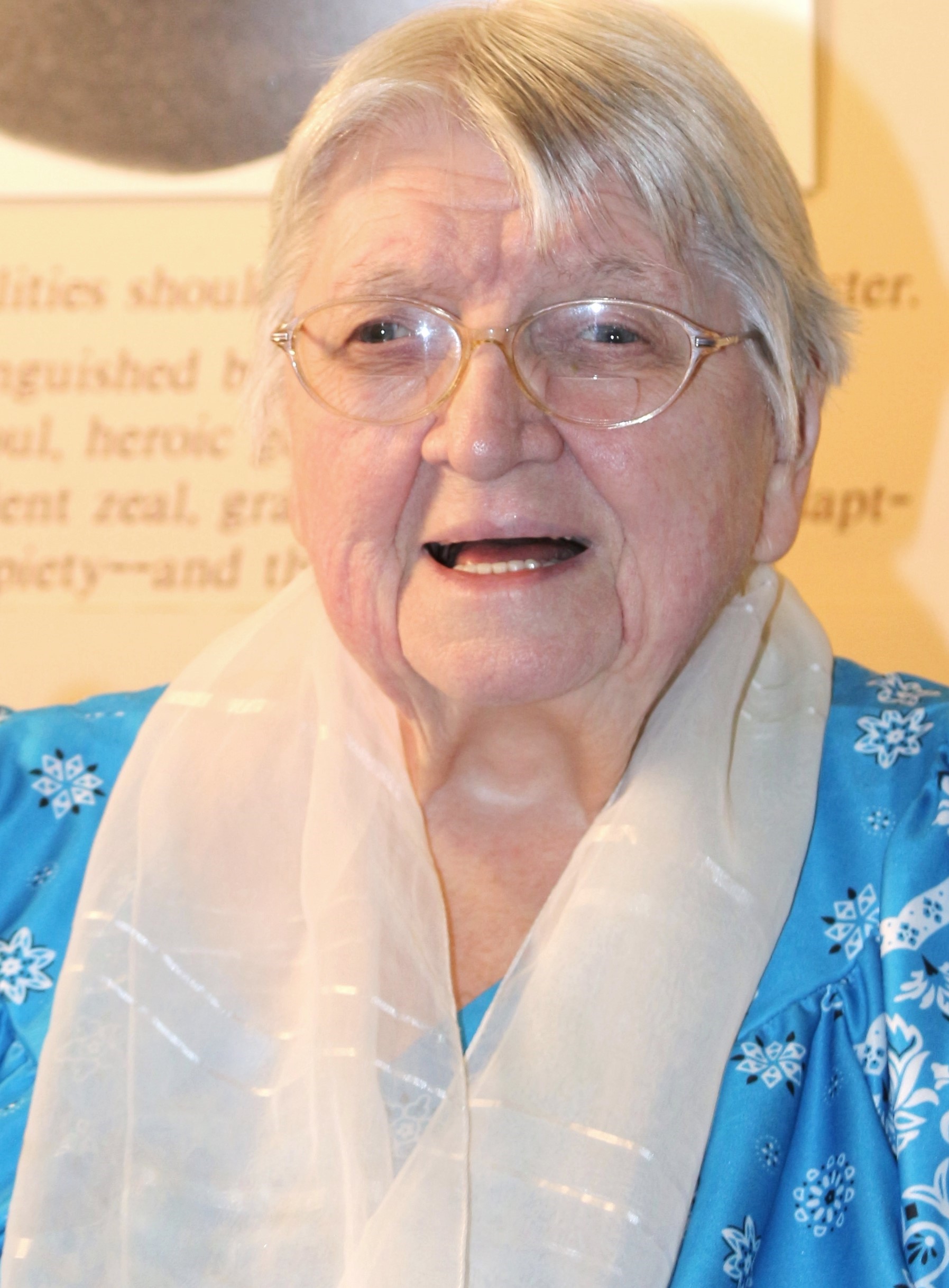 Sister Patricia O'Mera, MM
Born: April 18, 1927
Entered: September 6, 1948
Died: January 13, 2023
Our beloved Sister Patricia O'Mera died peacefully on January 13, 2023 at the Maryknoll Sisters Center, Maryknoll, NY.  Sister was 95 years old and a Maryknoll Sister for 74 years.
No matter what one says, one can never say too much about our Sister Pat O'Mera. She was large in size and in life; gentle; a great missioner; she liked people and knew how to meet and talk to each one. People felt and knew this when they were with her, they were attracted to her, they were awed by her size, but more so by her love, compassion and joy. She always made people laugh, just by being with her. Everybody who knew Pat loved her.
Nothing was too much for Pat. She took it all in stride and always looked to the future. She was down to earth, creative, brainy and life-smart. She was confident, but not a show off.
She was very much like Mother Mary Joseph in personality, only more outrageous. Mother's description of a Maryknoll Sister includes a saving grace of a sense of humor. Pat had it in abundance. She had a fantastic sense of humor.
Patricia Lea O'Mera was born on April 18, 1927 in Seattle, WA where she grew up. She was the only child of Irving A. O'Mera and Kathryn (Scanlon) O'Mera.
She studied at St Benedict's Grade School and at Holy Names Academy high school. She studied for three years at Seattle University.
In 1948, she entered the Maryknoll Sisters Novitiate at the Maryknoll Motherhouse in Ossining, NY because she was interested in mission. The first person she met when she arrived in Maryknoll was the one she called "the skinny girl from Indiana", Sr. Theresa Lisak. It was a start of a lifelong beloved friendship and sisterhood.
Patricia made her First Profession of Vows on March 7, 1951 and was given the religious name Sr. Christopher Mary. In June 1952, she finished her final year of college and received a Bachelor of Arts in Education at Marykoll Teachers' College in Maryknoll, NY.
She received her first assignment to Chile right after and arrived there in October 1952. According to Pat, the years in Chile were great. She said: "We worked so hard, doing everything a missioner should do (or so we thought) – teaching, catechetical program, home visiting, etc."
In Chile, Sister taught in grade school and in a parish high school for children too poor to attend the free public high school. She was involved with the establishments of women's group as well as Boy and Girl Scout groups. She developed a joint project of school children and adult residents to plant trees along the main street, successfully convincing the city hall to provide the trees. She professed her Final Vows on March 7, 1954 in Chile, South America.
In 1968, she was elected 3rd delegate to the 1968 Maryknoll Sisters Chapter. From this experience, she wrote: "I was inspired and grateful to have been part of the Government Committee which restructured our Congregational Governance along more democratic lines… it freed individuals to perform works as they saw fit while requiring a greater personal responsibility for the outcome."
At the close of the Chapter, she was asked to serve on the Implementation Team with Sisters Suzanne Moore and Cecilia Vandal. She said the team "was commissioned to see that the Chapter decisions were transformed from just wishful ideas on paper to actual facts in our community life." Those were exciting times for her where she learned so much about the ways and joys of teamwork with the two sisters.
In 1970, she moved to San Diego, CA and teamed up again with "the skinny girl from Indiana," Sr Teresa Lisak. They taught English as a Second Language to undocumented Mexican adults. She also studied part-time. In 1979, she received her Master's in Education from San Diego State University.
In 1974, Pat transferred to the Western US Region. She was already living, working and studying in the area. Her aging parents who moved to San Diego also required her help. In 1979, she started family ministry. She cared for her parents until they died months within each other in 1987, and her aunt until she died in 2000. At the same time, she continued working with undocumented adult workers until she returned to the Maryknoll Sisters Center in 2006.
The Sisters in the Western US Region wrote this to Pat on her departure from the region in 2006:
"Never forget what a good sign of nourishment you have been for us. You told us stories that made us laugh and gave us hope and encouragement. You listened to ours with a heart full of love and compassion. You showed us how to be kind to one another… You are truly a once-in-a Universe gift of God to us all, uniquely reflecting God's love and goodness in many ways never repeated on Earth. Our prayer is that you will realize all of these gifts and continue to shine forth this goodness to all whom you meet—and that you will never forget how much you are loved and cherished by each one of us."
Pat continued to shine forth goodness at the Center. She was loved and cherished by the Sisters, by nurses and aides, and all that she met. Pat now has realized all her gifts and we are blessed by it. Thank you, Pat, and never forget you are loved and cherished.