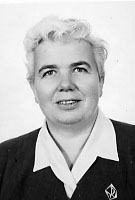 Sister Patricia Roe, MM
Born: June 12, 1925
Entered: October 31, 1947
Died: November 15, 2003
"Life is either a daring adventure or it is nothing." These words from a poster given to a graduate of Colegio Monte Maria in Guatemala City years ago by our beloved Sr. Patricia Roe, speaks volumes to us today of Pat's personal engagement with life. "If you believe, you can do it!" she would tell "her girls," encouraging them to never let the adventure of life succumb to discouragement or bad news. Having passed this spirit on to so many others during fifty-six years of dedicated mission life, Sr. Patricia Roe died on Saturday, November 15, 2003, shortly before 5:00p.m. in Maryknoll Sisters Residential Care at Maryknoll, New York. With her, among others, were three of her long-time mission companions in Guatemala, Sisters Agnes Donovan, Elinor Doherty and Maria Kim Brech, and three close friends, who had arrived that morning from Guatemala, Rosa Beatriz (Chi Chi) Castafieda, Ana Josefina Fuentes and Rosa Maria de Leon, current Principal and co-staff at Colegio Monte Maria.
Patricia Elizabeth Roe was born in Flushing, New York, on June 12, 1925, the second of four children of James A. and Margaret Farrell Roe. Pat attended St. Andrew Avellino parish school in Flushing and graduated from Dominican Academy in New York City. She went on to the College of New Rochelle, New Rochelle, New York, earning a Bachelor of Arts degree in 1947. At the same time she acquired a state broker's license at the Knights of Columbus Business School in New York, and during her college years she worked as an insurance broker at City Underwriting Agency in New York City. Later, in 1959 while on mission in Hawaii, she obtained a Master of Science degree in Botany from the University of Hawaii.
Pat entered the Maryknoll Sisters' Valley Park Novitiate on October 31, 1947, and she made her First Profession there on May 8, 1950, receiving the religious name Sister Margaret James. Assigned to Hawaii that same year, she spent ten years at Maryknoll High School in Honolulu, teaching grades 9 to 12. She made her final vows in Hawaii on May 8, 1953. Much later Pat had the opportunity to reflect on those early mission years when she was invited back to Honolulu in 1995 to give the commencement address at Maryknoll High School. In her talk she spoke of having learned at Maryknoll High School the spirit and details that prepared her well for her next, and life-time, assignment in 1959 to Middle America. In 1960 she was sent as a substitute teacher for three weeks to Colegio Monte Maria in Guatemala City, but Sister Pat was to stay in this mission for forty-two fruitful years. The only exception was between 1988 and 1990 when she worked in Mission Project Funding and as Director of Development at Maryknoll, New York.
Pat lived through many difficult years in Guatemala as the country and its people endured natural and human disasters, including earthquakes, poverty, insurrections and repressions. She became well known in the country for her leadership of the school during these critical years, and for her steadfast dedication to the cause of educating young Guatemalan women to become women of influence with strong social consciences who would work for social justice in their homeland. Sister Pat held various positions in Colegio Monte Maria over the years, serving as teacher, principal, administrator, and doing special tasks such as assuming a prominent role in training teachers. Her skills were many, but it was her presence to all that counted for so much. A gifted leader herself, Pat also had a unique ability to draw leadership out of others. People felt her trust and confidence in them, giving them confidence and the assurance that she would always be there behind them. She took pride in seeing the school administration turned over to dedicated Guatemalan teachers who were deeply imbued with the spirit and purpose of the school.
In the 1990's, Sister Pat took on a new role, which she loved, as animator and organizer of Colegio Monte Maria's professional alumnae. She developed a network of chapters of doctors, dentists, lawyers, psychologists, social workers, secretaries and teachers. This network continues to be placed at the service of poor Guatemalans and particularly the large community living on the garbage dump where Pat herself visited regularly for years, and where Monte Maria students and graduates dedicate many hours of volunteer services.
Pat was said to shy away from awards in Guatemala, but there are many letters of recognition and publications that speak about how much she was loved and appreciated, and about the position and reputation Colegio Monte Maria achieved in Guatemala under her inspiration and guidance. Each year Sister Pat would address the current graduating class and she would never fail to end with the words: "Girls, Guatemala needs you!" Behind her words is the reminder that Colegio Monte Maria is more than just a school; it is a movement with more than 2,000 well trained women who remain close to the school and its spirit of service.
Pat has been described as a charismatic person who people came to like and to love. Her own capacity to love deeply and strongly was felt by many and was evident in the way she would see something special in people she met, even strangers in the market. She is remembered as a person full of spirit, with a wonderful sense of humor, a generous heart and a pronounced sense of gratitude for everything.
Over the years many Maryknoll Sisters came to know the Roe family and could easily guess that Pat came by her many personal gifts quite naturally. She grew up in a close and loving family where leadership, courage, education and public service were part of daily living. We thank you for giving us Pat, and for the wonderful support you have been for her all these years. We also want to welcome Pat's friends.
We likewise thank and welcome Maryknoll Father Joseph Heim who will preside at the Eucharistic Liturgy for Christian burial.