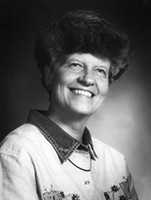 Sister Patricia Startup, MM
Born: November 20, 1947
Entered: September 15, 1968
Died: October 7, 2010
Surrounded by the Mystery that is God's great love for each of us, we gather today to celebrate the life, death and resurrection of Sister Patricia Ann Startup, our 'Patty'.
"Jesus, I will give myself to you, if such is your will." In 1968, Patty wrote this prayer when applying to be a Maryknoll Sister. For the next 42 years, she gave of herself in her unique journey on this earth, with its twists and turns, valley and mountain moments, joys and deep pain. She was known for her high energy, ready smile, infectious laugh, great enthusiasm, large embrace, and an unswerving commitment to justice and peace.
Over the weekend of October 3, 2010 Patty went to her room saying she felt a cold coming on. She answered our concern with a ready response: "I'm OK." On the morning of October 7, Sisters Janice McLaughlin, Norie Mojado and Marie Crowley found Patty in her room having unexpectedly died during the night. Drawn into the Mystery of Love, Patty gave herself into God, finding the fullness of life for which she so deeply yearned. Nothing else was enough for her. Patty was 62 years of age and a Maryknoll Sister for 42 years.
Patricia Ann was born on November 20, 1947 to Ruth (Sheckand) and Glenn Startup in Liberty, NY. She was the eldest of three girls.
Patty attended Liberty Central High School in Liberty, NY graduating in 1965. She worked at Marine Midland Bank for one year and then as a secretary and typist in the Domestic Intelligence Division of the Federal Bureau of Investigation in Washington, D.C.
Patty wrote that her desire to be a missioner was, "to show people in faraway places that Someone Almighty cares for them." She entered Maryknoll at the novitiate in St. Louis, MO from St. Peter's parish in Liberty, NY on September 15, 1968. She made her First Professino of Vows on June 6, 1971 at the Maryknoll Sisters Center in Ossining, NY and her Final Vows on August 8, 1980 in Quezon City, Philippines.
Adult Basic Education was her B.S.E. major from Mary Rogers College at Maryknoll, NY in 1972. An M.A. in Religious Studies at Maryknoll Fathers School of Theology at Maryknoll, NY in 1975-1976 further prepared her for mission.
Assigned to the Philippines in 1972, Patty was involved in both high school and adult education in Maryknoll College in Quezon City until 1974. Later, on the island of Mindanao, Patty taught in Notre Dame of Dulawan, a predominantly Muslim high school in Datu Piang, Sultan Kudarat.
In 1976, in Cotabato City, she developed a pilot program for Training of Literacy Teaching for Para-teachers in Notre Dame University. Its president, Fr. Jose Arong, wrote about his gratitude and appreciation for Patty and her "substantial contributions in the innovative process of implementing new ideas." The next year she transferred to Quezon City where she taught in the Maryknoll College High School and Theology on the College level.
During this time she also became a team member of the Urban Missionaries, an arm of the Association of Major Religious Superiors of the Philippines (AMRSP). Patty was involved as organizer and facilitator with the Documentation and Research Team for human rights violations until 1981. In this position, she compiled a report of atrocities that had taken place, raising awareness of the suffering of the poor.
Returning to Maryknoll, NY, Patty joined the Mission Education Team for the next four years, using her skills in preaching, teaching and fundraising. She was bold for mission, humorous and downright audacious in asking for funds and making Church appeals. She was also very smart in remembering every face she met, especially thos of the clergy and in the Society for the Propagation of the Faith. If you were a Bishop of a wealthy diocese, beware!
In 1985, Patty returned to the Philippines where she became the Coordinator for the Ecumenical Movement for Justice and peace responsible for relief and rehabilitation of internal refugees in the Philippines. During her times in the Philippines, her father visited her a few times which gave her and the Sisters great joy.
In 1990, Patty decided to seek out her long-time dream. She wrote about leaving her self open "to God's grace and movement" in her life and transferred to Africa. In Harere, Zimbabwe as in the Philippines, she became involved in refugee work. In 1992, she became the Assistant Coordinator of Refugee Services for the Southern Africa Bishops' Conference (IMBISA). Here she worked with thousands of internally displaced persons fleeing form wars, drought and poverty in eight South African countries.
In 1995, she became the Refugee Services Coordinator, recruiting pastoral agents to live among and minister to refugees and displaced peoples. She also prepared Mozambican children born in Zimbabwe to return to Mozambique which they had never seen. Likewise, she visited Angola to determine the needs of the internal refugees and how to strengthen the services of the Church for them. After 7 years of this ministry, she turned over her work as refugee coordinator to two Zimbabwean Sisters in 1999. Upon leaving Rosemary Mate, regional coordinator, said "We will miss your constructive arguments and criticism which provided direction and focus to the refugee… We will miss your devotion to your work and we will miss your joyful person, so active in every sense, quick in giving suggestions, and optimistic before floods of difficulties."
In response to the growing number of street children and AIDS orphans, Patty founded a Career Development Training Program in Gweru in 1999. The program enabled them to continue their schooling with help for tuition, school fees, supplies, and uniforms.
In 2000, Patty was injured in a serious car accident with her closest friend, Sr. Margaret Masunda of the Sisters of the Infant Jesus. Needing further medical help and desiring to accompany her father in his declining health, she decided to return to the Maryknoll Sisters Center in New York.
Never one to be idle, she volunteered for some months in the Vocation Office and then joined the Mission Education Promotion team. During this time, she also earned a certificate in Spiritual Guidance — recommitting herself to the life of the Spirit and a constant pursuit of the inward journey. That inward journey was to be reflected in a new journey with the people of Brazil. She died only weeks before her new assignment was to be announced. God had other plans for her.
Patty's life and untimely death leave us with a well of deep grief and a new call to deeper Faith. She invites us to truly be 'here in the present moment,' available to each other in the ups and downs of all that life holds. That moment is all we really have. Let us live our lives fully with each other.
This morning, we welcome Patty's two sisters. We also welcome each of you, relatives and friends who are with us today to remember Patty's gift of her life to all of us.
We welcome and thank Father Paul Masson, MM, who will preside at this Liturgy of Christian Burial.