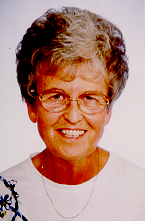 Sister Paula Marie Kuntz, MM
Born: June 7, 1933
Entered: September 6, 1951
Died: January 3, 2015
"Death is not extinguishing the light. It is only putting off the lamp because the dawn has come."
On Saturday, January 3, 2015, the feast of the Holy Name of Jesus, Sr. Paula Kuntz departed from the holy ground she had trod so faithfully for her 63 years in Maryknoll, to be with the God she served so generously and lovingly all those years.  Several years ago, she had decided to donate her body to science. When she was diagnosed with cancer early in 2014, she decided against having chemotherapy; that 81 years is a long enough life, and that she was ready.  In December, her final earthly journey began. She was admitted to Maryknoll Home Care IV and was immediately put on Hospice care and kept as comfortable as possible until her death. During her final days, the prayer constantly on her lips was one she had heard in the depths of her heart long ago, "I am with you. I love you. Trust me."
Elizabeth Louise Kuntz (known to her family as 'Betty Lou)  was born on June 7, 1933 to Edward William Kuntz and Margaret  Ellen Ward Kuntz, the sixth of seven children. Only her parents have pre-deceased her. Her six siblings –  Sr. Dolores Kuntz, OSU,  Mrs. Pat O'Grady, Mr. Edward Kuntz and his wife Lou, Mrs. Barbara Schmuck,  Mrs. Peggy Downing, Sr. Mary Lillian Kuntz, CSJ are all living in and around London, Ontario, Canada.
After finishing high school in 1951, Elizabeth Louise entered Maryknoll from St. Michael's Parish, London, Ontario and made her first vows on March 7, 1954 at Maryknoll, receiving the name, Sr. Paula Marie that she eventually shortened to 'Paula'.
The year following her profession, she was sent to study nursing at the College of St. Teresa in Winona, Minnesota and completed the four-year program in 1959 with a Bachelor of Science in Nursing.  Her nursing skills were put to good use immediately at Bethany for a year. After making her Final Vows on March 7, 1960, Paula was assigned to serve in Maryknoll hospital in Monrovia, California from 1960 to 1965 when she was assigned to Tanzania. After language and cultural studies, Paula went to the Maryknoll Makoko Mission to work in the clinic, but she was also called on to help in other mission clinics wherever there was a need.  In May 1969, she was assigned to Maryknoll's first mission in Kenya, a new hospital in the hinterland of Kinango, sponsored by the Kenya Government and Miserior, Germany's Catholic mission-funding agency. Three other Sisters were also assigned to Kinango at that time, including her good friend Sr. Noel Doescher with whom she had worked in Monrovia.  Since the hospital was considered a government hospital, the Sisters all worked under the Government Provincial Matron. After a few months when the hospital had not yet opened, the Matron asked Paula to help at a district hospital in Malindi until the nurse in charge returned from her home leave in Ireland.
In 1972, when Sisters Paula and Noel were due for renewal they paid a visit to the Maryknoll Sisters working in Kitale. While there, they met the Bishop of the Diocese of Eldoret who invited them to open a clinic at Moi's Bridge, a very needy area of his diocese when they returned to Kenya.  And they did – starting in a storeroom behind a small shop in the village. This small facility grew until a new and larger building had to be built, and in 1986, a flourishing dispensary was handed over to the Assumption Sisters of Eldoret who have kept it going to this day.
Once again, after their return from renewal in 1985, the Sisters were asked by the Bishop to set up a similar work at an out station parish in Bikeke. Wanting to hear from the local women what they really wanted, the Sisters met with the women of the parish to learn their priorities – one being income generating projects. Paula, a skilled knitter, suggested a sewing and knitting project, which took off and grew within a short time. Paula's wonderful skills and know how made things work and eventually gave employment to ten women, two of whom were crippled. She also started literacy classes, and set up a parish library, which many people used especially on Sunday to read the Sunday paper. Home visiting brought the Sisters in touch with many needs, especially children with special needs. The Sisters were able to help them get needed surgery or obtain a place in special schools for the deaf or blind.
Often at 4 or 5 a.m., the Sisters would leave with a small child for the six or seven hour drive to Gertrude's Garden, a children's hospital, in Nairobi.  The Sisters also provided a weekly feeding program for the very poor and elderly. In addition, Paula served as Diocesan Medical Coordinator in Kitale and Regional contact person for Maryknoll.
In 1987, Paula went on a year's sabbatical. During that year, she took the Credo program sponsored by Gonzaga University in Spokane Washington.  When she returned to Kenya, she continued with her many projects.  Since the people were too poor to open bank accounts in the town, Paula had the idea to start a banking project and presented it to the congregation after Mass one Sunday. Enough people liked the idea to begin the project—any amount, no matter how small, would open an account. That project took off and continues today!   From 1995 to 1998, Paula came home for Congregational service and worked in the Direct Mail office. She returned to Kenya in early 1999. From 1999 to 2008, Sister Paula, while continuing in her many pastoral and medical projects and serving as Regional treasurer, also initiated new programs for handicapped women in Kitale, Kenya.
In 2002, Paula was due to celebrate her Golden Jubilee and, as a surprise, Sr. Noel had invited Paula's younger sister, Sr. Mary Lillian, CSJ to come to Kenya for the parish celebration. It was an unforgettable day – with much singing and dancing.
Paula's years in mission were satisfying years for her and on the occasion of her golden jubilee celebration she wrote, "In this jubilee year I have only gratitude for the holy ground I have walked on and ask a blessing of our faithful loving God that I too be faithful as I walk into the future".  Paula will always be remembered for her generosity, her loving, caring ways and a great sense of humor.
Unfortunately, none of Paula's family is able to be with us at this time but we extend our condolences to each one.
We welcome and thank Fr. Ernest Lukachek, MM who will preside at our Memorial Mass today.