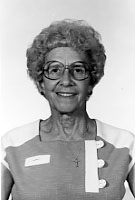 Sister Pauline Frei, MM
Born: November 23, 1912
Entered: December 8 1939
Died: March 26, 2005
On Saturday evening, March 26, 2005, during the Easter Vigil celebration in this chapel, Maryknoll Father Robert Lloyd invited the assembled community to remember the people all over the world who would "pass over" that night. In another part of the Center, in Maryknoll Residential Care, our Sister Pauline Frei, around 9:00 p.m., was doing just that. She slipped away and over into the fullness of life. Her sister, Sister Ursula, S.C.C., and Sisters Joseph Lourdes Nubla and Catherine (Kitty) Carden were with Pauline at the time of her death.
After suffering an injury at the end of February, and especially during this past week, Pauline had become increasingly frail. On Friday she had a surge of energy, but the news of her death Saturday evening was not a surprise. We knew from Pauline that she was ready to go. She was ninety-two years old and had been a Maryknoll Sister for more than  sixty-five years.
Pauline Agatha Frei was born in Jersey City, New Jersey, on November 23, 1912, the middle child of five daughters of Charles and Anna Blenkle Frei. She completed grammar school at St. Michael's Parish School and high school at the Benedictine Academy, both in Elizabeth, New Jersey.
It was the news of Sister Elenita Barry's departure for Korea in 1938, Pauline says, which first stirred in her heart the desire to be a Maryknoll missioner. She lived on the same street as Sr. Elenita's parents. The following year, on December 8, 1939, Pauline entered the Maryknoll Sisters. She made her First Profession of Vows on June 30, 1942, at Maryknoll, New York, receiving the name Sr. Anne Marion. Her Final Profession was made on the same date three years later in Riberalta, Bolivia.
In 1944, Pauline received her first assignment to the Bolivia Region. She was among the early Maryknollers to arrive in Bolivia. For the next nearly thirty years Pauline lived, first in Bolivia – Riberalta and Cochabamba – and later in Peru – Puno, Azangaro and Lima. She ministered in Riberalta teaching religion classes to children and  adults. Later she moved to Cochabamba where she initiated catechetical instruction for the children. In 1950 she established Colegio Santa Ana, a parish school in Cochabamba, and served as the first principal. She combined schoolwork and catechetical instruction and produced a teachers' manual for religious instruction in the Peruvian public schools. From 1968-1971, she served as Administrative Assistant to the director of "Noticias Aliadas," an English and Spanish language news service in Lima. She edited, researched, and translated documentary bulletins and set up a reference library and filing system for the documentation service. Pauline described herself during those years as "well informed about the socio-political-economic reality of Latin America and familiar with its literature and current religious thought, which was the Theology of Liberation."
In the 1960's Pauline took time for formal studies, obtaining an Adult Education Certificate from Catholic University in Washington, DC, in 1962, a B.S. from Mary Rogers College in 1965, and an M.A. from Fordham University in New York City in 1966.
From 1972-1975 she served as Communications Office Supervisor in the Development Department at Maryknoll, New York. An assignment to the Western Region in 1975 took Pauline to Stockton, California, where she visited the lonely, the elderly, and the terminally ill.
Beginning in 1976, when she was assigned to the Eastern US Region and for the next four years she was editor of L.A.D.O.C., Latin American Documentary Service, a bimonthly publication which served as a voice for the Latin American Church on issues of injustice and violence. When the United States Catholic Conference planned to eliminate the  publication because of budget cuts, the Maryknoll Fathers in Peru assimilated L.A.D.O.C. into their publications in Lima. Pauline was asked to accompany its launching in Peru. In the years that followed she continued to work in Peru and later in Bolivia where she served as registrar of the Maryknoll Language Institute, "on loan" from the Eastern Region.
Pauline returned to the Maryknoll Sisters Center in 1992. Her talents and skills were put to good use in several offices: the Mission Research Office, the Office of Social Concerns, Treasury, and the Maryknoll Mission Institute. In 2003 Pauline became a member of the Eden Community.
The call to mission, Pauline wrote, is "a deep awareness of God's love and the strong desire to share the knowledge of this love with others… in today's world. It means to be heralds of peace and champions of justice." Her most recent ministry assignment, received just last year, was the Ministry of Prayer for World Peace.
Pauline was elegant, her earrings, her shoes, her purse, everything just right. As far back as 1942 she was described as "the lady, at all times." Pauline noticed the beauty around her. Describing Cochabamba she wrote, "I wonder if there is any place in the world where the sky is as beautiful as it is here…in the daytime it is always a deep, deep blue with billowing white clouds to accent the color and at night there are millions of blue-white diamonds sparkling up there." About Cobija, Bolivia, she said, "In the evening the sunset seems to flood the sky and each night you see a new arrangement of colors."
Our dear Pauline, elegant lady, herald of peace and champion of justice, live now a new arrangement of colors! Rest in Peace, in the fullness of Beauty.
We welcome to this liturgy Pauline's family and friends. We also welcome Pauline's friends, Audrey Glynn Michenfelder and Betty Maurovich, and our celebrant Maryknoll Father John Moran to remember and to celebrate the life of our Sister Pauline Frei.