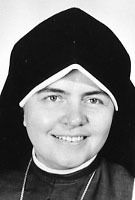 Sister Pauline Linehan, MM
Born: March 24, 1920
Entered: December 8, 1940
Died: May 28, 1997
We are gathered here this morning to celebrate the life, death and entering into eternal life of our Sister Pauline Linehan, who died peacefully on May 28, 1997 while in transit by ambulance from Albany, New York to the Maryknoll Sisters Residential Care Center. She was seventy-seven years old and had been a member of the Maryknoll Sisters Congregation for fifty-six years.
Pauline Patricia Linehan was born on March 24, 1920 in Manchester, New Hampshire to the late Edward George and Elizabeth Ann Linehan. She had one younger brother. She received her elementary education in Lincoln Park Grammar School, Hooksett, New Hampshire and graduated from St. Joseph's High School, Manchester, N.H. in 1938. She attended Mount St. Mary's College, Hooksett for two years where she showed a particular gift for art.
Pauline entered the Maryknoll Sisters Congregation on December 8, 1940 at Maryknoll, New York. At reception she received the name of Sister St. Paul. She made her First Profession June 30, 1943. She received a B.E. degree from Maryknoll Teachers College in 1944 and was assigned to work in Panama that same year. She made her Final Profession June 30, 1946 in Balboa, Panama.
During the five years she spent in Panama, she participated in the founding of St. Vincent's Primary School, Panama City. She spoke of this time as a most challenging mission experience. In a letter, Pauline wrote at that time: "We built a school there for West Indian children and we had to begin from the ground up." The hard work paid off – "the school flourished and many of the children, who were very poor, got a good education and went into professional life." Her artistic talents not only served the school but the Parish and Archdiocesan Catechetical Programs as well. In 1949 she returned to Maryknoll, NY to serve as writer and artist for the Maryknoll Magazine and other publications such as the Catechetical Guild Books (for little Catholics). Some titles of Sister Mary St. Paul's works published in 1953 are Hail Mary, Talking to God and Meet Your Angel. Also published were a set of posters depicting the Works of Mercy, several coloring books and cutout projects.
In 1954, she returned to teaching at St. Bernard's Primary School in St. Louis, Missouri. At the same time, she studied at St. Louis University obtaining a Master of Arts degree in Educational Philosophy in 1957. After obtaining this degree, she was immediately assigned to work in the Philippines. She taught in High School in Lucena for one year before joining the Philosophy Department of Maryknoll College (now Miriam College) in Manila (1958-1964). From 1964 to 1967, she served as Dean of La Sallette College, Isabella, Philippines. She returned to Maryknoll College, Manila for one year. From 1969 to 1972, she taught and served as Department Head of the Philosophy Department of St. Louis University, Baguio while also directing Maryknoll Convent School.
After fifteen years in the Philippines, Pauline returned to Maryknoll, NY in 1973, giving service at the Maryknoll Sisters Center as liaison to the food service company. She later worked as art teacher at nearby Lincoln Hall from 1974 to 1977. From 1977 to 1981, she worked in the Remedial Reading Department of the Public School System in her native Manchester, New Hampshire, while doing Family Ministry for her widowed mother.
She then attended the College of New Rochelle, where she obtained a Master of Science Degree in Studio Art in 1984. She then volunteered services to a program for the homeless at Rachel's Women's Center in Washington, D.C. She described her work there as, "…trying to provide a peaceful, secure atmosphere for the homeless women who come to our Center, which is located in a burned out drug and crime filled area in the Northwest section of the District. In a home atmosphere, we provide coffee and tea in the morning, lunch at noon, laundry and bathing facilities, help with public assistance and housing, basic health screening, counseling and advocacy." As part of her work, she used her artistic gifts to engage the women by sketching their portraits and pointing out to them their inner beauty thus trying to rekindle their self-esteem.
In 1986, Sister Pauline responded to the needs of refugees in the Diocesan Refugee Resettlement Program in Albany, NY. She served as a volunteer for refugee job search in this program until it closed in 1987. Then she entered a period of active retirement, doing home visiting and outreach in her neighborhood.