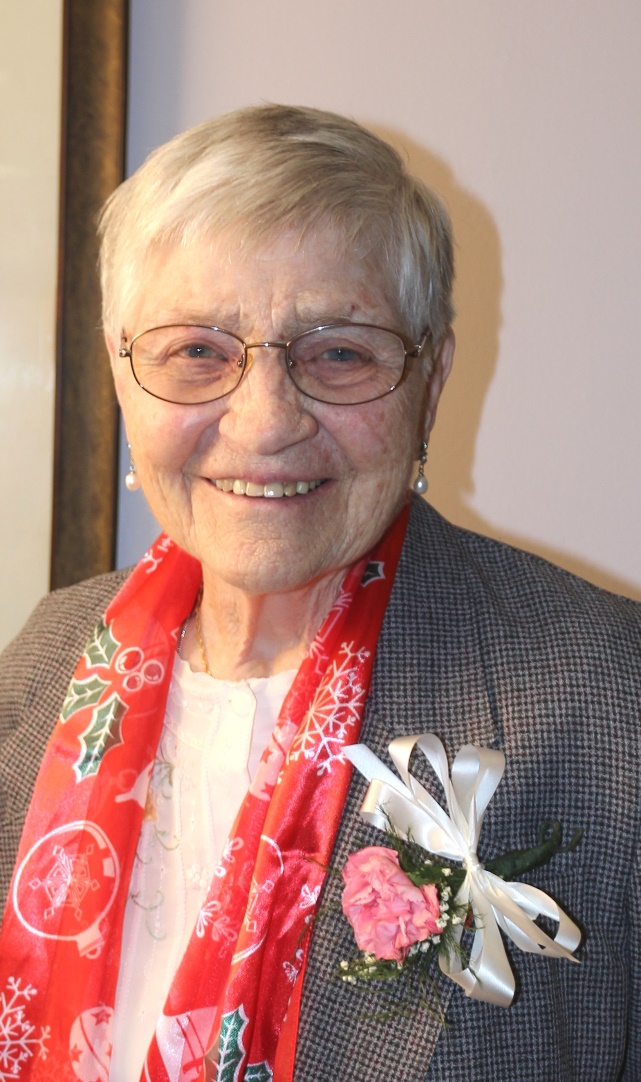 Sister Pauline Sticka, MM
Born: November 9, 1924
Entered: September 2, 1942
Died: December 7, 2018
On December 7, 2018, at Maryknoll, NY, our much-loved Sister Pauline Sticka returned gently to the God she had served so faithfully as a Maryknoll Sister for 76 years.
Pauline, one of ten children of Raphael and Odilia Frank Sticka, was born in Dickinson, ND on November 9, 1924.  Her parents, her brothers Gregory, John, and William, and sisters Eugenia, Margaret, and Sally have all predeceased her.  She is survived by her brother Ignatius and her sisters Teresa and Sister Margaret Mary Sticka, O. Carm.  Pauline graduated from Good Counsel Academy High School in 1942 and entered the Maryknoll Sisters at Maryknoll, NY on September 2 that same year.  At her Reception into the community she received the religious name Sister Paul Therese.  She made her First Profession at Maryknoll, NY on March 7, 1945 and her Final Vows on March 7, 1948 in Kaying, China.  After Vatican II, she returned to her baptismal name.
Sr. Pauline worked in the Seminary kitchen at Maryknoll after her First Profession until she was assigned to Kaying, China in 1947.  She studied Hakka Chinese while doing catechetical work in Kaying, Sialoc, and Laofuheo in the Mei Shan area of Southern China.  In 1950, she was imprisoned for several months, along with Sr. Therese Grondin, MM, by the Communist Chinese government.  At one point, as they were being taken from the mission compound to begin their terrifying walk to the prison, the soldiers lined them up against a wall.  Thinking they were about to be shot, Pauline began fervently praying.  When nothing happened and the march continued, Pauline realized she had been praying their usual pre-meal-grace!  After being expelled from China in 1951, Pauline returned to the US where she did development work from the Center for a year and then pastoral ministry for three years in Chinatown, in Chicago, IL.
In 1955 Sr. Pauline was assigned to Taiwan, at that time part of the South China Region.  After two years of studying Taiwanese Fukianese, she was assigned to Puli, Taiwan.  She served there doing parish ministry until 1967.  It was in Puli that she organized some young teenaged girls into the Lourdes Group to "deepen their lives as Christians". The members of this group remained in touch with each other and with her over the next forty years and some even came to the airport to send her and Maureen Gunning off when they left Taiwan in 2007.
From 1967 to 1969, Sr. Pauline did parish ministry in Holung, Taiwan.  She then served almost two years as the director of the Maryknoll Sisters' Apostolic Center in Changhua, Taiwan.  During this time, she attended the East Asian Pastoral Institute in Manila, Philippines for a semester of theological studies.  After that, for a brief period of six months, she was a full-time staff assistant at a hostel for 500 young working women in Hsintien, Taiwan where she organized retreat days and outings and offered informal counseling.  Sr. Pauline came back to Rogers College at Maryknoll in 1970 to study for a BA in Community Service, which she received in 1973.
In 1974 Sister returned to Taiwan where she did parish ministry in Sacred Heart Parish in Hsinchu, especially working with Fr. Al Klaeser, SJ in Marriage Encounter, "to help couples deepen their understanding of the sacrament of matrimony and enrich their family life".  Besides preparing the Marriage Encounters, Sr. Pauline planned prayers, reflection days and retreats for the leader couples and developed deep friendships with a number of them.  She was often welcomed into their homes for meals and/or to chat over endless cups of the traditional "Lau Ren Cha" or "Old Folks Tea".  She continued in this ministry for more than 9 years.
From September 1984 until September 1985 she did further theological studies at Maryknoll School of Theology in New York.  Returning to Taiwan in 1986 Sr. Pauline, with Sr. Maureen Gunning, initiated a new neighborhood presence ministry in Chiayi, Taiwan. They just wanted to live among the people and get to know them.  The Bishop of Chiayi, the first native Taiwanese Bishop, welcomed them and said: "Don't try to convert them; they are happy as they are!"  This confirmed their desire to simply have a ministry of presence.  Someone referred them to a lower income area of Chiayi, a place called "Golden World", and the people they met there, not only helped them find a house to rent but ultimately also helped them to move in.  Sr. Pauline began making a mini-garden which brought the neighbors over to offer suggestions, and that began a long series of rich interactions, with such things as mutual cooking lessons, English classes and group outings initiated by the people there.  Their next-door neighbor, a Buddhist, was an artist.  He painted a large Christmas mural on plywood from a small Christmas card and that graced their front yard every Christmas for the years they were in Golden World.  His daughter Michelle, an infant at the time, later – while studying in the United States – spent her school vacation times at "home" with Sisters Pauline and Maureen in our retirement house in Monrovia, CA.
In 1993 a heart attack brought Sister unexpectedly home to Maryknoll where, after her recovery, she gave Congregational Service for 2 ½ years as an office assistant for the Main House Council.  In 1997 she returned to Taiwan where she and Sr. Maureen joined Sr. Theresa Kastner and began another neighborhood presence ministry in Kaohsiung, Taiwan.  As in Chiayi, over a period of seven years, they befriended the people there and were in turn befriended by them.  Some of their more memorable neighbors and friends included the wife of the local Taoist priest, the woman who had the largest noodle stand in the local market and "Matilda" a deaf and mute woman who supported her entire family – including her sons-in-law – by recycling any and everything she could manage to pick up and carry home.
In January of 2005 Sisters Pauline and Maureen moved to Taichung, where they continued a neighborhood presence ministry and also provided a service of hospitality in the Regional Centerhouse.  The two returned to the States together in 2007 and in August of 2008 were assigned to our retirement community in Monrovia, CA.  While there, they received several visits from their faithful Taiwanese friends.
In December of 2014 Sr. Pauline came back to Maryknoll, NY and joined the Eden Community where she remained until her death.  She herself described what she knew that moment of death would be like. She wrote,  "At the end of my life journey, 'one day at a time', I will have found and understood the total meaning and mystery of my life – which has been a longing to understand the mystery of God's Love; the mystery I have never fully grasped;  the mystery of God's Love dwelling in the center of my being."
We are happy to welcome with us this morning.  It is a joy for us to welcome our brother, Father Larry Lewis, MM, a longtime friend of Pauline, who will preside at her Mass of Christian Burial.