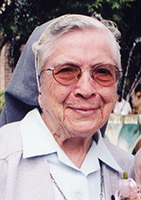 Sister Paulita Hoffmann, MM
Born: August 13, 1914
Entered: June 4, 1933
Died: March 14, 2019
Sister Paulita Hoffmann went to God on March 14, 2019 in the Maryknoll Sisters Center. She was 104 years old and had been a Maryknoll Sister for over 85 years.
Mary Rose Hoffmann was born on August 13, 1914 in Cincinnati, Ohio. She was the youngest child in a family of eight children: four sons and four daughters. Her parents, Oscar Hoffmann and her mother Mary (Dumont) Hoffmann, her four brothers, John, Oscar-Jacob, Joseph and Oscar-Michael and her three sisters, Marie, Sr. Mary Eileen (Lorraine) and Margaret have all long ago predeceased her.
After graduation from Our Lady of the Angels School in St. Bernard, Ohio in 1932, Mary Rose spent one year studying at the Atheneum in Cincinnati OH. Mary Rose was active and worked as a swimming instructor, a Red Cross volunteer and an office worker before entering the Maryknoll Congregation at the Maryknoll Motherhouse in Ossining, NY on June 4, 1933 from Sacred Heart Parish, Cincinnati. At her Reception into the Maryknoll community she was given the name Sister Mary Paulita, a name she retained for the rest of her life.
On July 4, 1938, at the age of 24, Sister Paulita received her foreign mission assignment to China: Meixian Guangdong Province in South China, most often referred to at the time as Canton. This was Bishop Francis X. Ford territory.  Bishop Ford had devised a catechetical program, novel for the era. He had asked Mother Mary Joseph to allow the Sisters in his territory to experiment with a completely new idea, so new that it needed Rome's approval. Sisters were to leave their convents for as long as two weeks at a time, go to nearby villages and live in friendship with the people, ascertain their needs, comfort the sick, share their food and hospitality. This would be the best way to familiarize the people with the church and encourage conversions. Bishop Ford had realized that this could not be done by men but only by women. Sister Paulita was one of the stars in this project. She loved this work and idolized Bishop Ford.
Sister was in China during the arduous years of China's Civil War. These were also difficult years for missionaries in China and Sister Paulita found herself in 1950 under house arrest in the parish convent for fourteen months, along with Sr. Edith Rietz, MM.
After Bishop Ford died in the Guangdong prison on February 21, 1952, (presumed date), Sister Paulita was freed and expelled from China. She went to Hong Kong for a short period and then returned to the Motherhouse for medical attention. The lack of food during her period of confinement required an emergency operation and treatment. After a long period of recovery, Sister worked in Promotion until 1954.
Sister Paulita, loved China and the Chinese, and after her recovery in 1954, she was assigned to Taiwan where many of the China missioners had migrated. When she had first gone to China, Sister had learned the Hakka language so she chose to go to the Miaoli Deanery for her ministry. Sister first served in Nan Chuang Parish, but lived with other Sisters in the Toufen Convent. This was no problem for Sister since she traveled back and forth every day on her motorcycle! Paulita worked for over 50 years with the Hakka and Aboriginal peoples in Taiwan. She was rewarded for this long and faithful service with a certificate of Permanent Residency making her a citizen of Taiwan.
From 1954 until 2004 Sr. Paulita lived and worked in Taiwan doing a variety of pastoral-catechetical works in a number of parishes in Toufen in Miaoli County, Fenglin in Hualien County and Tungshih in Taichung County.  Among other skills, she was an artist with a keen eye for unique pieces of wood.  Despite the fact that her right hand had been severely crushed in a laundry mangle while she was still a novice, over the years she carved beautiful wood crucifixes from interesting branches she collected on her many mission trips into the mountains of the Miaoli area.
In 1994, at the age of 80, Sr. Paulita returned to Maryknoll for a double knee replacement.  She came back to Taiwan four months from the day she left and her greatest joy was that her surgeon and friend Dr. Seebacher said she could still ride her motorcycle!
All was not always serene in Taiwan. Sister relates how she survived a number of earthquakes like the one that claimed some 2,000 lives in September of 1999.  She was at the epicenter of the quake in Tungshih. For three days the Sisters in Taiwan did not know if she had survived.  When they finally made contact with her, she chose to remain for several weeks with the people in Tungshih, sleeping with them on the floor of the parish church – one of the few buildings in town that had remained unscathed.
These experiences never changed Paulita's upbeat personality. She knew who she was and where she wanted to end up. In speaking of death with her English students one day, she said, "I know where I'm going and I know the way."
Because of health concerns Sister Paulita returned to the Maryknoll Sisters Center at Maryknoll, NY in 2004. There she served the community in a variety of volunteer ministries until 2012 when she retired.
Her love for Bishop Francis Ford never wavered. At least three times during the last few years, the priests working for the canonization of Bishop Ford sought her advice.  "Who was Bishop Ford for you?" they asked. "A loving Father," she answered simply. "You worked for Bishop Ford for years," they would say "Who was Bishop Ford as a person?" Her answers never faltered. "He is a saint," she would respond to the interviewers. When asked why she would say this, her face would light up and she would answer, "He listened; he listened to us."
We welcome today the members of Sr.  Paulita's family and our Maryknoll brother, Fr. Daniel Kim, who will celebrate this Eucharistic liturgy.