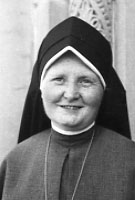 Sister Peter Marie Murphy, MM
Born: October 17, 1905
Entered: October 5, 1946
Died: May 23, 1997
"As the Father has loved me, so have I loved you; live in my love."
These words taken from today's Gospel beautifully exemplify the life of Sister Peter Marie Murphy whose Liturgy of Resurrection we celebrate this morning. Sister was forty-one years old when she entered Maryknoll. Why did she wish to become a Sister so late in life? Was she a delayed vocation? The reason was simply because she was a woman of love, service and sacrifice. She chose to stay at home to help care for two of her nieces whose mother had passed away when they were very young. She was their 'mom', and only after the girls became young adults and were able to care for themselves did she pursue her religious vocation.
Our Sister Peter Marie, the valiant woman of love, service and sacrifice, who celebrated her Golden Jubilee as a Maryknoll Sister last October died peacefully 9:40 p.m., May 23, 1997, in the Residential Care Unit at Maryknoll, New York. She was ninety-one years of age.
Johanna Gertrude Murphy, one of ten children, was born on October 17, 1905 in Lindsay, Ontario, Canada, to Ellen Hogan and Peter Murphy. She had three sisters, two of whom were Sisters of St. Joseph in Toronto, and six brothers. Johanna Gertrude received her early education at St. Mary's School in Calgary, Alberta and at St. Mary's Academy, Lindsay, Ontario. After graduating from Campbellford High School she continued her studies at the Toronto Normal School and earned a Teachers' Certificate. Several years later she attended Ontario College of Education and received a diploma to teach Elementary and High School.
After twenty-one years of teaching experience in the public schools in Toronto, Johanna Gertrude came to Maryknoll, New York, on October 5, 1946 to begin her life as a Maryknoll Sister. At Reception she received the name of Sister Peter Marie, the name she retained throughout her religious life. She made her First Profession of Vows on April 6, 1949 and was assigned to the Philippines that same year where she made her Final Profession on the same date three years later.
Upon her arrival in the Philippines, Sister's teaching experience was quickly put to use. For nineteen years she taught primary and high school students in Baguio, Lipa and Panabo. She was a dedicated teacher; she loved teaching and did everything she could to help her students. Her students often found her a bit demanding but knew she was one from whom they would receive a good education.
While home on decennial from the Philippines in 1968, Sister Peter Marie was assigned to the Motherhouse to help relieve the urgent need for an experienced Sister to work in the offices. She deeply desired to return to the Philippines but promptly responded to Mother Mary Coleman saying: "A good day to receive your note announcing Sr. Peter Marie Murphy my assignment. On the feast of Blessed Mother it seemed I accepted it through Our Lady." Surely, Sister's love for Maryknoll and being the woman of love, service and sacrifice that she was, helped her accept the disappointment of not returning to her beloved Philippines.
For nineteen years, Sister Peter Marie worked in various offices at the Center. Her expertise was sought in the Correspondence Department, Development Department, Direct Mail, Key Punch, Secretary for the Center Senior Community, and as Center Health Office Clerk. In 1973, Sister took a correspondence course in Graphoanalysis and became a Certified Graphologist and member of the International Graphologists Society. She was particularly gifted in this field. It brought her into contact with many people, especially Maryknoll Sisters, who often sought her skills upon returning to the Center on Renewal. The basis of her study of handwriting was character analysis, and so great was her fame that people whom she had never known or seen would request that she do an analysis of their handwriting. Much to the amazement of all, she would come up with a profile accurately depicting the person's character. Even a cursory glance at a person's handwriting could steer her into certain channels of thought. However, Sister Peter Marie was ever the professional and treated all as confidential communication.
In her later years, she was unable to continue this ministry but was always willing and happy to discuss with individual Sisters the profile she had done for them. Sister's fame spread outside of Maryknoll and in 1987, as a contribution to the 175th Anniversary of the Sisters of Charity of Nazareth, she and Father Lawrence Krushing did "A Personality Study of Mother Catherine Spalding" foundress of the community.
One of Sister Peter Marie's most endearing traits was her very dry sense of humor. This became evident when she was assigned to the Motherhouse kitchen as a postulant where Sister Una reigned supreme. Sister Peter Marie, entirely naive about the whys and wherefores, asked Sister Una a question that caused a not-so-simple reply. Sister Peter Marie in her gentle way, with hands on hips, turned to the postulant next to her and said: "I ask a civil question and what do I get? A civil war!"
Fr. William Murphy, in a letter of recommendation for Johanna Gertrude wrote to Mother Mary Joseph in January 1946: "I think she would make a grand candidate for your society. Now I hope her age will not be against her. If it is, do try to stretch a point and take her." While Mother Mary Joseph realized Gertrude was forty-one years old, she noted: "Miss Murphy is considerably older than we usually accept, and the routine of the Novitiate will not be easy for her; however, she will have all the help she needs and we sincerely trust all will work out well." Not only did things "work out well," Sister Peter Marie spent over fifty years of her life in service of mission and enriching our lives! For this we are grateful.
We offer our deepest sympathy to Sister Peter Marie's nieces, nephews and friends and we are united with each of them as we celebrate this Eucharist of the Resurrection. We welcome and thank our Maryknoll brother, Fr. Thomas Henehan, for being with us today to celebrate this Liturgy as together we praise and thank God for the gift of Sister Peter Marie's life.