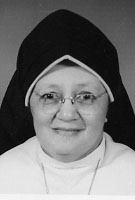 Sister Philomena Marie Rosario, MM
Born: February 13, 1908
Entered: December 2, 1934
Died: June 29, 1986
This morning we gather together to celebrate the Mass of the Resurrection for our Sister Philomena Marie Rosario. The poignancy of her many years of suffering was transformed for her into new life when she went peacefully to her God on June 29, 1986 around 01:00 P.M. Her death occurred in the Maryknoll Nursing Home her home since its inception.
Maria de Lourdes Da Silva Rosario was born in Hong Kong of Portuguese ancestry on February 13, 1908. Her father was Antonius Emmanuel, and her mother was Agar Ruth Botelho. There was only one other child in the family, a sister, Filomena, who lives in Hong Kong.
Sister completed her primary and secondary education in Hong Kong after which she studied three years at St. Mary' s Business School in Kowloon, Hong Kong. On December 2, 1934 she entered Maryknoll in New York after eleven years of teaching music in Hong Kong. In asking for First Profession, Sister said she entered because God had been very good to her and she wanted to pay Him back the best she could. Her superiors described her as mild, serious in thought and manner, easily obedient and very much in earnest. She was professed on June 30, 1937 and made her Final Vows on June 30, 1940.
After First Profession Sister was assigned to the Philippines where she remained except for Renewal times until 1976. When the second World War came, Sister was interned with the rest of our Sisters, becoming one of those valiant women who lived in Los Banos during the period of 1942 – 1945.
Sister Philomena Marie served the greater part of her time in the Philippines in the mission of Lucena where, from 1948 – 1973 she taught grades 3 and 4 and in the later years supervised the household help and did the convent bookkeeping. She loved the Philippines and this love was returned by the people and by the Sisters. She is described as full of life and fun, sateone who could be counted on and who could lighten moments of stress with her good sense of humor. She was a gifted pianist who moved easily from popular to classical music, from playing by ear to reading music.
Illnesses plagued her from the early 1960's on, yet her letters reveal her desire to stay as healthy as possible in order to continue her work. Finally in 1976 it was necessary for Sister Philomena Marie to come to Bethany and from there to Maryknoll Nursing Home. The staff describes Sister as a wonderful person, one who loved to pray. We know how she paced herself in order to help in the sacristy and this she continued until recent weeks.
Sister Philomena Marie was a gift to us in her life of service and suffering. As we begin the Mass of the Resurrection with our celebrant, Maryknoll Father Joseph Veneroso, let us pray and thank God in all our remembrances of Sister and her presence among us.