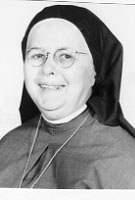 Sister Regina Frances Doris, MM
Born: November 14, 1905
Entered: April 5, 1930
Died: March 30, 1987
On March 30, 1987, at 10:10 in the morning, Sister Regina Frances Doris died in the Maryknoll Nursing Home.
Bridget Frances Doris was born in Brooklyn, New York, Sacred Heart Parish on November 14, 1905, to John and Bridget Brennan Doris, both of Ireland. Her entrance into the world was made at home and for some reason not recorded in Brooklyn's official register. Never at a loss to make the most of a moment, Sister informed one Superior later that she was born but she guessed the doctors were too busy for clerical work!
An older brother, John, and a younger brother, William, comprised the remainder of the family and each of them was very special to Sister Regina Frances.
After graduation from Mercy Commercial Business School, now Catherine McAuley High School in Brooklyn, Sister worked nine years as a secretary at Mergenthale Linotype Company before entering Maryknoll on April 5, 1930. At reception she was given the name Sister Regina Frances. Her first and final professions were made on January 6, 1933 and 1936.
Fully expecting a mission assignment overseas, Sister Regina Frances was asked instead to work at The Field Afar office, living at Bethany, Creighton and the Motherhouse. Except for one year at Monrovia, California, where she worked in the Maryknoll Sisters Hospital business office, her life was devoted to the support systems for Maryknoll's work worldwide: twenty-two years working for the Maryknoll Fathers and twenty-two years for the U.S. Government at the Maryknoll, New York, Post Office. It is doubtful that since 1930, there exists a Maryknoll Sister, Priest or Brother unknown to Sister Regina Frances!
In her retirement years which began at age 75 she began work in our Congregational Health Unit to help a little, as she put it, but those who experienced that service know differently. Her big heart and a gifted sense of humor lightened the day of many a sick Sister.
Sister never took a formal furlough or renewal period until her retirement and then she was able to enjoy two. Each time she asked to spend part of the period in Monrovia, funding the trip as much as possible from personal allowance she had saved.
Examples of such dedication and generosity abound, always prefaced or imbued with her dry humor. Those who worked with her attest to her faithfulness to them. One Sister overseas told me recently of how Sister Regina Frances stayed in touch with her family and wrote regularly to inform her about her mother who was ill and unable to be in contact.
At the time of Sister's Golden Jubilee, when asked what made the past fifty years worthwhile, she answered simply, "Knowing that I am doing God's will. I always felt I was contributing to the work of Maryknoll, even though I was never on the missions."
Today' s responsorial psalm speaks of our God, kind and full of compassion. With that in mind, let us rejoice in this resurrection liturgy for Sister Regina Frances. We welcome Sister Regina Frances' family and extend our heartfelt sympathy. We also welcome Father Stephen DeMott of Maryknoll who will celebrate this liturgy.