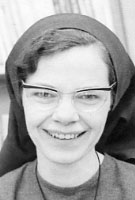 Sister Regina McEvoy, MM
Born: September 22, 1934
Entered: September 2, 1955
Died: December 30, 1983
Dear Sisters, Relatives and Friends:
We welcome you all in living memory of Jesus, who brings salvation to all peoples in time past, today and in time to come.
We come together as a community of faith to celebrate God's faithful love towards us in the person, life and death of our Sister and friend, Regina.
During these past 5 years we in Maryknoll have experienced unexpected suffering and death. We are growing in our comprehension of the wondrous and awesome freedom with which God moves among us. In God's freedom, we are being drawn more deeply into that love which drives out all fear. During these past few weeks of Regina's life, we have seen and been touched by one who knew God's love and tenderness so intimately that fear vanished from our midst. Regina understood that God's love drives out fear. This is why we have chosen the following quote for her memorial card: "There is no fear in love. But perfect love drives out fear." (1 JN. 4:18)
Ursula Ann McEvoy was born on September 22, 1934 at Hudson, NY, the sixth child of Arthur and Katherine Broderick McEvoy. In 1951, she graduated from St. Mary's Academy, Hudson, and then attended the College of St. Rose where she received her Bachelor of Science degree in Nursing. Ursula entered Maryknoll in 1955 and received the name Sister Regina Catherine in 1956 at her Reception. She made her first vows in June 1958. Her first mission was in an inner city hospital in Kansas City, Mo., where she worked as a nursing supervisor. She entered the Maryknoll Cloister in October, 1960. She was appointed Assistant Superior in 1966 and then Coordinator. In 1973, she was assigned to the lower east side of New York with Sister Mercy Hirschboeck and Sister Eileen McIntyre. This ministry flowed from her expressed desire to live a life of prayer and engage in active public ministry in a situation of poverty and oppression. In 1975, this presence was confirmed by her assignment to the Eastern United States Region. Regina wrote: "Life in our neighborhood and my work there, always present new opportunities to live and speak for love, peace and justice." She was filled with this experience when she was chosen as a delegate from the Eastern United States Region for the 1978 General Assembly. It was at this time that she was elected Vice President of the Congregation.
In June 1981, Regina became ill. After treatment, she was able to continue with her work until the summer of 1983. In August, she was admitted to our Nursing Home, where on December 30, 1983 she died peacefully.
At the time Regina requested assignment to our Maryknoll Cloister, she wrote: "The most important element in our lives, I believe, is love and loving generosity." Mission for her was not so much a place, but rather a quality, mainly: "The love with which it is done." This expresses well our experience with Regina these past 5 years. We have all shared her love, warmth, compassion and ability to see and affirm the good in each person. Most people left Regina feeling she had touched them in a special way. This was certainly her gift, a gift born out of a commitment to the mission of Jesus and sustained by an integrated life of prayer. This further enabled a breadth of relationships that reflected the universality of her love and caring.
Regina had the conviction that her life was given to God and so she moved with an extraordinary amount of freedom both with God and with each of us whose lives she touched.
There was frequently something of the unexpected in Regina's responses, rooted in this inner freedom which was hers. When we came together in 1978 we knew little about each other. As we came to know and appreciate Regina's gifts, we were surprised and delighted by her insightful, often well-timed, teasing and the playful touch she brought to otherwise difficult situations.
Regina combined an extreme sensitivity to persons with a strong, sometimes even stubborn-willed, adherence to the principles in which she believed so deeply. She was unswerving in her commitment to the poor which began to find expression in her life in the late 60s. It was her fidelity to this commitment that brought her to the work on the lower east side of New York in the early 70s. During her time on the Central Governing Board, as she traveled outside the United States, she was most touched and inspired by her contact with the poor. Regina's first official visit was to Chile, and the experience of her visit with a young woman in a población in Santiago touched her so deeply that it was the focus for her reflection in the Board's Mid-Term Report: "The experience of that moment was one of the deepest of my life, and the memory of it remains crystal clear. The memory of it has very often returned to gift me, as I recall other things in my life, and as I reflect, pray and act during these years. I saw in this woman's faith, poverty, human suffering and struggle for life with dignity – 'the poor' – of whom the prophets, the Gospels, the Church and Maryknoll speak, and to whom Jesus proclaimed the Good News of the kingdom. This woman became 'every person' for me. Before then, and since then, I have met her. I did not and do not always recognize her – sometimes I do."
In living the Gospel we proclaim, Regina felt strongly that our lives ought to reflect our message. In her own life, there was little contradiction: She lived simply, having very few needs of her own, but was never too tired or busy to respond to someone else's need.
Although in these latter months she was burdened by feeling unable to contribute in the way she had always done, we were strengthened by her suffering and our prayer together each day.
In an even stronger way than ever before she took on the role of sending us forth to carry on the task of mission and to fulfill our responsibilities as members of the Central Governing Board.
The life and death of Regina have meaning in and of themselves, but are also given an added dimension as her spirit is lived out in family, friends and in the Congregation. Regina's spirit and life impel us to an unequivocal 'yes!' to our own call to mission, both as individuals and as a Community. Her radical poverty exhorts us to be faithful to the marginalized and the poor of the earth, living our lives among them, and sharing with them not only our goods and our skills, but also our hearts and our faith. Regina's gift of self to God was absolute; she committed herself totally to God whom she called "Loving Parent". Because of this trust, she could confront others with truth and compassion, reaching out to them from her own immeasurable confidence in God. May we also walk with God as she did, with the freedom which flows from the total gift of ourselves to God.
Regina was a woman of prayer. May a constant attentiveness to God invade the very core of our beings so that, in our struggles for justice and in our life together, we are, as she was, rooted in Christ and grounded in His love.
The Paschal Mystery has no end – Christ is with us now in His suffering, death and resurrection. Strengthened by that assurance, we begin the Eucharist, in the company of Peg, Gert, Regina and Maryknollers in heaven and on earth. It is a Eucharist of joy in Regina's life, of thanksgiving for her love, and of renewed commitment to the mission of Jesus, a mission made visible to us in the life and death of Regina.
We welcome our celebrants this morning: Father Jim Noonan, Superior General of the Maryknoll Society, Bishop James Maloney, representing the Archdiocese of New York, and Father Edward Keehan, former pastor of St. Brigid's Parish in New York.