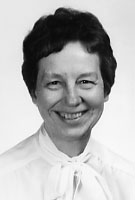 Sister Rita Anne Forbes, MM
Born: February 11, 1928
Entered: October 5, 1946
Died: October 5, 2010
We gather this morning to give thanks for and celebrate the life of our gentle, gracious and generous sister, Rita Anne.
Sister Rita Anne Forbes died peacefully October 5, 2010, at Maryknoll Sisters Residential Care IV. She was 82 years old and had been a Maryknoll Sister for 64 years.
Rita Marie Forbes was born in Saginaw, Michigan, on February 11, 1928, to Anna (Burke) and Eugene K. Forbes. She had three sisters and two brothers, including Monsignor Eugene A. Forbes of the Diocese of Saginaw.
In 1946 Rita Marie graduated from St. Andrew's High School in Saginaw, Michigan. In July she wrote Mother Mary Joseph saying, "I wish to assure you that the idea of a religious vocation is not a new one, or just a passing fancy to me. I have always known that it was for me." She added, "I hope that there is still time to enter this September, as I dislike wasting a valuable year, which might be used in the service of God."
Rita Marie entered Maryknoll on October 5, 1946. At Reception she received the religious name, Sister Rita Anne. She made her First Profession of Vows on April 6, 1949 and her Final Profession on the same day in 1952, both at the Maryknoll Sisters Center in Ossining.
Sr. Margaret Fitzgerald, Rita Anne's good friend, recalls their early days in Maryknoll: "We were over 100 who entered in 1946. Within a matter of a week or so it was evident that Rita Anne was one of the foremost in the group. Always poised yet open and friendly, she showed qualities that the superiors soon recognized. She was one of the  Sisters chosen for further education at Maryknoll Teachers College."
Sister Rita Anne received a Bachelors of Education (B.E.) degree from Maryknoll Teachers College in 1952. She then studied Christian Social Philosophy at Duquesne University, Pittsburgh, PA. In 1962, she received an M.A. in Philosophy from the University of Santo Tomas, Manila, Philippines, and, in 1974, an M.A. in Religious Studies from the Maryknoll School of Theology, Maryknoll, NY.
Assigned to the Philippines in 1953, Sister Rita Anne taught at many different levels: high school in Maryknoll College, Manila, grade 4 in Maryknoll Academy in Lucena City, Geography and Logic in Maryknoll College in Quezon City and high school in St. James Academy in Malabon, Rizal.
Sister Rita, recalled from the Philippines in 1964, was assigned first as Assistant Novice Mistress at the Valley Park, Missouri, novitiate and then as Novice Mistress until 1967.
In preparing for the Chapter of Affairs in 1968, she wrote a new (and in those days, revolutionary) orientation program in which as part of their formation the novices from the St. Louis and Philippine Novitiates began cross-cultural ministry. The Chapter approved the program that went into immediate effect. In 1969 she was appointed Director of Formal Education and Director of Orientation at Maryknoll, New York.
In 1974, Sister Rita Anne was assigned to Bolivia where, in Montero, Santa Cruz, she served on the Pastoral Team doing Religious Education and health and nutrition work with rural women. She was elected to Bolivia's Regional Governing Board, and served as its Coordinator from 1979-1981. She was recalled to the Maryknoll Sisters Center in 1985 to serve as Congregational Personnel Director at Maryknoll until 1989.
In 1989 Sister Rita Anne responded to an invitation from Hong Kong's China Task Force to serve as an English teacher in one of China's universities. Sister Rita Anne wrote to the China Region: "I have always felt personally called to go to China… I understand presence in China as mission… a call to accompany the people, to share with them, and to learn from them. I have the qualifications necessary for acceptance by the government of the People's Republic of China." Sister Rita knew herself and her abilities and was always willing to share  them generously. She explained, "I can at this time live my Gospel commitment without the usual support… and can be sustained by God's presence in my life… I can structure my prayer so as to find in it the support I need for my faith life."
Sister taught at Shandong University, Jinan, Shandong province, from 1989-1991 and Ocean University of Qingdao, also in Shandong from 1991-1993. For the academic year 1991-1992, Rita Anne was awarded a Teaching Excellence Prize by the Shandong Provincial Education  Commission.
Sister Rita possessed those wonderful qualities that endeared her to the authorities in China, her colleagues and students. They spoke of her kindness, her excellence as a teacher, her never failing concern for them and their welfare. When she left, they reiterated over and  over, "We will miss you."
The Sisters in the Hong Kong/Macau Region also missed her. They looked forward to her coming for the school vacations. Living with Rita Anne was a blessing, "one of the nicest persons to live with in Community," they said.
In 1994, after four years in China, Sister returned to Bolivia, where she worked as the Director of Orientation at the Maryknoll Language Institute in Cochabamba.
Throughout her mission life, Rita Anne had always showed a predilection for accompanying women and promoting their welfare. She underlined her belief in the capacity of women for growth and development in a paper written for a theology course, "The greatest change which has taken place in contemporary society is within woman herself, her own recognition of her need for liberation. It is she who must ultimately effect it. She alone can know the movement of the Spirit within her and follow out its direction in her life… Woman has come to a time of freedom, to a time of risk, to a time of discovery. The outcome of the journey is unknown. But anyone who sets out in hope must go on and follow the light shining in the innermost depths of her heart." Over these many years, Rita Anne accompanied many women on this journey – not least her own Maryknoll Sisters. Rita Anne wrote about women's journey as the "path which has already arrived at the goal, for the  goal itself is discovery, is life, is incarnation." Now she knows the fullness of that light and life.
In 2001, she returned to Maryknoll, New York, for health reasons. In 2004 she was admitted to the Maryknoll Residential Care unit where she resided until her death.
We wish to thank the Residential Care nursing staff for the devoted care and respect they gave Sister Rita during her illness.
We welcome Father William Coy, M.M., who will preside at our Liturgy of Christian Burial and Father John Duffy, C.S.P., a friend of our Sr. Agnes Joy. We are grateful for this opportunity to accompany each other in our loss of Rita Anne.