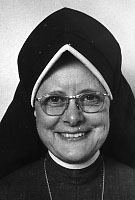 Sister Rita Bonnin, MM
Born: September 12, 1909
Entered: December 6, 1930
Died: December 2, 1997
Shortly before 6:00 a.m., Tuesday, December 2,1997, Sister Rita Bonnin died peacefully in her sleep at the Residential Care Unit at Maryknoll. She was eighty-eight years of age and had been a Maryknoll Sister for sixty-seven years.
Rita Catherine Bonnin was born in Cowlitz Prairie, Washington, on September 12, 1909, the youngest of six daughters, to Catherine Hefley and Augustine Bonnin. She received her elementary education in the parish school, which adjoined the historical site of St. Francis Xavier Church in Prairie, Washington. Rita believed it was in her parish school that the seed of her missionary vocation was planted when her favorite teacher, Sister Assisi, was assigned to work among the native Americans in Arizona. She dreamt that she, too, would some day go to a far away place to care for the sick, and "provide dressings and bandages to sore legs, etc." After graduating from Toledo High School she continued her education at St. Peter's School of Nursing in Olympia, WA, and became a registered nurse in 1929. While taking a course at Providence Hospital in Seattle, Washington, Rita became attracted to a group of Sisters who attended Mass in Providence Hospital each morning. She wrote: "I learned that they were missionaries teaching in a school for the Japanese. At a later date, I returned to Providence Hospital and decided to visit these Sisters. As soon as I stepped through the door I knew that this was the group I wanted to join, and with confidence I filled out the application." Rita entered Maryknoll on December 6, 1930, at Maryknoll, New York, at the age of twenty-one.
At Reception, Rita Catherine received the religious name of Sister Marie Marquette. She made her First Profession on June 24, 1933 and just two years later, her childhood dream of going to far away places became a reality.
Sister Rita's first mission assignment was to the Philippines where she taught student nurses and served as Supervisor of the Operating Room, Delivery Room and Nursery at St. Paul's Hospital in Manila. Upon returning to the United States, in 1940, she pursued her nursing studies at Catholic University in Washington D.C. and obtained a Masters degree in Nursing Education. As World War II intervened and it was not possible for her to return to the Philippines, she was assigned to help establish the first hospital in the jungle area of Bolivia. Sister considered education of local personnel to be an important component of any health care program and trained young women to give basic nursing care.
Sister took life in the jungle of Bolivia in her stride as is illustrated in this story told about her. One morning at the usual 5:00 a.m. dawn meditation in the tiny candlelit hospital chapel in Riberalta, one of the Sisters discovered a three-foot snake under her kneeler. In silence, our brave Sister Rita, who was the house superior, backed out the chapel door, returning with a dust pan and brush. She promptly proceeded to hit the snake on the head with the brush, scooped it up and reverently backed out of the chapel carrying it in the dust pan. Nobody said a word, and all went right on meditating without talking about the hair-raising incident until after breakfast! Surely Rita believed and lived her favorite Scriptural passage: "Yahweh, I know you are near, standing always by my side."
Sister Rita also had a wonderful gift of writing. Her diary account of her trip to Korea by ship in 1954, during which time the ship became crippled and drifted for eight days enduring two horrendous typhoons in the sea off Japan, is a real page turner.
After ten years in the jungles of Bolivia, Rita accompanied one of our Sisters stricken with polio to the United States. Upon arriving in New York, she learned of a possible change in mission assignment. This time she was to be sent to another far-away-place, South Korea, to assist in post Korean war rehabilitation. In a letter, Sister Rita recalled "being overwhelmed by the suffering of so many and the tremendous needs of the thousands of displaced persons. Families separated as they tried to keep ahead of the invading armies. They were without the barest of necessities, without food, clothing or shelter. The first years were spent taking care of basic needs as well as the medical needs". The Maryknoll Sisters undertook the responsibility for the construction of a 120 bed hospital and an outpatient facility. As construction of the hospital was underway, Sister set up a Health Care Program. This program was recognized by the Minister of Health and Social Affairs with the presentation of a plaque and letter of appreciation to Sister Rita on World Health Day, April 7, 1964. The letter read:
In appreciation of your outstanding efforts and services contributed to the betterment of public health, especially to carrying out tuberculosis control programs. I have the pleasure to present you this letter of appreciation as a token of mutual understanding and friendship between you and all the people of the Republic of Korea.
As the hospital neared completion, the clinic was moved into the hospital building which included a three-year school of nursing, resident and intern program in the major services, a school for medical technicians and a program for nurse anesthetists. When enough qualified personnel had been educated, the full responsibility for the Maryknoll Hospital in Pusan was transferred to the local church. Sister Rita's task in Korea was now complete.
During her service in Korea, Sister Rita was able to renew her enduring friendship with Sister Mary Hock who had entered Maryknoll the same year as Sister Rita. They had become friends during their novitiate years, though their mission assignments took them to different parts of the world. Their friendship continued throughout their retirement years on the West Coast and at the Center.
In 1969, Sister Rita returned to Maryknoll, New York, to give two years service in the Development Department before going to Saipan in Micronesia, where she took up a two-year contract with the United States Government on Saipan, Mariana Islands Trust Territory as Assistant Director of the School of Nursing. She also taught pediatrics, medical and surgical nursing and the integrated sciences from 1971 to 1973.
Sister Rita returned to Seoul, Korea in 1974, serving as secretary to the Maryknoll Fathers' Regional Superior for two years. She returned to the United States and spent the next sixteen years in volunteer service, working with women and the terminally ill at the San Diego County Hospice in California. In 1994 she returned to Maryknoll, NY to retire. Sister Rita's wonderful smile and sense of humor delighted everyone and her energy in keeping up with many interests and causes amazed all who came in contact with her.
We welcome and express our sincere sympathy and condolences to Maryknoll Father Walter Winrich, nephew of Sister Rita, who will lead us in this Liturgy of the Resurrection. We are grateful he is with us this morning as together we thank God for Sister Rita's life in mission. We also extend our sympathy to all of Sisters's relatives and friends unable to be with us today.