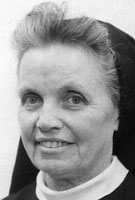 Sister Rita Clare Comber, MM
Born: February 21, 1911
Entered: October 15, 1929
Died: December 26, 1992
Sister Rita Clare Comber died quietly and peacefully at 5:30 p.m. on December 26 in Taichung, Taiwan.
Helen Rita Comber was born in Lawrence, MA on February 21, 1911, the eighth child of the five girls and four boys born to Thomas F. and Nora Higgins Comber. Sister is survived by her two brothers, Maryknoll Bishop John W. Comber, M.M., now at. St. Teresa's Residence at Maryknoll and Mr. Joseph A. Comber of Lawrence, MA.
Sister Rita Clare grew up in a close knit, loving, Catholic family. Most of us here have heard stories of her early family life which reveal the warmth, faith and sibling banter which enveloped her.
Sister graduated from St. Mary's High School in her home town and entered  Maryknoll in 1929. Of her 59 years in mission, Sister spent 13 years in China (Manchuria), 12 in the Philippines, 5 in the U.S. (Los Angeles and Bethany House) and 29 in Taiwan.
"As long as the day lasts, I must carry out the work of the One who sent me." (John 9:4) These were the words which Sisters Rita Clare, Therese Grondin and Rosalia Kettl had chosen to express their dedication to God through Maryknoll at the time of their 60th Anniversary in 1989. Certainly most appropriate words for Sister Rita Clare who even at 4:00 p.m. the very day of her death had an appointment with a young Taiwanese woman acquaintance. She was not able to keep this date but had her in mind as she asked Sister Antonia Maria to talk to the young woman in her stead.
Her love for people, apostolic zeal, sense of humor, sense of hospitality, and simplicity of life were surely outstanding characteristics of Sister Rita Clare. In 1933 when she first went to Fushun, Manchuria, her first assignment, Sister Veronica Marie Garney remembers that, "during the wartime her wonderful spirit helped us through those years of internment."
During the war years when volunteers were asked to form a "skeleton group" to remain in the Fushun Ho Pei parish to care for orphans and old folks, Sister Rita Clare was one of those volunteers. She also volunteered to remain there until she returned to the States on the 2nd Gripsholm Repatriation ship. Sister Veronica Marie writes, "Her joyous, untroubled spirit was again to the fore as we went through three months of ship travel through troubled waters. Bishop John Comber, her brother, and Sister Francis Helena, SND, her sister, were also on this ship."
From 1948 to 1954 Sister worked in the Philippines, teaching in Manila, Malabon, and Baguio.
Here in Taiwan we and her many students and friends enjoyed those same beautful qualities. Sister Rita Clare made a house a home by the warmth of her presence and the gracious manner with which she greeted visitors. She had a very special relationship with a young physically handicapped woman, Giok-Ghhun. They often exchanged small gifts and always held one another in concern and care.
During her few days in the hospital in December as Sister Maureen Gunning was attempting to make Sister more comfortable, a young Taiwanese priest and two women from the parish came in to visit her. Sister Rita Clare's own discomfort was forgotten and her face brightened as she went out in hospitality to her guests. At another time when the doctor came in to see her and after he had finished his work, she took his hand and began telling him of her concern and prayers for his recent problematic family situation. These are only a few examples of the gift Sister had and cultivated for making people feel comfortable.
On the very day of Sister Rita Clare's death when Sister Veronica Marie told her that Father Brien would be available for Sunday Mass the next morning, she suggested that it be at 9:00 a.m. "so that Father can enjoy a longer sleep in the morning."
A wake service will be held at 7:30 p.m. on Sunday, January 3rd. Mass of the Resurrection will be concelebrated at the Cathedral on January 4th at 10:00 a.m., Bishop Joseph Wang officiating. Burial will be at Yuan Lin Catholic cemetery. (A Memorial Mass will be held for Sister Rita Clare at the Center on January 2nd.)