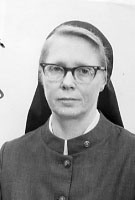 Sister Rita Gregory, MM
Born: May 17, 1917
Entered: September 6, 1945
Died: November 3, 2008
Sister Rita Gregory died peacefully in Maryknoll Residential Care IV at Maryknoll, New York, on November 3, 2008. She was 91 years of age and had been a Maryknoll Sister for 63 years.
Rita Gertrude Gregory was born May 17, 1917, to Theresa B. (Hennecke) and Adolph J. Gregory in Lake Linden, Michigan. She was one of eight children; five sisters and two brothers.
Rita attended Durant and Longfellow Schools and Central High School in Flint, Michigan, graduating in 1934. She took a commercial course at Felt & Tarrant Comptometer, followed by a year of studies at the General Motors Institute in Flint. She then worked for ten and a half years in the Factory Accounting Office of the Buick Motor Division, Flint, Michigan.
Rita entered the Maryknoll Sisters from St. John Vianney Parish, Flint, MI, in 1945, and at Reception received the religious name Sister Marie Vianney. She made her First Profession of Vows on March 7, 1948, and her Final Profession on the same date in 1951, both at Maryknoll, New York.
Sister Rita's first mission assignment in 1948 was to the mail office of the Maryknoll Fathers and Brothers as Special Correspondence Supervisor. Ten years later she was assigned to the Philippines where, for another ten-year period, she was Regional Secretary, as well as Secretary for Vocations which entailed handling correspondence, guiding a Vocation Club, and helping young women discern their vocation to Maryknoll or other local congregations. Sister Rita remembered the latter as one of two of the most satisfying periods of her mission life. She referred to the time in 1965 when, together with another Maryknoll Sister, she accompanied four young women from Maryknoll College, Quezon City, on a four-week mission experience in a rural area in Cateel, Davao, on the island of Mindanao. She felt it was an experience of a lifetime to introduce the young women to share their talents with the people in this remote but beautiful seashore town. One of the participants later joined Maryknoll, Sister Roberta Salvador.
In 1967, Sister Rita returned to Maryknoll, New York, to become Supervisor of the Direct Mail office and member of the Center Council. During this time she also studied at Mary Rogers College earning an Associate of Arts degree in 1972. She returned once more to Baguio in the Philippines in 1973 where she continued her studies and earned a Bachelors of Science (B.S.) degree in accounting at Baguio Colleges Foundation in 1976. That same year Sister was named Directress of John Bosco School in Bislig, Surigao on Mindanao. A year later she was elected Regional Coordinator. Sister Rita remained in this position until 1982. In 1977 she was also elected Coordinator for the Association of Major Religious Superiors in the Philippines (AMRSP).
In 1984, she returned to Mindanao to begin what she later referred to as her second most satisfying period of mission life. Sister enjoyed working at the Notre Dame High School and Elementary Schools in Upi, Maguindanao where she directed the principal and staff. Sister Rita returned to Quezon City in 1989 and provided supportive services for the Philippine Region. She returned to Maryknoll in 1992 and worked in the Congregation's Immigration Services and Personnel Department.
A year later, Sister Rita along with several other Sisters founded the Maryknoll Sisters retirement community in Waterbury, CT. She did bookkeeping for the new community, and also volunteered in the Immaculate Conception Parish assisting the parish social worker, serving on he Steering Committee of the parish and also working as a teacher's aid in St. Mary's school. She is remembered for her kindness, gentleness and hospitality.
When the Waterbury house closed in 2002, Sister Rita returned to Maryknoll and in 2003 she joined the Eden Community. Failing health necessitated her transfer to Residential Care IV in 2004. Until a few days before her death she was alert and conscious responding to those who cared for and visited her. Her prayer ministry during this time was for the Maryknoll Sisters Treasury Department. Sister was a loved and appreciated member of community wherever she lived and worked. While in Residential Care IV, she joined a group called "The Ladies of the Round Table." This special group will deeply miss Rita.
We offer our sympathy to them and the other members of her family, as well as to her many friends.
We welcome Maryknoll Father Robert Depinet who will preside at our Liturgy of Christian Burial this morning.