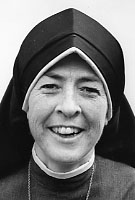 Sister Rita Lonergan, MM
Born: December 23, 1913
Entered: December 7, 1939
Died: January 6, 1994
As we gather to begin this Liturgy today, these words of Scripture come to mind, "Who shall find a valiant woman?" Well, we have found many valiant women in our lives and today we wish to celebrate the life of one of those valiant woman, Sister Rita Lonergan, a Sister very dear to all of us. Sister Rita died early on the morning of January 6th.
Rita Elizabeth Lonergan was born to Patrick and Annie Butler Lonergan on December 23rd in Central Falls, Rhode Island. Rita was the second born of a family of three girls. Educated at St. Augustine's grade school, she graduated from St. Joseph's High School in Newport with commercial studies. The years following graduation, Rita worked as a salesclerk until applying for entrance to Maryknoll in 1939. A desire for missionary work had been with her from an early age and was nourished over the years by the stories of returned missioners and the Field Afar magazine. Rita entered on December 7, 1939 and at Reception received the name of Sister Mary Romanus.
At the time of her Final Profession on June 30, 1942, Sister Romanus was asked to write a reflection on the ideal Maryknoll Sister. She begins this reflection with the words of our Blessed Mother, "Behold the Handmaid of the Lord." These words continued to guide Sister Rita all during her Religious life, as she strove for union with God through faithfulness to prayer and in service to others. Also the words of Christ, "Come follow me," always provoked a loving response in her daily life.
Sister Rita's many years of mission were lived out through different assignments in the United States. Always generous in spirit she was a Wonderful housekeeper in St. Louis, Stockton, Mountain View and finally Monrovia, where she spent over 25 happy and fulfilling years of mission.
Then in 1981, Sister Rita returned to the Center to assume the position of Housekeeping Supervisor, first in the Center and later in Skilled Nursing. Sister became known for her diligence, devotion to accomplish any task and her kind smile that graced all her days. In a quiet but purposeful manner, Sister Rita lived among us here at the Center, faithfully living out her commitment to mission through Maryknoll.
In 1989, Sister wrote a note to Sister Betty Ann Maheu, then the Administrator of the Center, saying she felt she should resign her position as Supervisor of Housekeeping because "old age has caught up with me." Quite significant words coming from her as she was always hurrying to accomplish her work in service to others, so even, old age had to catch up with her. Sister soon needed more assistance from others in her daily life. In January 1990, she became a resident in Skilled Nursing where she continued to participate in many activities and to grace others with her lovely smile. She was always grateful to God for her life and all the things others would do for her. Her famous phase when asked if she needed anything was always, "I have all this and heaven too." This stance toward life was ever before her in the form of a poem her sister, Nina, had framed to hang in her room.
Today as we celebrate the Liturgy of the Resurrection for Sister Rita, we welcome her family and our Maryknoll brother, Father Joe Veneroso, and Father Joseph Gallagher, brother of Sister Rose Bernadette and pastor in Nina Lonergan's parish in Newport, Rhode Island, celebrants of the Liturgy of the Resurrection for Sister Rita.