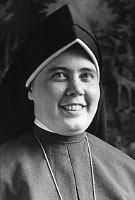 Sister Rita Sullivan, MM
Born: January 11, 1924
Entered: September 6, 1945
Died: May 14, 1970
Sister Rita Sullivan (M. William James) died after a serious illness, at St. Agnes Hospital in White Plains, NY at one a.m. on May 14, 1970.
Sister Rita was born in Boston Massachusetts on January 11, 1924. She attended St. Matthews School and Dorchester High School for Girls and entered Maryknoll on September 6, 1945. She was professed on March 7, 1948 and continued her studies at Maryknoll Teachers College. After graduation she was assigned to Transfiguration School in New York Chinatown and in 1954 to Hawaii.
In 1962 she went to Stockton, California for catechetical work. In 1966 the Topsfield Novitiate staff needed another member to introduce the novices and postulants to practical living in the Maryknoll Family. Sister Rita filled this position well, endearing herself to numbers of young Sisters who have been her loyal friends during the months at the Motherhouse infirmary.
In 1967 Sister Rita's dream of a Latin America apostolate came true when she was assigned to Peru for catechetical work. Her work at Azangaro was cut short by illness and her return to the United States in August, 1969.
Sister's abiding peace in embracing God's plan for her was reflected in her ready smile and warm expression of gratitude to God and her Sisters for any small service given to her. Even during her last days Sister's radiant smile and gentle nod assured us that she was at peace and waiting for God to take her soul to Himself. Her lips moved in unison with our Salves and ejaculations so consoling to those facing death.
Sisters devoted parents and ten brothers and sisters have watched with her and bravely shared her sacrifice. She is the first child of this beautiful family to return to God.
Sister Rita was laid to rest in the Sisters cemetery following the Mass of the Resurrection on Saturday afternoon, May 16th. Our Sisters' love and concern for her will be expressed in our community and personal prayers for her precious soul.