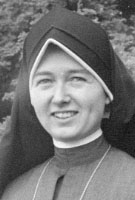 Sister Roberta King, MM
Born: March 28, 1916
Entered: June 17, 1935
Died: November 22, 2001
Sister Roberta King died peacefully at 6:45 a.m. on Thanksgiving Day, November 22, 2001, at the Residential Care Unit of the Maryknoll Sisters Center. Sister was 85 years of age and had been a Maryknoll Sister for 66 years.
Daisy Belle King was born March 28, 1916 in Lynn, MA, one of two daughters, to Dundee John and Mary Sullivan King. Daisy received her early education at Saint Joseph's Institute and St. Mary's High School, Lynn, MA, and a year later, while attending Salem Teachers College, Salem, MA, applied for admission to Maryknoll.
Daisy entered Maryknoll June 17, 1935 and at Reception received the religious name of Sister Mary Roberta. She made her first profession of vows January 6, 1938 at Maryknoll, NY and her final profession on the same date three years later. She continued her education in the Maryknoll Teachers College [later known as Rogers College] from 1937 to 1939, and after receiving her Teachers Certificate in 1939, taught kindergarten at the Maryknoll Sisters Center until receiving her assignment to Hawaii in 1941.
Hawaii was Sister Roberta's home for the following 27 years – from 1941 to 1968 – where she became known as a master teacher of primary school children. Besides teaching in the Catholic Elementary Schools, Sister Roberta supervised training programs for teachers of Catechism of Christian Doctrine in the Windward and Honolulu sections of Oahu. After school hours, she instructed adults preparing for baptism and held religion classes for children living on the Marine base. In 1965, she was selected, along with two teachers from the public schools, to pilot a Linguistic Reading Program being researched by the University of Hawaii. She was a Demonstration and Pilot Teacher in this Program until family responsibilities called her back to the United States. To quote from one of the many tributes to her teaching abilities, an Associate Professor at the English Language Institute of the University of Hawaii wrote: "I am in the business of teaching teachers and it has seldom been my experience to observe a teacher who so thoroughly milked materials dry, and then utilized everything in the environment to make the materials, the particular lesson—indeed, education interesting and rewarding."
In 1989, after having received a Masters Degree in Education from Salem State College, plus a Massachusetts Certification as a Reading Specialist, Sister was employed by the Lynn Public School System working in their Remedial Reading Department. While in Lynn, she served on several planning committees, and was always eager to accept the challenge of creative and innovative experiments to help improve educational opportunities for the children she loved and served, especially those in difficult social conditions.
When the Maryknoll Nursing Home opened in 1978, Sister Roberta requested an assignment to the Center to dedicate the rest of her life "to helping our sick." She wrote, "I love Maryknoll and Maryknoll Community life. After being away (10 years in the Eastern Region plus 27 years of mission work in Hawaii), returning to the Center and being of service to our sick Sisters in the Nursing Home is a great privilege for me, bringing with it a deep sense of peace, joy, and happiness. I feel that I can bring to our sick Sisters all the love, tenderness, and dedicated service I have been happy to give to children since 1939. I've come full circle. My heart is filled with gratitude to God for the privilege of serving others through our Maryknoll vocation."
In 1988, failing health necessitated Sister Roberta, commonly known as "Daisy," to relinquish her duties as Directress of Volunteers. This did not, however, alter her cheerful spirit and loving concern for all whom she met. She was always there with her big smile and kind words and daily thanked each of the Residential Care Staff she met for being there!
Sister Roberta (Daisy) will always be remembered as "the perfect lady" – always dressed up, wearing a big smile, and with an enthusiasm and gentle approach in life that captured the hearts of all.
We welcome our Maryknoll brother, Father Thomas Henehan, who will preside at this Eucharistic Celebration of Christian Burial as we celebrate with thanksgiving and joy the gift that Sister Roberta (Daisy) has been in our lives.