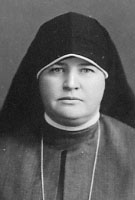 Sister Rose Benigna Hanan, MM
Born: March 7, 1906
Entered: October 15, 1929
Died: April 19, 1984
We gather once again to celebrate the mysteries of our faith — Jesus' gift of Himself to his friends, his suffering, his death and his resurrection. Sister Rose Benigna died on Holy Thursday morning as we were concluding final preparations for the burial of our dear Sister Judith Tivnan. May Sr. Rose Benigna's spirit be with us as we remember her and give thanks for her life of service to God and to the mission of Jesus Christ!
Rose Eleanor Hanan was born in Holyoke, Massachusetts, on March 7, 1906, one of the seven children of James and Mary Swords Hanan. She attended the parish grammar school and Holy Rosary High School in Holyoke. She had made an early decision for religious life, but she felt the family still needed her for a time; so, Rose attended Westfield Normal School and was graduated with her teacher's certificate in 1925. She then became, according to her Pastor, the Rev. William Foran, "An immediate success as a teacher in our public school system."
Rose Hanan entered Maryknoll on October 15, 1929. Those in the novitiate with her were glad she was there. She might not uplift them by her strict observance of the rules, but her exuberance, energy, laughter and open friendliness were inspiring. Then and throughout her life, she had an outstanding capacity for making and keeping friends. One of the things that troubled her most in her last illness was the inability to respond to the many who continued to correspond with her. Rose made her first vows on January 6, 1932 and her final vows on the same day in 1935 in Los Angeles, where she was teaching in the Maryknoll School for Japanese. She went to the Philippines and taught a year in Malabon before being assigned to Dairen, Manchuria in 1937. The Maryknoll Sisters school there was an international mix of students and Sister Rose Benigna taught in the grade school and was the Superior of the House. The Japanese ruled Manchuria then and Sister Rose Benigna saw the wisdom of opening some classes for the women, most notably a cooking class. The women all loved the classes and, in 1940, some of them got the idea that Sister was going to be transferred to another mission. One of the women, Monica Furuya, decided to write to Mother Mary Joseph about this. The letter begins with great praise of Sister Rose Benigna and her work in Dairen and concludes: "If you can, please do not tell her she has to go back to America or some another place; if we miss her now, it must be a terrible thing for all of us. I did pray hardly for this." (sic)
The gift of Holy Thursday is community — and Sister Rose Benigna had a certain and sure gift for this. All the Sisters in Manchuria at the time remember wanting to go to Dairen for vacations because she made it so much fun.
Her cooking skills reflected her largeness of heart – and body! She played the organ at the various parties and rejoiced when people of all faiths joined loudly and firmly in "Silent Night" and "O Come All Ye Faithful". She loved nothing more than a good card game and a group around her to laugh and sing.
The gift of Good Friday is suffering — embraced for love of God and others. Sister Rose Benigna had an illness which grew worse over the years. When the war broke out in 1941 and the Sisters were interned in Dairen and then in Shanghai, the deterioration advanced more rapidly than before. The month spent on a Japanese ship on a wooden bunk was agony for her. She was among the Sisters who were repatriated on the M.S. Gripsholm and arrived in New Jersey harbor on December 1, 1943. After some months of adjustment to Maryknoll life again, Sister was assigned as first Superior to St. Anthony's in the Bronx, New York. This was a difficult assignment as the predominantly Black student body came from a rapidly changing neighborhood and needed above all a sense of their own worth as persons. With Sister Richard Marie in charge of the music program, and Sister Xavier Marie to build up the sports program, Sister Rose Benigna applied her abundant talents to creating a real parish team of priests, Sisters, students and parents. She was firm, but understanding; fair, but willing to bend a little when the occasion demanded it; disciplined, but also charged with excitement about what the school should and would be.
During these years, her condition got worse and she had two operations. She wrote to Mother Mary Columba on the eve of the second operation: "It isn't pleasant to have oneself as the primary motive for living… Help me, please, to consecrate this offering through our blessed mother for extra blessings for Maryknoll." Neither operation really helped the pain.
In the years following her operation, Sister Rose Benigna continued to live a full religious life. She had some years at Bethany and then moved to St. Teresa's where she was Superior and also began the work that she continued to do until December, 1983 proofreading materials for the Maryknoll Fathers. In this time, she also worked in the Salesroom at the Center, greeting guests and welcoming all who came.
The hardest years of Sister Rose Benigna's life were these last five in Maryknoll Nursing Home to which she was admitted in December, 1978. The physical pain that she had endured for years interacted with the uselessness she felt and this anguish of spirit darkened her last days. She was ready for God, but God seemed slow in coming.
The gift of Easter is the resurrection. On April 19, 1984, Sister Rose Benigna passed through the suffering of this life and into her own personal encounter with the God who loved her through it all and in whom she trusted. We who have yet to experience this mystery can only echo the words of her Japanese friend, Monica – "If we miss her now, it must be a terrible thing for all of us."
We extend a warm welcome and our heartfelt sympathy to the family and friends of Sister Rose Benigna who are here this morning to celebrate with us this Eucharistic Liturgy in thanksgiving and loving remembrance of Sister's life among us.
We welcome also the celebrants of the Eucharistic Sacrifice, who are the Rev. Gerald F. Ryan, friend and former co-worker with Sister Rose Benigna when she was in the Bronx; Bishop Leo E. O'Neil of the Diocese of Springfield, Massachusetts, long-time neighbor and friend of the Hanan Family, the Rev. John Burke, who accompanied the Bishop to Maryknoll, and the Rev. Gervis J. Coxen of Maryknoll, friend of many years. To all, our heartfelt thanks for the comfort and strength your presence has brought to us.