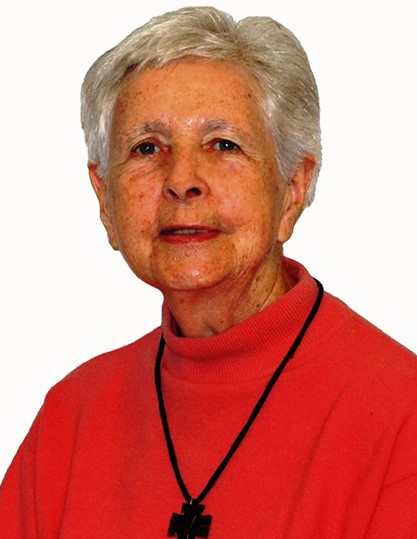 Sister Rose Bernadette (Meg) Gallagher, MM
Born: September 12, 1922
Entered: September 7, 1943
Died: February 9, 2023
As we gather to reflect on the life of our sister, Mary Ellen, (Meg) Gallagher, the verses of scripture from Habbakuk speak to us of the woman she was: "Write the vision, and make it plain upon tablets, that she who reads it can run after it. For the vision is yet for an appointed time, but at the end, it shall speak, and not lie: though it tarries, wait for it". Also, this one from Proverbs, "Where there is no vision, the people perish". In planning a meeting, discussing the future, or even just having coffee, Meg would always say, "Dear, what is the vision for mission? What is the big picture?"  That was Meg.
Meg died on February 9, 2023 in our Maryknoll Sisters Center, New York. She was one hundred years old, although she would admit to being "only 98", and she had been a Maryknoll Sister for eighty years.
Mary Ellen Gallagher was born on September 12, 1922, in Providence, Rhode Island, to John Francis and Elizabeth Mary (Byrne) Gallagher. Meg grew up in a loving home with her six brothers and one sister—all of whom have pre-deceased her. Her claim to have been a "tomboy" among her brothers made a vivid contrast with her everyday elegance in jewel-toned Thai silk!
Meg graduated from Aldrich High School in Lakewood, RI in 1940. She entered Maryknoll Sisters on September 7, 1943, and received the name Sr. Rose Bernadette at reception. She made her first vows at Maryknoll, New York, on March 7, 1946.
In 1948, Meg received her first overseas assignment to Wuchow, now Wuzhou, China where she made her final vows on March 7, 1949. Meg was mostly in language school and doing parish work. When the communists took over China in October 1949, missionaries were expelled. Meg however stayed in China and was put under house arrest from November 1950 to December 1951, and then was sent to Hong Kong in 1952. There she worked in the outlying area of Hong Kong among those who were most in need of consolation and support. She did leadership-training programs on community development. It was at this time that Meg's lifelong commitment to walk with women and fight for women's rights began; she never wavered in it. In 1970, Meg was instrumental in creating AMOR, the conference of major superiors of women in Asia.
Meg loved learning and returned to the US to study towards the end of 1971. She received her Bachelor of Arts from Mundelein College in 1975, having taken some courses at St. John's University. Meg served in Congregational Service on promotion in 1975-1977. She went on to receive a Master of Arts in political science specializing in China Studies from the University of Chicago in 1980.
In 1982, Meg returned to her first love, China. Meg taught Teaching Methods to lecturers at the Xi'an Science and Technical University until 1985. She moved to Beijing University, teaching English and Research Methodology to graduate students from 1985-1987. Returning to China was for her a special grace and gift. She wrote at that time, "I loved, and still do, the Chinese people".
She then transferred to the Eastern US Region in 1988 and taught a preparation course for foreign students at Towson State University and at Notre Dame College in Maryland.  She loved this work—and felt her long experience in China had enabled her to relate to the young people and guide them in their struggles with the United States culture and education system.
In 1992, Meg was invited by the Maryknoll Society and Lay Mission Program to join the collaborative mission in Thailand. She stayed a member of the Eastern US Region until she transferred to the newly established Cambodia-Thailand region in 1993. Her ministry in Thailand was two-fold—being the anchor of the collaborative Maryknoll Center house in Bangkok and her work with the Women's Desk in Bangkok which was established "to help Thai women and young adults to come to a real sense of their value as women." Meg was equally a staunch supporter of women's rights and the collaborative way of mission, that evolved out of the Thailand Unit to the Maryknoll Mekong Mission and eventually to Maryknoll Asia South.
In 2005, Meg at 83 years old returned to the US, completing her mission in Thailand. Those who knew Meg were not surprised that soon after she felt called once again to mission overseas, this time to Africa. Meg was assigned to Sudan and arrived there in March 2006. She entered again into work with women, but sadly, once there but a few months, Meg fell on a dirt path.  Thereon, she went from the hospital in Nairobi, Kenya back to the Maryknoll Sisters Center where she was assigned to the Rogers Community on January 4, 2007. She did not give up her dreams—not Meg! She requested and was given permission to join the Maryknoll Office of Global Concerns in 2007 with a special focus on justice issues for women. She attended meetings at the United Nations on issues related to women, her lifelong passion. Often, she would walk down to the train station to get to New York City. Meg continued this work until her retirement and assignment to the Chi Rho Community in 2012. In October 2021, in need of more support, Meg moved to the Eden Community. She was gracious to the end—when told she was not encouraged to go out walking alone, she smiled and responded, "thank you, dear", and set off for the front door, daily.
A poster that she used for her brother's memorial tells us all we need to know about Meg.  It pictures a sandhill crane rising gracefully from a lake; the text read, "Let us share the vision, and make it possible for great love to arise."