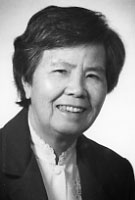 Sister Rose Chin, MM
Born: January 15, 1926
Entered: May 2, 1962
Died: July 26, 2007
"The Lord is my shepherd: there is nothing I shall want."
When her spirit was drooping Rose found repose. When she walked in the valley of darkness no evil did she fear. You were there with your crook and your staff to give her comfort. For more than eighty years you guided Sr. Rose Chin along the right path. At Rose's request we will sing Psalm 23, The Good Shepherd, during this liturgy.
Our Sister Rose Chin died in Residential Care IV at Maryknoll on July 26, 2007 at 2:30 p.m. After being hospitalized for an injury, she became ill which further weakened her. Not wanting extraordinary treatment Rose asked to return to Maryknoll, where, surrounded by loved ones, she died the following day.
Chin Sui Chi was born in China, in Dingjiang Village, Lingchuan, in the Province of Guangxi. The exact year of her birth is unknown, recorded in various documents as 1924, 1925, and 1926. Rose wanted the date on her headstone to read January 15, 1922. She had two beloved parents, Chin Sung Hsuen and Fu Wong Tsun, two elder brothers and one younger brother.
Rose encountered the Catholic Church as a young woman and decided in one moment that she wanted to be a Catholic and a religious Sister. She took instructions, was baptized, received the name Teresa. and joined the Sister Catechists of the Blessed Virgin Mary (a community of Sisters being trained for the Guilin church by Maryknoll Sisters). Teresa became Sister Rose.
In 1944, during the Japanese incursion in the area, the church and novitiate buildings in Guilin were completely destroyed. The novitiate reopened in 1945, only to be closed again in 1950 after the Communists defeated Chiang Kai-shek's nationalist army. The professed sisters were dispensed of their vows, and together with the postulants and novices were sent to their home villages. However, three Sister Catechists were not in Guilin at the time; Sisters Joan Ling, Rose Chin and Agnes Chou had been sent to Macau for studies. Unable to return home or to their religious congregation they remained in Macau to complete their secondary education at St. Rose of Lima College. The three eventually moved to Hong Kong where in 1959 Rose earned a Teacher's Certificate, with special training in art, from Grantham Training College.
Sister Rose worked in Hong Kong at the Maryknoll Sisters' Nursery in St. Teresa's Parish, and at Maryknoll Convent School before joining the Maryknoll Sisters in 1962. A member of the first entrance group at our Novitiate in the Philippines. Sister Rose became Maryknoll Sister Rose Miriam. She made her First Profession of Vows on March 19, 1964 in the Philippines and her Final Vows on June 24, 1969 in Hong Kong.
Rose was assigned to the South China Region in 1964 where for twenty-five years she served as teacher and principal at Our Lady of China Primary School in Kwun Tong, an industrial area of Hong Kong. Most of the pupils came from resettlement areas, many with learning  difficulties and emotional problems as well. Rose, a devoted teacher, hoped each child could learn and develop according to its individual abilities. During this period she completed a theology course organized by the Association of Major Superiors of Religious Women in Hong Kong, and in 1973 received an Associate of Arts Degree from Rogers College, Maryknoll, New York.
After a silence of more than twenty-five years, Rose heard from her family in 1977. A letter from her younger brother contained the news she had feared. In the ten years between 1958 and 1968 her father, her mother and two brothers had died. At a memorial Mass in their honor held in Hong Kong Rose shared: "I respected and loved my parents… Fifty years ago it was not the custom in the countryside of China to educate young girls… but both of my parents were very open to the idea of education for girls, so I was sent to Guilin to study. That is why I am here now."
In 1978 Rose, Sr. Joan Ling and a friend traveled to Guilin. A dream come true for Rose. It was a joy for her to see again the beautiful countryside of her childhood, and to meet many relatives and village people, especially the older ones who still remembered her.
Rose returned to Maryknoll in 1990 putting her sewing skills to good use by assisting Sisters with their clothing needs. Her decision six years later not to return to Hong Kong was not an easy one, but Rose believed that here at Maryknoll she would receive the medical support she needed. By then she was living with an illness. Rose both embraced her illness and struggled with her body. She was committed to exercise and myotherapy, wanting to remain mobile and independent.
This desire for independence and freedom was a thread that ran through her life. How many times had Rose been challenged to take a new direction, had struggled to fit in, and courageously accepted what could not be changed. Her efforts were valiant. She is remembered as a loyal principal, a person with a gentle, caring and attentive presence, a humble woman with a sense of humor who would not be rushed, who put first things first.
We extend our condolences to Rose's family, to the students and staff in Kwun Tong, to the Maryknoll Sisters in the China Region and especially to Rose's dear Sister friends Joan Ling and Agnes Chou. The Maryknoll Sisters in Hong Kong will celebrate a memorial Mass for Rose on August 6 and a memorial Mass will take place at the school at Kwun Tong on August 9.
We welcome our guest, faithful friends of Rose since Hong Kong days and Maryknoll Father Ernest Lukaschek who will preside at our Liturgy of Christian Burial.
A table is spread before you, Rose.
Your cup overflows.
Your head has been anointed with oil.
You are resting now in the Lord's own house where you shall dwell for ever and ever.