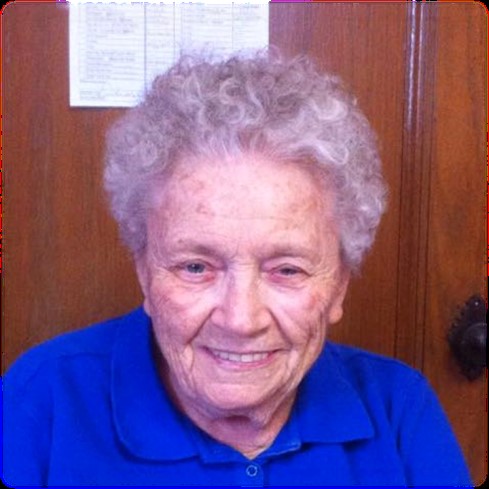 Sister Rose Christopher McKeegan, MM
Born: May 3, 1930
Entered: September 6, 1950
Died: April 2, 2020
"Love excuses everything, believes all things, hopes all things, endures all things" I Cor.  13:7
The quote above from I Corinthians summarizes the life of Sr. Rose Christopher McKeegan who was called home to God on April 2, 2020.
Mary Jane Elizabeth was born on May 3, 1930 in Brooklyn, N.Y. to Elizabeth Quinn McKeegan and Joseph McKeegan.  Both parents were born in Ireland. She had three brothers: John, Daniel and Joseph and one sister Elizabeth. All of her siblings predeceased her.
Born in the midst of the Great Depression, her parents decided to send her to live in Ireland with relatives for a few years. This is one of the reasons she was so proud of her Irish heritage including the tradition of a cup of tea made only with boiling hot water.
Having returned to the United States, Mary Jane received her Primary Education in St. Anthony of Padua School in Brooklyn, NY and graduated in 1948 from St. Joseph's Commercial High School also in Brooklyn. Mary Jane worked for two years as a typist for the N.Y. Telephone Company.
At the age of 17, influenced by the Maryknoll's Field Afar Magazine, Mary Jane entered the Maryknoll Congregation on September 6, 1950 at the Motherhouse.  At her Reception, she received the name of Sr. Rose Christopher which she maintained throughout the rest of her life. She made her First Profession of Vows on March 7, 1953 and her Final Vows at Maryknoll, NY on March 7, 1959.
From 1953 – 1955, Chris, as she was affectionately called, was assigned to Congregational Service working first in the seminary kitchen and then in charge of the Motherhouse laundry. In 1955 she began her studies at Maryknoll Teachers College graduating in 1959 with a Bachelor of Education Degree.
Upon finishing her studies, Chris was assigned to the Bolivia/Peru Region where she assumed the Spanish Version of her name and was known as "Madre Cristela" or a shorter version "Madre Cris".
In 1959 after an improvised language preparation, Chris was welcomed to her first mission assignment at the Professional School in Riberalta, Department of Beni, Bolivia known locally as the "Profe" where her commercial skills were greatly appreciated. Because of her love of sports, she encouraged the young female students in the city to form basketball teams so there would be a Women's League of Basketball in Riberalta.
Becoming worn out by Riberalta's ever hungry jungle bugs, Chris, in 1964, was assigned to the Santa Ana Parish Grade and High Schools in Cochabamba. There she taught Gregg Shorthand and English.  In time, although a very busy and sought after person in the Field of Education, she accepted many invitations to serve on various Education Committees throughout the City.  Chris was well known and fondly remembered, especially by her former students who aptly expressed her contribution to education in the following words: "Under her aegis, Maryknoll High School became synonymous for fine education.  Students developed social and environmental consciousness and many alumni are now prominent in business and various significant professional fields".
For two years after the commercial section of Maryknoll High School was closed, she offered hours of training to a commercial group at the Canadian Sisters Commercial School.
On weekends and spare moments, in 1965 Chris set up the Girl Scouts in Cochabamba. "Siempre Lista" (Always Ready) she served as a Girl Scout Commissioner for the Department of Cochabamba for 18 years.
There was another side to Chris. She proved to be a dedicated, astute, and understanding Regional bookkeeper. She came to the rescue of those who couldn't "figure it out" especially those who could only say, "All I can tell you is that what came in went out". She always took the time to listen, whatever the difficulty might be.
Besides being known for her delicious Irish Soda Bread and perfect egg nog, Chris was also the official turkey carver and excellent cook-out chef.
Being 100% Irish, Chris always had a soft, tender spot in her heart that easily brought tears to her eyes and a smile on her face. There were times when we weren't sure if we should laugh or cry with her.
Let us rejoice as Chris joins the Maryknoll Family in heaven. She is now safely home with the God she served so generously and His Mother she loved so tenderly.
Sister Rose Christopher's body was interred in the Maryknoll Sisters Cemetery. A Memorial Mass will be celebrated later when the global situation makes this possible.