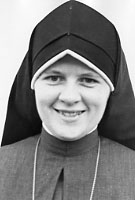 Sister Rose De Sales Herdler, MM
Born: February 24, 1915
Entered: December 29, 1936
Died: January 23, 2002
"May my roots go down deep into the soil of God's marvelous love: and may I be able to understand how long, how wide, how deep and how high God's love really is; and to experience this love for myself though it is so great I will never see the end of it, or fully know or understand it."
Today's first reading from Ephesians offers us a beautiful reflection on the life of our Sister Rose de Sales. She is remembered as a quiet, pleasant woman who always made others feel at home in community. Her loving generosity and patience were apparent to all, especially in her many years as housekeeper and driver when she was always willing to make an extra trip for someone in need or prepare something special for a festive meal.
Sister Rose de Sales Herdler died peacefully in the Residential Care Facility at Maryknoll, New York on January 23, 2002. She was 86 years of age and had been a Maryknoll Sister for 65 years.
Loretta Caroline Herdler was born in St. Louis, Missouri on February 24, 1915 to Henry and Rose Hempen Herdler. Loretta was the oldest of five children. She attended St. Francis de Sales Elementary School and Roosevelt High School. She also completed a one year secretarial course at Brown's Business College and was employed for several years as a salesclerk.
Loretta became interested in mission work after meeting a Sister in St. Louis who was working overseas. She contacted Maryknoll and expressed her motivation for mission: I wish to spread the kingdom of God on earth.
Loretta entered Maryknoll on December 29, 1936 at Maryknoll, New York. At Reception, she received the religious name of Sr. Rose de Sales, a name she would retain for the rest of her life. She made her First Profession of Vows June 30, 1939 at Maryknoll and her Final Profession of Vows on the same date in 1942.
After First Profession, Sr. Rose de Sales was assigned to work in the Field Afar office where her secretarial skills were urgently needed. After four years at the Field Afar, she was delighted to be assigned to Hawaii in 1943. The war in the Pacific made travel nearly impossible so Sr. Rose de Sales spent the next six months in California awaiting military clearance. The Sisters finally sailed from San Francisco in January 1944 aboard the SS Permanente as part of a large convoy arriving in Honolulu ten days later.
Sister Rose de Sales' first assignment in Hawaii was in Honolulu where she was to manage the residence for our Sisters who were instrumental in the foundation of Catholic Charities. She traveled to Hawaii with Srs. Victoria Francis and Janet McConnell who were part of the early Catholic Charities staff. Sister is fondly remembered from those days in World War II Hawaii as the baker of superb chocolate cakes. The regional superior, Sr. Felicita Clarke, did not like chocolate so angel food cake was always served for dessert on Sunday but when she was away, Sr. Rose de Sales switched to chocolate cake as she knew that the others enjoyed it. The secret was revealed one day though when Sr. Felicita changed her travel plans and arrived home one day early to find everyone enjoying Sr. Rose de Sales' chocolate cake.
Sister had a remarkable ability to make the best of a difficult situation. Sr. Felicita would send the Sisters out each evening to pick up fallen mangoes from the trees in their yard and dispose of them. Sr. Rose de Sales, who had never seen a mango before, decided to try adapting her peach pie recipe and produced delicious mango pies for the Sisters, thus making a difficult task a little easier for all.
In 1946, she went to the Maui Children's Home, a residential home for children who were orphaned or awaiting placement in foster care. Sister loved caring for the children and was particularly gifted in her work with the youngest children as she tried to provide a loving, home-like environment for them. The children remembered her with great fondness and remained in contact with her for many years even after they were grown and left the Home. She remained at the Children's Home until 1952 when she returned to St. Anthony's Kalihi briefly before leaving Hawaii in 1953 for her renewal.
Sister Rose de Sales was assigned to Tucson, Arizona after completing her renewal program in 1953. In 1955, she went to Houston, Texas where she did catechetical work and home visiting. She was assigned to the Promotion office at Maryknoll in 1957 and would spend the next two years between Maryknoll and Valley Park, Missouri, doing secretarial work in the Promotion office.
In 1959, Sister Rose de Sales was assigned to Monrovia, California, a hospital for patients with tuberculosis, where she worked as part of the dietetics staff. She moved to Mountain View, the Maryknoll Fathers Minor Seminary, the next year continuing her work in food preparation and nutrition.
Sister Rose de Sales went to the Maryknoll Sisters Novitiate in Topsfield, Massachusetts in 1963 to work as driver and cook until 1967 when she moved to the Novitiate in Valley Park, Missouri where she continued in the same ministry. In 1973, she returned to Maryknoll and joined the staff of Bethany, the Residential Care facility for Maryknoll Sisters, as a driver for the Sisters.
In 1978, Sister Rose de Sales began a new career working in the Direct Mail Office of the Development Department at Maryknoll. Sister described her work in Direct Mail as being the receiving clerk and router of all mail that came into the office as well as responding to sponsor mail. Sister enjoyed the work in Direct Mail and continued until 1998 when she retired at the age of 83 for health reasons.
We offer our deepest sympathy to Sister's family and friends. We welcome our Maryknoll brother, Father Frank Diffley who will preside at this Eucharistic Liturgy of Christian Burial as we lovingly remember and give thanks for the life of our Sister Rose de Sales.