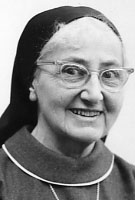 Sister Rose DeLourdes Loftus, MM
Born: June 17, 1900
Entered: December 8, 1935
Died: October 21, 1978
Sister Rose died at 8:05 on Friday morning, October 21, at Phelps Memorial Hospital.
Eleanor Frances Loftus was born on June 17, 1900, in New York City. She was the only girl in a family of four children. Sister grew up in Our Lady of Lourdes Parish, W. 142nd Street and attended the parish grade school. There she met the Holy Child Sisters and they were again her teachers in Holy Child Academy (St. Walburga's) where she attended high school. For them she always cherished deep affection.
Coupled to Sister's deep faith was her loving and life-long devotion to Our Lady of Lourdes, fostered, no doubt, in her home parish, and enlivened by the joy she had of making a pilgrimage to Our Lady's shrine at Lourdes, France, before entering Maryknoll. She seldom, if ever, missed a day without visiting our own Lourdes grotto, unless she was away from the Center.
Eleanor's interest in Maryknoll was sparked by her cousin, Father William Booth, M.M., whom she often visited at Maryknoll while he was a student. She interested a number of her girl friends in forming a mission club – and, feeling that they all needed some mission education, as well – she subscribed to the Maryknoll Magazine, then known as The Field Afar, for each of them. Our Sister Miriam de Lourdes Fahey was a member of this group which called themselves simply "The Gang" – a name that has clung to them to this day. Sister Miriam de Lourdes attributes her own interest and subsequent entrance in Maryknoll to Sister's influence.
Eleanor's entrance in Maryknoll was delayed – her three brothers married, and her mother, a widow, was in ill health and so Eleanor undertook her care, until her mother's death in 1934. The following year on December 8, 1935, she entered the Maryknoll Community. Shortly before her mother's death, Eleanor told her mother her plans to enter and her mother died happy with that knowledge. She made her first Vows on June 30, 1938 and her Final Vows on June 30, 1941.
Sister Rose de Lourdes was a competent secretary and among her other talents was that of being able to write interestingly and well. While still in the Novitiate and as a Junior Professed Sister, she worked for the Maryknoll Fathers in their Editorial department. After the 1946 Chapter, she was assigned to Hawaii, where she remained until 1952. During that time she worked in the Catholic Charities Office and as secretary for a time to Sister Mary de Paul, and did catechetical work. In 1952, Sister was assigned to Stockton, California, where she remained until 1954, doing catechetical work. At that time, she returned to New York to work with the Maryknoll Fathers acting as secretary to Father Charles McCarthy and living at Crichton House.
She joined our own Promotion Department, working under Sister Eunice and during her years as a Promoter, particularly in Texas and the Southwest, she made many valuable contacts for the Community. In 1971, Sister joined the Research and Planning Department where she remained until God called her home.
Father Sheridan, M.M. (who had known Sister since 1933 when she used to 'visit her cousin, Father Booth, then a seminarian) celebrated the beautiful, joyful liturgy with eight priests concelebrating. Father Sheridan also preached the homily. At the graveside ceremony, Bishop McGurkin officiated. It seemed as though all nature – the lovely sunny day, the brilliant autumn foliage, the glorious tones of "This is the Day" – all emphasized the happy culmination of the life of one who had tried always to live up to Mother Mary Joseph's ideal of a Maryknoll Sister, and who had succeeded amazingly well.