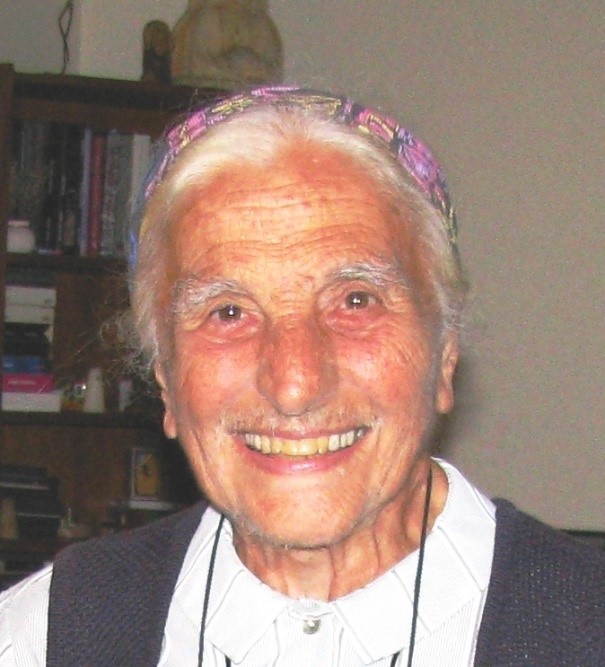 Sister Rose Dominic Trapasso, MM
Born: September 23, 1924
Entered: September 6, 1948
Died: July 14, 2019
Sister Rose Dominic Trapasso died on July 14, 2019 at the Clinica Stella Maris in Lima, Peru. She was 94 years old and a Maryknoll Sister for 70 years.
Marie Louise Trapasso was born in Niagara Falls, NY on September 23, 1924 to Rose (Di Ciccio) Trapasso and Dominic Trapasso.  She had two sisters, Joan Ann and Margaret. Her parents and sister Margaret have predeceased her.
Marie Louise graduated from Niagara Falls Public High School in 1941. From 1941 to 1945, she attended New York State College for Teachers in Albany, where she earned a Bachelor of Arts Degree in Education. She then enrolled at the University of Buffalo, NY from 1946 to 1947, obtaining a Master's Degree in Social Work. She worked briefly at Catholic Charities of Niagara Falls before entering the Maryknoll Sisters Novitiate at the Maryknoll Sisters Center in New York on September 6, 1948 from St. Joseph's Parish, Buffalo.
At her reception, she received the religious name Sister Rose Dominic, honoring both her father and her mother. She retained that name until her death. She made her first Profession of Vows on March 7, 1951 at the Maryknoll Sisters Center in New York and her Final Vows on the same date in Bolivia in 1954.
Sister Rose Dominic's first assignment was to Hawaii in 1951. She lived in Nuuanu and worked at Catholic Charities in Honolulu. In 1953, she was assigned to the Bolivia-Peru Region. She studied Spanish in Cochabamba, Bolivia until 1954, when she was assigned to Lima, Peru.  Discovering the Peruvian reality, a desire soon surfaced in Rose Dominic to incarnate herself within this land, leading her to become a naturalized citizen of Peru.  Beginning her mission in Peru, she came to know and to work with Sister Rose Timothy Galvin, both of whom were later affectionately referred to as the "Two Roses" of Lima.  In 1966 they formed a community in Caja del Agua, a marginalized area in Lima, in an effort to live more in solidarity with the poor.
As a social worker, Sister Rose Dominic tirelessly fought for the rights and the dignity of the Peruvian women.  In 1961 she, along with three Peruvian social workers and Sister Janet McConnell, initiated a Department of Social Development at Caritas de Lima. Sister Rose Timothy Galvin later joined her. During the 1960s, she also taught in the newly established School of Social Work, affiliated with the Catholic University of Peru, and supervised students studying in the National School of Social Service.
On May 31, 1970, following a devastating earthquake in the zones of both Huaraz and Chimbote, Sisters Rose Dominic and Rose Timothy traveled to Huaraz to organize the relief services of Caritas.  In 1972, they co-founded the Center of Creativity and Change, dedicated to promote the human rights of all women.  This center was one of cultural promotion, which sought to stimulate in women a process of change.  The Center produced and distributed many publications on women's issues, which culminated in a campaign against the sexual exploitation of women. Sister Rose Dominic is considered a pioneer in the emancipation of the Peruvian women, becoming an active member of many women's groups within Peru.  Faithful to the ideal of achieving the equal rights of women, she, along with other Christian feminists, formed a circle of women known as "Talitha Kumi", which was rooted in the words of Jesus – "Little girl, I say to you, arise".
One deep concern of Sister Rose Dominic was the reality of prostitution, because of its relationship to power.  It took years to build trust among women prostitutes, but gradually they valued her persistence, and realized that she could understand the difficulties of their lives and receive each one with respect.  In 1977 she, with two other women, set up another Center, the "Movimiento el Pozo" (The Well Movement).  This Center was designed to offer both solidarity and assistance to these women, while at the same time searching for alternative human and economic resources. The Center also offered public education, through written materials, on the trafficking of women and girls.
In 1990, she was invited to attend the United Nations NGO Conference on Women in Beijing, China. This conference brought to a close a decade which had been dedicated by the UN to the reality of women around the world.  Characteristic of her capacity to let go, Sister Rose Dominic turned over the work of "Movimiento el Pozo" to a woman's group in 2001, while continuing to collaborate there.  In 2011, she moved to Arequipa to accompany Sister George Anthony Kayser, while she continued to support the work on behalf of women.
The spirit which characterized Sister Rose Dominic was always one of struggle and search for change. She was continually attentive to both question and challenge the social and ecclesial structures, even including our own congregation.  This commitment to the human rights of women flowed out of a deep contemplative spirit.  She was both prophetic and free.  She had the capacity to open the minds and hearts of children, youth, and adults.
Sister Rose Dominic eventually returned to Lima on April 14, 2016, where she retired at the Nursing Home of the Religious of the Sacred Heart, until her death on July 14, 2019.  Sister Rose Dominic's life was lived in gratitude to God for the privilege of serving the poor and the humble people of Peru, especially the women.  The song "Gracias a la Vida" (In Thanksgiving for Life) which expressed this sentiment, was sung during her last days among us.
Her Mass of Resurrection, celebrated by Maryknoll Fathers Joseph Fedora and Robert Hoffmann, was held on July 15 in the Chapel of the Religious of the Sacred Heart in Lima, Peru.  She was buried in the Cemetery, El Británico, in Callao, Lima, Peru, in the presence of a large number of the women with whom she had served.