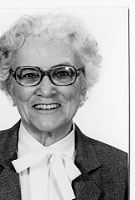 Sister Rose Francis Fessner, MM
Born: October 15, 1907
Entered: December 8, 1937
Died: June 29, 1988
"I have fought the good fight to the end; I have run the race to the finish; I have kept the faith; all there is to come now is the crown of righteousness reserved for me, which the Lord, the just Judge, will give to me on that day."
With the sound of these words resounding throughout the churches of the world on the great missionary Feast of Saints Peter and Paul, Sister Rose Francis Fessner completed her life on Earth in the Maryknoll Nursing Home at 7:30 p.m., June 29, 1988.
During the last two months of her illness, her only and much beloved sister, Sister Rosemary Fessner, R.C., accompanied her. Our hearts and love have been with Rosemary during this time and we are very grateful to her for her presence and help to Sr. Rose Francis.
Loretta Cecilia Fessner was born to Joseph Henry and Louisa Undersinger Fessner in St. Louis, Missouri, on October 15, 1907. In a strong, very Catholic family, Loretta and Rosemary grew to adulthood. Loretta graduated from Froebel Grammar School and attended one year of  Cleveland High School, afterward studying dressmaking, the trade that brought her into the lives of so many of us.
To serve God more perfectly, to work for God's most abandoned creatures, were the words used by Loretta as her rationale for choosing religious life at Maryknoll, and later the statement that she would accept any assignment given her realizing she might never go to the foreign missions. On her application form she stated a preference for the Maryknoll Cloister though there is no record later that she sought entrance there. Loretta's first application to Maryknoll was in 1930 but her mother died suddenly and she felt an obligation to remain at home to care for her father and then fifteen year old sister. By 1937 family obligations cleared and she came to Maryknoll on December 8 of that year. Her pastor, from St. Thomas Aquinas Parish, St. Louis, Missouri, in recommending her, said she had attended the daily 6:00 a.m. Mass and this was particularly admirable in that she afterwards worked a full business day for A.G. Solari in dress designing and fitting.
At Reception Loretta received the name of Sister Rose Francis. Her first and final Professions were at Maryknoll, New York, on June 30, 1940 and 1943 respectively.
With the exception of a year on Promotion, seven years at Topsfield and a short time at Valley Park, Sister Rose Francis' life was given to the welfare of the Sisters at the Center. Year after year she greeted the postulants to say nothing of the rest of us at the door of the Sewing Room and began the long and harrowing process of teaching the rudiments of habit making and later, dressmaking. At one point she wrote to Mother Mary Columba saying she couldn't make a burse at that time because she had to keep an eye on the Novices, assuring Mother that the habits would be beautiful when finished but meanwhile a nightmare existed.
The little things mattered to Sr. Rose Francis, little things that could make others happier. While in charge of Regina Maris, many of us remember the importance she placed on good food, bigger pieces of fruit than during the rest of the year, a relaxed atmosphere and a sense of caring without interference.
When Sister Judith Tivnan died, Sr. Rose Francis wrote an appreciation of her in the decision Sister Judith had made to end the sock darning for the Maryknoll students. Prior to this we are told that Sr. Rose Francis' good judgement permitted many a Novice to learn which holes were appropriate for darning and which ones proclaimed the need for new socks!
When one of our Sisters dies who has lived her entire life for the well-being of Maryknoll Sisters there arises feelings within us of humility and awe. Sr. Rose Francis is one of those people. For fifty-one years our welfare was her primary interest in ministry. As one of her friends said, she was a woman deeply committed to God and her expression of this was like deep, still water, no flourishes of external piety, just day by day living out a vocation of service and prayer.
In this last illness, she grappled with the hope of recovery, was discouraged when it didn't happen, and finally moved to the realization that having kept the faith there remained only the crown of  righteousness. She began to pray that God would invite her soon. What a beautiful symbol that her summons came on the great Feast of Saints Peter and Paul.
Today we share the sadness that remains for the family and friends of Sister Rose Francis. We give thanks though, heartfelt thanks, for  Sister Rose Francis' life. And we welcome Maryknoll Father Vincent Mallon, as we begin this Liturgy of Resurrection.