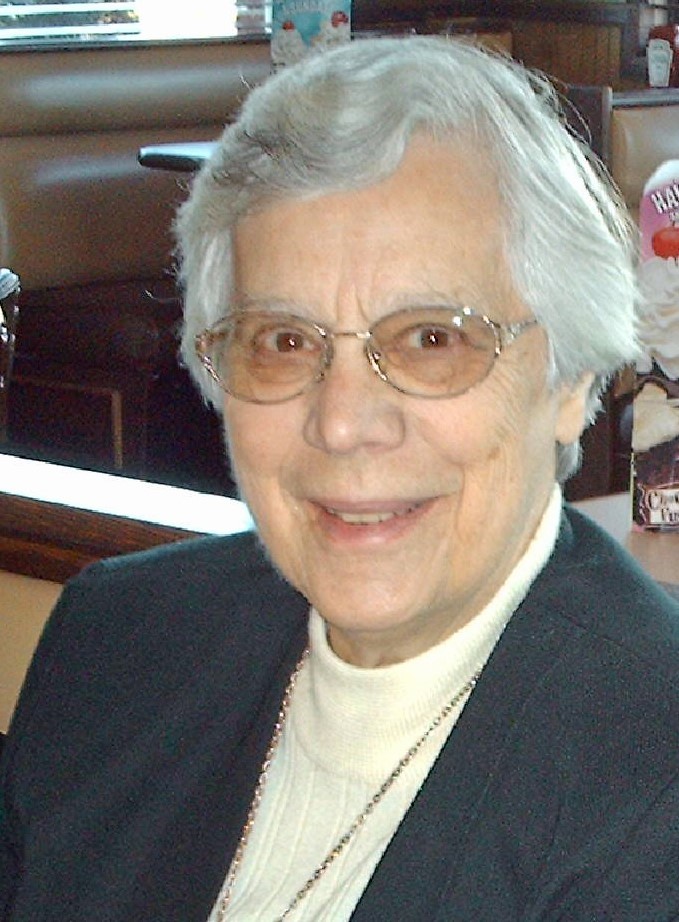 Sister Rose Guercio, MM
Born: December 31, 1924
Entered: September 6, 1947
Died: June 9, 2020
After a very peaceful and comfortable day, Sister Rose Guercio died unexpectedly early in the morning of June 9, 2020 at the Maryknoll Sisters Center, Maryknoll, NY.  She was 95 years old and a Maryknoll Sister for 72 years.
Rose was born on December 31, 1924 in Astoria, NY to Margaret (Vitale) Guercio and Charles P. Guercio, and had one sister and two brothers.  Rose graduated from Freeport High School in Freeport, Long Island, NY in 1943.  From 1943 to 1947, she worked as a patent clerk for Bell Telephone Laboratories, Inc.
Rose entered the Maryknoll Sisters Novitiate at Maryknoll, NY from Holy Redeemer Parish, Rockville Centre, NY on September 6, 1947.  At her Reception into the community she received the religious name Sister Mary Paul John, which she retained until Vatican Council II, when she returned to her baptismal name, Rose Marie.  She made her First Profession of Vows at the Maryknoll Sisters Motherhouse, Maryknoll, NY on March 7, 1950 and her Final Profession on March 7, 1953 at Valley Park, MO.
From 1950 to 1952, Sister Rose worked at the Maryknoll Father's Seminary and at Bethany, the Sisters' Nursing Home at Maryknoll, NY.  She then studied at the St. Mary's Hospital School of Nursing, Rochester, MN from 1952 to 1955, graduating as a Registered Nurse.  Within the Maryknoll Sisters communities, Sister Rose was regarded as a highly intelligent and dedicated individual who loved to use her talents for the good of all.  Throughout her years, she attended seven or eight universities for various courses and certifications in addition to her basic nursing program.  She was a serious and exacting supervisor and some found her somewhat frightening.  However, those who knew her well found a warmth and tenderness in her and a very loyal friend.  She also surprised many with the patience with which she bore the long years of suffering from almost constant vertigo.
Sister Rose's first overseas mission assignment in 1955 was to a government hospital in Kandy, Ceylon, now Sri Lanka.  She was then assigned to Pusan, Korea in 1959, and served as Clinic Supervisor and Assistant Administrator until 1967 as the clinic developed into a hospital and nursing school.  SisterRose began studies at Yonsei Language School in Seoul, Korea in 1967 and did the regional bookkeeping.  A year later she was elected delegate to the Congregation's Special Chapter of Affairs and in 1969 she returned to Korea to begin her work at the Maryknoll Fathers' Okchon Clinic in Chung Puk Do with Korean Sisters and laity.  There she initiated maternal/child health care programs and served as supervisor and administrator.  In recognition of this work, she was awarded a Civil Merit Medal as an "exemplary health worker."
Sister Rose returned to Maryknoll, NY in 1970 for the Congregation's General Assembly as Korea's regional delegate.  In 1972, she went to Jeung Pyeong, Korea as Administrator of the Maryknoll Clinic and devised plans for greater public health facilities.  By 1973, she was supervising 22 Korean staff members in this work, which she did for two years.  With an interest in helping those who could not afford basic health care, even at the clinic, Sister Rose founded and directed the Medical Health Insurance Cooperative from 1975 to 1979.   With this new endeavor, she was able to enroll families with an affordable fee.  The governor of Jeung Pyeong, acknowledging her important service, made her an honorary citizen of the province.
Sister Rose served as Assistant Treasurer of the Sisters at Maryknoll, NY from 1979 to 1984 and once again was a delegate to the Congregation's General Assembly.  One of Rose's unique contributions to the important General Assembly gatherings was her sense of history.  She had a keen memory and often helped clarify an issue by reminding all of what had taken place before.  She challenged all to move on from where they had been rather than repeating the same work over again.
Returning to Seoul, Korea after this Assembly, Sister Rose was involved in work for the Korean Bishop's Conference in the National Catholic Justice and Peace Commission.  She and other Sisters had women factory workers living with them and conducted meetings with small groups of factory workers in their home.
In 1990, Sister again worked at the Maryknoll Sisters Center in New York as a member of the task force planning for the 1991 General Assembly. From that time until September 2000, she worked in the Congregation's Development Department/Planned Giving Office.  During this time, she attended and obtained a certificate at the National Planned Giving Institute.
Sister Rose returned to Seoul, Korea in 2000 and took over the Ilsan Bible Study Class, and also became English Editor at the Coalition for Economic Justice.  Along with these responsibilities she was also editor for the English edition of Civil Society Magazine and served as a Eucharistic Minister in the Kayang parish.
Sister Rose left Korea in March 2006 and returned to the Maryknoll Center and joined the Rogers Community.  She transferred to the Center's Home Care Eden Community on February 1, 2019  and died peacefully on June 9, 2020.  She was interred in the Maryknoll Sisters Cemetery on June 10, 2020.