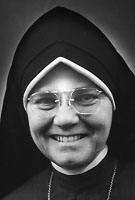 Sister Rose Marie O'Callahan, MM
Born: May 4, 1907
Entered: October 15, 1927
Died: December 24, 2003
On Tuesday, December 23, 2003, everything seemed fine in Maryknoll Sisters Residential Care and Sister Rose Marie O'Callahan was even heard singing the song, "I'll Be Home For Christmas." Later that evening, however, Sister became ill and, at 10:30 a.m. on Christmas Eve, December 24, Sister Rose Marie O'Callahan did indeed surprise us all by going home to God. She was 96 years of age, had been a Maryknoll Sister for seventy-six years and died in Maryknoll Residential Care IV.
Alice Marie O'Callahan was born in Cambridge, Massachusetts, May 4, 1907, one of six children of the late Cornelius J. and Alice Casey O'Callahan. She had four brothers and one sister. Alice attended St. Mary's Annunciation, Cambridge, for her elementary and high school education, and then worked for two years in the offices of the Assessors of the City of Cambridge. She entered Maryknoll on October 15, 1927, and later received the religious name of Sister Rose Marie. She made her first profession on April 30, 1930, at Maryknoll, New York, and her final profession on April 30, 1933, in Baguio, Philippines.
Sister Rose Marie attended a summer session at Catholic University, Washington, D.C., prior to her first assignment to the Philippines in 1930. She taught at the Normal School in Malabon while taking classes for additional credits from 1930 to 1938. In 1948, she obtained a Bachelors of Arts degree in Education from Maryknoll Teachers College, Maryknoll, New York, and in 1953 earned a Master of Arts degree in English Literature at Ateneo de Manila. She taught in the elementary school in Baguio from 1938 to 1940, and served as the bookkeeper of St. Paul's Hospital in Manila between 1940 and 1942.
During World War II, Sister Rose Marie was one of the Maryknoll Sisters put under house arrest and confined in the Los Banos Internment Camp from 1942 until February 23, 1945, when the camp was liberated by United States Army Ground and 11th Airborne Paratroopers. This was a particularly poignant period for the O'Callahan family. Sister Rose Marie was always known to be exceptionally proud of her Jesuit brother, Father Joseph O'Callahan. Father Joe joined the Navy in 1940 and when his sister was taken prisoner he asked to serve in the Pacific as a way to find news about her. He was Chaplain aboard the USS Franklin when it was directly bombed on March 19, 1945. As the limping ship made it to port, there were shouts from the shore telling Father Joe that his sister had been liberated. Later, Father Joe was to become the first Chaplain ever to receive the Medal of Honor for service above and beyond the call of duty. In 1965 the Navy brought Sister Rose Marie home to christen the USS O'Callahan, named in honor of her brother who had died the year before. She was the first religious Sister to christen a Navy ship.
Following the war, Sister Rose Marie taught at St. James Academy in Malabon for two years, and from 1947 to 1967 she both taught and served as Registrar at Maryknoll College (now known as Miriam College) in Manila. From 1967 to 1972, she served as Dean of LaSalette College in Santiago, Isabela, which today is LaSalette University, offering many fields of study. One Sister writes that LaSalette's beginnings were like a mustard seed and Sister Rose Marie was instrumental in its monumental growth by having it accredited. She was a woman of vision and great faith! She was also a member of the Maryknoll Sisters Philippine Regional Council from 1968 to 1970.
During her 42 years in the Philippines, Sister Rose Marie was well loved and she kept in contact with many alumnae. Known to be an excellent teacher, she demanded excellence from her students. She gave herself one hundred percent in all that she did, yet was described as a person who needed no attention. She is known for many things, from being a wonderful person to converse with given her English literature background, to being a "Rock of Gibralter" in the internment camp. She is fondly remembered for the way she would even look at someone and for her spontaneous and insightful words: "Always look at beauty, it is beauty that lifts you up," or "Do not let anything be bigger than you." To all of us, Sister Rose Marie has been one of our "legends," one of those who survived the unspeakable near-starvation conditions of wartime internment and continued on to be a woman who accomplished much in her lifetime.
Sister returned to Maryknoll, New York ,in 1972, where she served as secretary in the Renewal Office and as a member of the Senior Center Council until 1975. Always the student, she began taking certificate courses in gerontology, long-term care and the implications of the aging process. She said she always wanted to be a nurse and had been accepted to a nursing school in Massachusetts until a visit to Maryknoll changed all that. In 1978 at the age of 71, she joined the staff of the Center Health Unit at Maryknoll, New York, and began in-service training, receiving a Geriatric Nursing Assistant Certificate in 1982 from the Maryknoll Sisters Nursing Home. She continued working as a nursing assistant until 1984 when she retired from this second career and did voluntary work for the Center Council. In 1985 she was one of six women in Westchester County to receive an award given to "Outstanding Women in Advancing Years." When her own health began to fail in 1990, she moved to the Residential Care Unit at Maryknoll, New York.
We welcome Sister Rose Marie's family and friends. We also welcome Maryknoll Father Carroll Houle who will preside at this morning's Liturgy of Christian Burial.