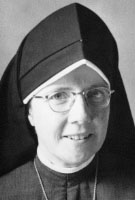 Sister Rose Mary Jene, MM
Born: July 5, 1927
Entered: September 6, 1945
Died: March 29, 2000
Rose Mary Jene was born in Eau Claire, WI on July 5, 1927 to John Charles and Jane Agnes (Gleason) Jene. She has three siblings: Robert, who lives in Forest Park, IL, Richard who passed away in 1996, and Joanne who resides in Spokane, WA. Rose Mary grew up on a farm, sharpening to near perfection her powers of observation and developing a rare sense of resourceful living and creativity. She attended St. Patrick's Grammar and High School in Eau Claire. During the last two years of high school, Rose Mary felt a definite call to enter Maryknoll, which she did on September 6, 1945. She writes, "I spent the summer having lots of fun with my family and friends. I never expected to be able to come home again."
At her Reception, six months later, Rose Mary received the name Sr. M. Irene Therese. Besides her novitiate duties, Rose Mary attended courses at Maryknoll Teachers College from 1945 to 1948 and received a B.A. degree in Elementary Education. She made her First Profession on March 7, 1948 and Final Profession on March 7, 1951, both at Maryknoll, NY. Following Final Profession, Rose Mary attended St. Vincent's School of Nursing in New York City receiving a B.S. degree in Nursing in June 1952.
Her first assignment was to Manila, Philippines, in 1953, where she taught third grade and also was the Health Nurse at Maryknoll College. The following nine years, from 1955 to 1964, were spent in Yap, in the Caroline Islands, teaching second and third grades at St. Mary's School. The ministry during these years was difficult for her, since formal teaching was not a profession she preferred. In 1965 Rose Mary came to the States for a needed respite from teaching and to solidify within herself a sense of personal direction.
She returned to the Philippines in 1967 and worked in Cotobato at Notre Dame Clinic as Team Coordinator of the outpatient clinic until 1973. Rose Mary relished this period in her life because it offered her the chance to do nursing, as well as providing a small community context she found so helpful. In 1971, Rose Mary was given permission for an early furlough, primarily to visit her ailing father and to spend two weeks at the Maryknoll Cloister. Then in 1973, Rose Mary asked permission to return home to care for her elderly parents. She also shared this request with the Central Governing Board and, at the same time, told them of her thoughts about a possible future within the Contemplative Community. Rose Mary became a member of the Eastern US Region in 1976. Her father passed away the following year and her mother in 1978. Rose Mary then became involved in caring for her two aunts. During this time she took three CPE units at Luther Hospital in Eau Claire, where she also served as part-time chaplain.
In 1986 Rose Mary began to move toward her dream of Contemplative Life. After spending August to November 1986 within the Contemplative Community, she was warmly affirmed by the members of the Contemplative Community, the Eastern US Region and the Central Governing Board. She received her formal assignment on December 1 and entered on December 8, 1986. One year later, Rose Mary found herself in El Quiche, Guatemala, having felt called to offer herself as a replacement when Sister Ruth Riconda returned to the States from Lemoa for health reasons. It was in Guatemala where she made her Cloister promise in November 1991.
During her renewal time in 1999, the Contemplative Community had an assembly in April of that year at which time the decision was made to move from its large building to the Chalet on the Maryknoll property. The Lemoa Community offered Rose Mary to stay in New York and help with the move. She remained in New York until January 24, 2000 when she returned to Guatemala.
On the occasion of her Golden Jubilee, in 1995, Rose Mary was asked: "What do you treasure most? What makes it all worthwhile?" She responded, "To live fully present to each moment in a continual dialogue with our God, whose love is communicated through every particle in the Universe and especially in every person. To live fully present…" There is no denying that the energies which Rose Mary communicated possessed a boundlessness and a buoyancy that were truly remarkable. She did not hold back. It was her nature to give simply whatever she had at the moment. Her strong faith and spiritual practices saw her through any difficulty enabling her to freely respond and give of herself. An unending flow of ideas came from her kindness, enthusiasm, cooperation and helpful skills. She gave her all to people, to duties, to plants, to situations and to prayer. In her need to dance in communion with life, Rose Mary seemed to receive more life energy within herself. She became acutely aware of what hinders, prevents, or stifles life. Her insertion into the Guatemalan reality, in which repressive violence had taken its toll, was an essential expression of her call "to live fully present" – within the Guatemala Mountain Region, with her Lemoa Community, with the Religious women who minister within and the people of the Diocese of El Quiche who live with so many memories of martyrdom.
Rose Mary took personal responsibility for her physical, mental and spiritual well-being and nurturing her community and family ties. The times of her renewal were planned with all of this in mind. Her last renewal in 1999 was exceptional in this regard. It was quality time on every level. Her family contacts and visits, "The best ever," she said, were natural and enjoyable, bringing to maturity her deep bond with siblings, nieces, nephews and cousins. Her bond with the Center Contemplative Community was woven anew as Rose Mary contributed to our process as a Learning Community, maintaining a delicate balance as a person lent to us from Lemoa and yet a full participant in our concrete experiences. In our move to the Chalet, there are no adequate words to express the various levels of her invaluable contribution. We hold much of this quietly in our hearts.
Many expressed their love and appreciation at Rose Mary's wake and funeral on March 31, 2000. The Society Center House chapel was filled to overflowing with Maryknoll Sisters, priests and the campesinos from El Quiche who left Lemoa at 4:00am to get to the city for the Liturgy. Bishop Julio Cabrera Ovalle also came from El Quiche. He left in the early morning hours carrying a two page homily that was both touching and personal. Sisters Marie Morgan and Terry Alexander. Rose Mary's group, came from El Salvador. Monte Maria's teachers, students and administrators also attended. Father Jim LaCoste,M.M., a personal friend of Rose Mary, was the main celebrant. Bishop Cabrera presided at a Eucharistic celebration in El Quiche cathedral on Sunday, April 2 and in Lemoa on Tuesday, April 4. God's two hands are indeed all encompassing!
We welcome and thank our Maryknoll brother, friend and companion from Guatemala, Father Joe LaMar who will preside at this Memorial Liturgy for Rose Mary.