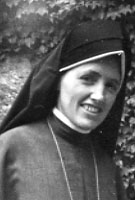 Sister Rose McGrale, MM
Born: June 6, 1911
Entered: June 9, 1937
Died: August 26, 2005
On Friday evening, August 26, 2005 at 8:20 pm., our Sister Rose McGrale, 94 years of age, slipped away into new life. Rose died at Maryknoll in Residential Care IV surrounded by friends who had kept faithful vigil for several days.
Rose M. McGrale was born in Boston, Massachusetts on June 6, 1911, the eldest of three children. When Rose was ten years old her mother died, and two years later her father. Their mother's final request was that the children be kept together and it was two aunts who saw to it that the wish was carried out. When Rose was a little girl, one day as she and her mother were passing a church her mother asked her if she would like to go in and see God. Rose replied "yes" but was disappointed when she didn't see God. "However," she explained years later, "God made his presence known by his care of us," during those childhood years.
After graduating from Milton High School in 1929 Rose worked at Columbian National Life Insurance and at C.H. Graves Co. in Boston. She entered Maryknoll on June 9, 1937, from St. Mary of the Hills Parish in Milton, Massachusetts. As a young woman she felt that nuns should "get with it" and says that she had to wait until God showed her Maryknoll before she could think of being a religious. At Reception Rose received the name Sr. Rose Karen. She made her First Vows on January 6, 1940 and her Final Vows the same date three years later, both at Maryknoll, New York.
Rose worked in the Maryknoll Society Secretariat for a few years before being assigned in 1944 to California where she did catechetical work in San Juan Bautista and Guadalupe. This was the beginning of a long teaching career which took Rose to the Philippines, to Irvington, New York, and eventually to Japan.
For 25 years, from 1947-1973, Rose served in the Philippines, as teacher, administrator, and principal at Maryknoll Sisters' schools, in Manila, in Lipa, and at Notre Dame of Dulawan in Datu Piang, Cotabato. She described her five years at Dulawan as a semi-cloistered life where God was present in a special way. Rose helped to open a school at Santo Tomas in Davao, served at Pakil in Laguna and at Maryknoll High School in Quezon City where she taught and was on the administrative board of the high school. She taught Scripture at the Sisters' Formation Institute in Manila and served as Directress of St. James Academy at Malabon. Her renewal trip in 1955 was historic in that she and Sister Cecilia Wood were the first Maryknoll Sisters in the Philippines to travel by plane, flying from Manila to Guam, on to Honolulu, then San Francisco and finally to New York.
Rose earned a Bachelor of Education degree from Maryknoll Teachers College and a Master of Arts in Theology from Manhattan College, New York. She was proud to have taught every grade from Kindergarten through High School, and adults as well. Some of her subjects were Algebra, Science, English, English as a Second Language, Religion, and Scripture. She loved to play bridge and to read, and read, and read! Professionally competent in her field of religious education she was always on the lookout for new articles, books and above all, ideas. She was a leader who knew how to delegate.
Due to illness, Rose had to return to Maryknoll in 1973 and she would not be able to return to the Philippines. She worked in the Development Department, as Supervisor of Direct Mail for four years, and from 1977-81 was CCD coordinator at Immaculate Conception Parish in Irvington, New York.
Rose, at the age of 70, was delighted at the opportunity to go to Japan where the Sisters welcomed her with open arms. The year was 1981. In Kyoto Rose studied Japanese and taught English.
Twelve happy years later, feeling it was time for rest, prayer and reflection, Rose left Japan and returned to Maryknoll, New York. She worked in Treasury. When her health necessitated a move to Assisted Living and then in 2000 to Residential Care IV her ministry was to pray for Japan.
Sisters describe Rose as spunky and gentle, wise and a treasure. We offer our condolences to her family and welcome Maryknoll Father Thomas Pesaresi who will lead us in the Liturgy of Christian Burial, to celebrate this spunky treasure, a gift to Maryknoll and to mission for 68 years.