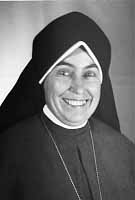 Sister Rose Miriam Dagg, MM
Born: December 11, 1915
Entered: December 15, 1934
Died: June 3, 1955
On December 12, 1915, Sister Rose Miriam was born, Margaret Dagg, daughter of Mr. and Mrs. William E. Dagg. She was a graduate of St. Philip Neri School and Notre Dame Academy in Cleveland. Sister's desire to become a missionary Sister at first manifested itself when she was in the second grade, and this desire was happily realized on December 15, 1934, when she entered Maryknoll. Sister had sought and found opportunities to exercise apostolic zeal even before her entrance into religion, as her pastor testified in writing to Mother Mary Joseph at the time Sister came to Maryknoll. Sister had been instrumental in bringing back to the sacraments two families who had been away from the Church. Her zeal for souls and selfless charity were noted again and again throughout her novitiate and training period.
In 1939 Sister Rose Miriam graduated from Maryknoll Teachers College and was assigned to teach in Honolulu, Hawaii, in Kalihi, a poor section of the city. Sister remained in Hawaii for eleven years, and was particularly active in the organization and direction of the Student Mission Crusade. One of the Sisters who lived for five years in the same convent with Sister Rose Miriam in Hawaii has written: "Sister Rose Miriam was noted for her charity, patience and generosity, and it was a joy to live with her."
Our people in Kalihi responded to her sincere interest and love for them and years after she left for Africa – even to the present time – they inquired after Sister. I know of one grandmother who regularly sent from her hard won earnings in the pineapple cannery, offerings to Sister for her work in Africa. The offerings were not great, but they were sacrifice offerings, they were regular, and they were a manifestation of the grandmother's love for Sister.
For a number of years. Sister had charge of the Students' Mission Crusade at St. Anthony's School and she managed to instill in all our children (grades one through eight) a real love for the missions. She succeeded in getting them to pray and make sacrifices for the missions.
Her personal love and devotion to Our Blessed Mother was very much above the ordinary. Just a few days before she died, we recalled a beautiful play in honor of Our Lady of Fatima which she had her Crusaders stage at St. Anthony's. It was, I am sure, her faith in Our Lady that gave her the courage to do much apostolic work. Working through her first grade pupils, she was instrumental in bringing lapsed Catholic parents to the Sacraments and other parents to a knowledge of the Catholic faith – sometimes, she herself instructed the mothers after school hours.
In 1950, Sister received a new assignment, to Kowak Mission in Tanganyika, British East Africa. In Kowak, Sister was placed in charge of a Native Novitiate for training African girls in the religious life. She had the happiness, on November 21, 1953, to see her first novice receive the habit of the new Community.
In July, 1954, Sister Rose Miriam developed a serious illness which could not be adequately treated in Africa and the physicians recommended that she return to the United States. Here, it was hoped that therapy might halt the progress of the disease but God willed otherwise. She was outstandingly grateful for every little service rendered her.
On the eve of Pentecost it became apparent that Sister was getting weaker, and on Pentecost Sunday she received the last Sacraments with real joy, and, conscious to the last, she quietly and peacefully passed away on Friday morning just after midnight, June 3, 1955.
At the time of her return to the Motherhouse, her Sister-Superior in Africa wrote as follows:
"Sister has been an example to all of us by her cheerful courage and the beautiful way she has faced God's will; she thinks of everyone else instead of herself."
This characteristic was consistently noteworthy.