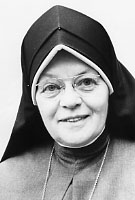 Sister Rose of Lima Robinson, MM
Born: January 17, 1904
Entered: October 15, 1928
Died: February 24, 1992
I am very happy to welcome Sister Rose of Lima's family, friends and all of her Maryknoll Sisters to this celebration of the Liturgy of The Resurrection.
On the afternoon of the 24th of February, Sister Rose of Lima became acutely ill and while waiting for the ambulance to come, quietly made her peace with God and said goodbye to her friends. As she left the room on the stretcher, she smiled at us and blew us each a goodbye kiss.
Soon after arriving at the hospital, accompanied by her good friend, Sister Gilmary Simmons, Sister Rose of Lima died very peacefully in the Emergency Room. The time of waiting was over. Sister now had come into the fullness of her life in God, called home to enjoy God's loving embrace forever.
Anna Marguerite was born on January 17, 1904 in New York City to John Robinson and Marie Ann Kraus. She was the eldest of 11 children. Later the family moved to Jersey City, New Jersey where she attended grade and high schools, graduating from St. Aloysius Academy in 1922. Later she graduated from Fordham University in 1924 with a degree in Pharmacy. In choosing Pharmacy as her field of study, she was following in the footsteps of her father, also a pharmacist.
Then on October 15, 1928 on the feast of St. Teresa of Avila, Anna Marguerite entered Maryknoll. During the novitiate she studied at the Pius X School of Music for two years, receiving a Teacher's Certificate in Church Music. In this way she was able to integrate her previous years of music study from St. Aloysius Academy.
After making her First Vows in 1931, Sister Rose of Lima was missioned to northern Korea. Finishing language study, she began work in the Mission Dispensary in Shingishu with Sister Mercy. She describes this as a time of adjustment with "medical care at a premium and pharmacy at its primitive nadir". For ten years they "worked to ease the physical, health and spiritual needs of the people" and in this way were united with the Koreans and the God who sustained them. In 1934 in Peng Yang, Korea, Sister made her Final Vows thus sealing her commitment to God and to mission.
The mission in northern Korea came to an abrupt end in 1941 with the onset of World War II and after spending six months in an internment camp, Sister returned to the United States on the Exchange Ship, "Gripsholm". Soon after her return she went to Catholic University in Washington, D.C. and graduated with a B.S. in Nursing.
Then in 1949, Sister was back in her beloved Korea, this time in Pusan, South Korea, as part of a medical team in the Clinic there. Within a year they found themselves "steeped in the greatest work of mercy ever". Because of the war, refugees poured in from all over the country — gaunt, hungry and diseased. For each one of the patient's Sister had a smile, and a word of encouragement and hope as they stopped by to receive their medicine. Then in the evening had energy left over to share her gift of music and often entertained during community recreation.
In the post—war period, Army officers and Red Cross volunteers often came to the clinic to offer their services and resources. Sister Rose of Lima had a way of finding a job for each one and making the many needs of the clinic known. Thus, she began what became a lifetime mission of facilitating others to share our life in mission.
The clinic work continued and in 1955 the cornerstone for Maryknoll Hospital was put in place. Sister did not see the completion of the hospital as she was then assigned to the Philippines to St. Joseph's in Manapla. During her four years there, she worked alongside Filipino doctors, nurses and other Maryknoll Sisters to care for patients who were workers on the sugar cane plantations.
In 1958 Sister Rose of Lima began another career of service to the Church and Maryknoll in the United States — sharing the stories of her life in mission with many groups around the country. Whether it was raising funds for the Maryknoll Sisters to continue their mission throughout the world or encouraging young women to listen to the call to be a missioner like herself in Maryknoll, Sister was tireless in her travels and responses to invitations to speak to Church groups and many professional pharmacy organizations.
This time of Promotion and Mission Education was interrupted in 1970 when she became infirmarian at the Center for four years, once again using her talents and energy in the care of others. She was famous for eggdrop soup as a wonderful cure for her patients, and for spending many a night at their bedside.
Then as Sister was unable to travel as extensively as before, she continued to correspond with her many friends and benefactors maintaining relationships begun throughout her life and adding another request to her list: funding for our medical facility here at Maryknoll.
The 1980's were years of reward for a lifetime of dedication. In 1984 she received the Pharmacy Humanitarian Award from the Pharmaceutical Society of New York for her exceptional service to humankind. She was asked to give the invocation at the award ceremony. Her invocation read as her prayer had throughout her life: "Lavish your light upon all gathered here, Lord, that we may radiate peace to troubled minds, healing to wounded hearts and joy to saddened spirits."
That same year Sister was invited by the Korean Episcopal Commission and the Archbishop of Kwang Ju to attend the Bicentennial celebration of the founding of the Church in Korea. It was a special invitation for a special time, the Pope's visit to Korea and the canonization of the Korean martyrs. Still able to speak Korean, she enjoyed every minute of her visit.
In the last few months of her life, Sister appeared to be very much at peace, despite times of physical pain and slowly having to let go of life. She had always been close to Jesus and the cross and that faith sustained her now in the last days before her death.
Always very fond of all her family, Sister enjoyed the time she was able to spend with them. She cherished family pictures and readily shared them with us all. We welcome Father John Patrick Meehan, M.M., a fellow Korean missioner, to be with us today as we celebrate our Mass of Resurrection for Sister Rose of Lima.