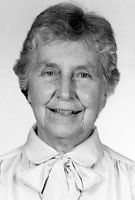 Sister Rose Sharon, MM
Born: December 1, 1915
Entered: July 5, 1935
Died: March 12, 1997
Today we are gathered to remember and to celebrate the life of Sister Rose Sharon who died at our Maryknoll Sisters Center on March 12, 1997, at 9:25 p.m. Rose had come to the Center from Monrovia on 11th February when she began to need specialized care. Rose remained calm and conscious almost to the end, accompanied by Sisters who held her hand, as they prayed and kept vigil with her around the clock. Just as she had assisted many Maryknoll Sisters in their final journeys, the privilege of being with Rose was now lovingly shared by Sisters whose lives had intertwined with hers in mission.
Sixty-two years ago, just before Reception in 1935, when she was given the name Sister Rose Jude, Sister Xavier described Rose as even tempered and generous in disposition, untroubled, quiet, poised in manner and attitude, graced with solid spiritual principles and very appreciative of friendship. She was as dependable as the Rock of Gibraltar! Although the written record is silent about the love that must have abounded in her family of origin, the nurturing she had received was abundantly evident in Rose who was so well prepared for the contribution she was to make in life as a Maryknoll Sister. Gentle, respectful, dignified, this is the Rose we knew and loved, our gift from the Sharon Family.
Mary Rose Sharon was the youngest of eleven children, five boys and six girls and she is also the last to join them in heaven. She was born on December 1, 1915 in Wilson, Michigan, to Frank Sharon and Anna Cota, each of whom had emigrated from Quebec as very young persons in the closing decades of the 19th century. They were farmers, Rose said, and they worked very hard to make ends meet. Nevertheless, Rose was educated all the way through high school, after which she studied one year at Menominee County Normal School and obtained her Teachers Certificate.
It was during Rose's high school years that the idea of entering the convent began to manifest itself. She said that even though she knew next to nothing about religious life, she wanted very much to devote her life to God by going to the missions. She wrote to the Sisters of Mercy and was accepted. In a personal vocation statement, Rose explains the sequel: "As soon as I realized that they did not do the work I wanted, I decided to find a place that did." Thus it was that Mary Rose found her way to Maryknoll on July 5, 1935.
She made her First Profession of Vows on January 6, 1938, and her Final Profession on the same date, three years later in Malabon, Philippines. Before and after first Profession, from 1937-39, she studied at Maryknoll Teacher Training School to strengthen her teaching skills and was then assigned to teach at Maryknoll Normal College in Manila in 1939. Her career in education had hardly begun when World War II broke out. She was interned at Los Baños Camp. Some months after the War, she came back to Maryknoll, and, as she recovered from the experience of internment, she obtained her Bachelors Degree in Education prior to returning to the Philippines.
Beginning with her next assignment to Transfiguration Parish in Chinatown, New York City in 1950, the next sixteen years of her mission life were to be characterized by a remarkable variety of assignments. In 1951, she was assigned to open the first house in Peru with Sister Patricia Lowery. Together, they founded Santa Rosa de Lima, Peru's first parochial school. Having served as Superior and Principal in Lima, in 1955, Rose then placed that same expertise at the service of the Community and the people in the lowlands of Riberalta, Bolivia, remaining there for five years before being transferred to the highlands of Cochabamba. The year 1962-63 was evenly divided between Merida in Mexico, as assistant novice mistress and then, in Panama, as a substitute teacher for a Sister who was ill. At the end of 1963, she returned to Peru to teach in Azangaro and Arequipa.
In 1966, Rose was assigned to the Japanese School in Los Angeles. This assignment marked the beginning of her membership in the Western US Region until her assignment to Monrovia in 1993. After Los Angeles, she spent a year in Guadalupe, California as Superior, characteristically doing whatever needed to be done, whether it was transporting people to clinics or doctors' visits or CCD. From 1969-81, while she resided at our retirement facility in Monrovia, California, serving as Assistant Coordinator, she also attended Pasadena City College, obtaining a certificate in Vocational Nursing and a license as Registered Nurse. In 1974, she became Director of Health Services in Monrovia until 1981 when she came to Maryknoll to give service in our Residential Care Facility where she is remembered for her exceptional kindness.
In 1985, at age 70, a point in life when most people begin to look toward retirement, Rose looked to the southwest for a spot to contribute her services in a health-related capacity. She found St. Catherine's in Manuelito, New Mexico, a new mission where the pastor had been longing to establish a clinic. "After one full year of meeting most any need of the Navajo in the area and on the Reservation, "Rose wrote, "I have been accepted as a Volunteer Health Worker by the Gallup Indian Health Service." Although it was a slow process, Rose gradually earned the trust of the people through her transparent goodness. She had written that her ultimate reason for living in Manuelito was to lead the Navajo people to know Jesus and his love for them. In the dedication booklet of the Health Center in Manuelito, on April 30, 1989, the people printed this stunning endorsement of her efforts: We want everyone to know that this building has as its foundation, the faith of Sister Rose Sharon, MM. May all those who come to assist her, and those who follow her have a similar faith. In a letter written the day before she died, Bishop Donald Pelotte of Gallup, New Mexico, confirmed the impact of her presence in his diocese: "Sister was one of the first in the diocese to serve as 'administrator' of one of our small mission parishes. She did a fine job at it and she was very highly respected for it. "The Bishop concluded his letter by recalling the fond memory of the last liturgy he had celebrated with her in Manuelito just before her departure in 1993.
The same year she began ministry in Manuelito, and intermittently over the next decade, until January 1, 1996 when her sister died, Rose responded to the needs of her brothers and sisters,several of whom she accompanied and nursed during their last months of life. In between, she did ministry for which people will never forget her, even after she had "retired."
The moment for retirement, in 1993, came sooner than Rose would have liked. Still, for Rose, who had thrived in Manuelito, retirement was hard to accept and she visibly struggled with it until she could finally write, "I know that God asks me to surrender all to Him, and, I am trying very hard to do this." In reality and in God's mystery, she was being prepared for the final letting go which also came sooner than she would have liked.
Rose is survived by four nieces and a sister-in-law. Although none of them could be with us today, we know they are present in mind and heart.
We thank our Maryknoll brother, Father Joseph Towle, who will preside at this Eucharist of Resurrection as together we thank God for the gift of Rose's life. Among biographical data that Rose had prepared for her Region in 1992, she had identified Psalm 89 as most significant to her, specifying verse 33: I will never withdraw my love or fail in my faithfulness.
It seems more an act of Divine graciousness on Rose's behalf than mere coincidence that, today on the Solemnity of St. Joseph, the whole Church is praying Psalm 89.