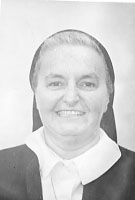 Sister Rose Timothy Galvin, MM
Born: November 21, 1914
Entered: December 8, 1940
Died: November 25, 2002
In today's Gospel, Jesus shows compassion for the woman who, for eighteen years, had been possessed by a spirit that left her enfeebled; bent double and quite unable to stand upright. To me, this reading speaks to us of Sister Rose Timothy Galvin who, throughout her life, dedicated herself very specially to the poor women of the world and joined with them in their struggle to stand up for their rights. After sixty-two years as a Maryknoll Sister, Sister Rose Timothy Galvin died peacefully in our Residential Care Unit on November 25, 2002, at eighty-eight years of age.
Mary Bernardine Galvin was born in Elizabeth, NJ, on November 21, 1914, one of three children, two boys and a girl, to Timothy and Bernardine Kroeschel Galvin. Mary attended St. Michael's Elementary School, Batten High School and then completed a fourteen-month course at Drake Business School in Newark. After graduation, she was employed by the Singer Manufacturing Company as a clerk and stenographer for six years. During this time, she also participated in a group whose goals were to eradicate from society all forms of racism and violence.
Mary entered Maryknoll on December 8, 1940, and at Reception, received the religious name of Sister Rose Timothy, which she retained throughout her life, although many of her friends and co-workers fondly called her Rose T! She made her Final Vows June 30, 1946, at Maryknoll and was then assigned to use her secretarial talents in the Procurator's Office at our Center. Later that year, after a six-month's course at Immaculate Heart College in Los Angeles, Sister Rose Timothy received a certificate in social work and was assigned to Stockton, CA, where she worked in Catholic Social Services as a social worker with migrant workers. Her ministry in Stockton involved counseling in parent-child relationships, guiding those working with children in foster homes and in the institutional placement of children.
Due to her dedication to the poor, Sister Rose Timothy received the Citizen of the Month Award which described her as "the mainstay in the local Catholic Social Service organization" and recognized her "long hours of tireless service for the needy and the distraught."
In 1955, Sister Rose Timothy was assigned to work in the Bolivia/Peru Region where she took up ministry in Montero, a rural town some fifty miles outside the city of Santa Cruz. Sister Rose Timothy spoke of this time as "an opportunity to be of service to poor families and a very good experience."
In 1961, she was transferred to Peru where she spent the next thirty-seven years in mission working primarily in Lima. At first, she worked in the Catholic Charities Office in Lima which offered social services to 3.2 million people. In 1966, she went to live with the poor in Caja de Agua, an urban area on the outskirts of Lima, and through her participation in the people's lives, learned with them to daily struggle for justice. In Caja de Agua, she promoted social-cultural projects such as theater and folklore performances, a library and creative recreation projects. After the earthquake in 1970, Sister Rose Timothy was asked to go to the scene of most destruction, a town called Juarez, and administer a program directed to the rebuilding of this rural area.
All of these experiences led Sister Rose Timothy, along with Sister Rose Dominic Trapasso, her longtime friend and co-worker, to develop a program called "Center for Cultural Promotion, Creativity and Change." The Center has a library service to high school and university students, a documentation service on social problems whose materials serve parishes, students and professionals, and prepares and sells booklets on popular education. Sister Rose Timothy stated that the most important aim of the Center was: "To help the Peruvian woman first become aware of herself as a person, her value as a person and the contribution she can make to her family and society as a result of this awareness."
A strong focus of her work was dedicated to the promotion and liberation of women through an outreach program called "Movimiento El Pozo" to serve poor women who worked in prostitution in order to help them support their children who had been abandoned by their fathers. She stated: "I am a militant in the Peruvian feminist movement and a member of the 'Circle of Christian Feminists' 'Talitha Cumi', which in Hebrew means, 'Women, Arise.'" She describes herself as a feminist "because I couldn't be anything else." Her involvement with women's issues began in the United Sates in the 1940's while working with the migrant workers and noticing that: "Women serve on two fronts: helping with the economy of the family by working in the fields, but then they are also obliged to do all the household duties once they finish their day's work." Sister Rose Timothy readily spoke of "seeing things I hadn't seen before and these unjust conditions bothered me a lot." She experienced women as doubly exploited for being both mother and wife and companion to the man, but, at the same time, having to get out and help economically, too. She saw women being expected to manage these things with little or no help from the men. She stated, in no uncertain terms, "I considered this unjust."
In an interview in 1990 on the occasion of her Golden Jubilee as a Maryknoll Sister, Sister Rose Timothy was asked what period of her missionary life was most satisfying and why? She responded: "Perhaps the last years in Lima have been the most satisfying as they led me to join in the women's struggles. Women have been denied their rights for centuries and need to become aware of this great injustice. Being able to be a part of this movement has given me the energy I need to grow myself and to participate in the growth of others. I have gained so much by my thirty-five years in poor countries."
In an interview in 1997, Sister Rose Timothy shared her feelings regarding the world situation when she stated: "Our world has become dehumanized and we as Christians must provide salt to create a new kind of society – one that will be much more human, a society in which we can rediscover the Christian values that have been lost over the centuries. We must return to an understanding of what life and the human community are all about, to an awareness on a world level that unless we do, we are heading for disaster. I feel compelled, within the small range of possibilities I have, to contribute to this awareness and understanding."
Sister Rose Timothy worked to build this human community by witnessing and working for justice. Her continued commitment to the poor was rooted in and flowed from her experiences before she entered Maryknoll – when she belonged to a group which was against all forms of racism and violence in society – from her social work among migrant workers in Stockton, from her six years of social work to the peoples of Montero, Bolivia and from her thirty-seven years of serving and working with the poor of Peru.
In speaking about what made Sister Rose Timothy's fifty years in Maryknoll worthwhile she stated: "I treasure my association with other Maryknoll women as well as other women with whom I worked in California, Bolivia and Peru because they have contributed so much to make my life worthwhile." Today, we would also like to say that having Sister Rose Timothy as a member of the Maryknoll Sisters has been a gift to us and to mission. She has certainly enriched our lives.
I wish to extend my sincerest condolences to Sister Rose Timothy's family and friends. We welcome you to Maryknoll and we offer you our sincerest sympathy on the death of Sister Rose Timothy.
We know that Sister Rose Timothy's death is a great loss for each of you. We welcome and thank our Maryknoll brother, Father Joseph LaMar, who will preside at this Liturgy of Christian Burial as we thank and praise God for the life of our Sister Rose Timothy Galvin.