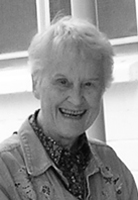 Sister Rosemary Bass, MM
Born: August 19, 1925
Entered: September 6, 1945
Died: March 16, 2014
The words of St. Paul to the Romans seem fitting today as we gather to recall and celebrate the life of our Sister Rosemary Bass: "I consider that the sufferings of this present time are not worth comparing with the glory that is to be revealed to us." (Rom. 8:18)
Just before the Eucharistic celebration in Maryknoll Sisters Home Care 4 Chapel on Sunday, March 16, 2014, God called Sister Rosemary Bass home. She died quietly and peacefully after a period of serious illness. She was 88 years old and had been a Maryknoll Sister for 68 years. For the past several weeks Rosemary had been hospitalized twice and, after her last hospitalization, she was receiving hospice care. Although Rosemary could not speak much at the end, she was grateful for the Sisters who visited her and for the care of the MSHC staff.
Rosemary was born on August 19, 1925 in Detroit, MI. Her parents, Richard H. and Mary O'Donnell Bass, as well as her sister, Shirley Ormsby, and her brother, Clifford, have predeceased her. She has several nieces and nephews, some of whom are with us today.
Rosemary worked at a division of General Motors in Detroit before entering Maryknoll in September 6, 1945.  Rosemary, whose religious name was Sister Joan Richard, made her First Vows at the Motherhouse on March 7, 1948, and her Final Vows on the same date and place in 1951.
She spent her first years in Maryknoll as secretary to Maryknoll Father Charles McCarthy. Rosemary was an excellent secretary and, in later years, she often recalled this time working at the Society with fond memories.  She then studied at Maryknoll Teachers College and graduated in 1958 with a Bachelor of Education degree.  After graduation, she was assigned to Maryknoll School for Japanese in Los Angeles, CA, which began her long mission career as a dedicated and caring teacher.
Rosemary was delighted when she heard she would be going to Japan in 1960. One of the Protestant missionary couples traveling with her and her Sister companion on the ship remained friends for the rest of their lives. Rosemary only had a short period of pastoral experience in Kyoto after language school, before she was assigned to the newly opened Maryknoll Girls' School in Yokkaichi, Mie Prefecture in 1963. She taught English on almost every level in the junior and senior high school, while being homeroom teacher for various classes. Along with classroom teaching, she came in contact children, working people, professional men and women and college students through her outreach classes in the local area.
In 1971, Rosemary was asked to be in charge of the Direct Mail Department at the Center, again using her secretarial skills and her organizing ability. Around this time, her mother became quite incapacitated. Rosemary requested time to do family ministry in Detroit, which she did for the next five years until her mother was admitted to a nursing home in 1981. During this period, she became a member of the Eastern U.S. Region.
After returning to her Japan mission in 1981, Rosemary continued her educational ministry at Sophia University in Tokyo teaching ESL (English as a Second Language) classes until 1991. She then taught at Sophia Community College until 1996. She also began ESL classes on a part time basis at Seisen Women's University in Tokyo. Rosemary enjoyed her contact with the young people and participated in many of their extra curricula activities. She also served as a counselor to individual students.  Rosemary was deeply concerned about social issues and took part in various events, campaigns and marches with Justice and Peace groups in Tokyo. As the migrant population increased in Japan, Rosemary and other Sisters began to assist the international community at St. Ignatius Church in Yotsuya, Tokyo every Sunday after Mass. She especially befriended several couples who faced various cultural adjustments in their international marriage.
Rosemary moved to Kyoto in 1994 and continued her ministry there with the migrant Filipino community at various churches. This ministry became the highlight of her week. Except for another period of Congregational Service as one of the Main House Coordinators at the Center from 1997 to 2000, Rosemary continued her educational ministry with small groups in Kyoto until the house in Matsugasaki, Kyoto was closed in 2008. She had become close friends with many of the women she taught. The baptism of a long-time student of hers was an especially moving moment for Rosemary and many of the other Sisters. Rosemary was known for her faithful communication with family, friends and Sisters throughout the years.
Rosemary retired at Monrovia in 2009 and participated fully in community activities there, until declining health necessitated her return to the Center Eden Community where she remained until her death. For her prayer ministry during this time, Rosemary had taken Maryknoll vocations.
We welcome and thank our Maryknoll brother Father Emile Dumas who will celebrate this Liturgy of Christian burial.