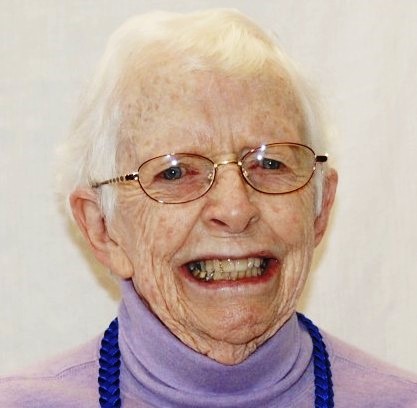 Sisters Rosemary Garrity, MM
Born: January 10, 1924
Entered: October 5, 1946
Died: September 9, 2018
Our Sister Rosemary Garrity went to God around 10:30 p.m. on September 9, 2018 in Residential Care at the Maryknoll Sisters Center. She was 94 years old and had been a Maryknoll Sister for 71 years.
Among Sister Rosemary Garrity's notes was this lovely Aztec prayer:
"Oh, only for a short time you have lent us to each other, because even a drawing cut in obsidian fades, and the green feathers of the quetzal bird lose their color, and even the sounds of the waterfall die out in the dry season, so we, too, because only for a short while have you loaned us to each other."
Rosemary Ann Garrity was born on January 10, 1924, in Waterbury, Connecticut to Margaret Nash Garrity and Frank Garrity who raised a family of six children. Thomas, the firstborn, became a Maryknoll priest. Following him were John, Rosemary, Rita, Joseph, and William. The Garritys belonged to Immaculate Conception parish in Waterbury, Connecticut in the Hartford diocese. Rosemary enrolled in the commercial program at Waterbury Catholic High School and graduated in 1941. She put her commercial skills to work at the American Brass Company in Waterbury. On October 5, 1946, three months after her brother Thomas was ordained a Maryknoll Father, Rosemary entered the Maryknoll Sisters at the motherhouse in Ossining, New York. At her reception on April 6, 1947 she received the name Sister Mary Thomas Aquinas; a name she never felt fit her. (Fourteen years later she wrote to Sister Mary Mercy asking to simplify her religious name to Sister Mary Thomas, since the Sister who had formerly borne that name had recently died.) Rosemary made her First Vows at the Maryknoll Motherhouse on April 6, 1949. She then joined other Maryknoll Sisters helping produce and mail out <em>The Field Afar</em> (<em>Maryknoll</em>) magazine. A year after making her first vows, Rosemary's family suffered a terrible loss, the death of 18-year old William by drowning. Early in her adult life, Rosemary suffered losses that enabled her to empathize with people she would serve throughout her mission life.
In the first letter to the Maryknoll Sisters in 1943, Rosemary wrote: "I am interested in the Maryknoll nuns…I assume that this order is a missionary order and therefore, rather than teach, these nuns must perform social service duties. Am I correct? I have only a commercial high school education."
In 1951 Rosemary was missioned to Mexico. There she made her Final Vows on April 6, 1952. Her commercial education and experience was just what was needed at Rogers Hall, in Merida, Yucatan, Mexico, Maryknoll's newly opened school for girls. Rosemary was an expert teacher of secretarial skills and English. She grew to love the Mayan people and culture of Merida and her community of Maryknoll Sisters, where she was generous to a fault.
After 13 years of teaching teenage girls, Rosemary faced a new challenge when in 1965 she was assigned to open a school in the nearby Maryknoll Fathers' parish. She later wrote: "On September 2 Sister María Francisca (Silvia Pacheco) and I opened a new school in the parish of San Sebastian with three grades and a record enrollment of 150."
Rosemary returned to Maryknoll in 1968 and enrolled in Mary Rogers College, earning an Associate of Arts degree in 1970, and a Bachelor of Arts degree in Community Organization in 1972. Rosemary then enrolled at Catholic University in Washington, D.C. where she earned her Master's degree in Social Work in 1973. She then returned to Mexico. This time she was assigned to Mexico City to the area of Cerro de Judío home to a population of 75,000 where Rosemary came to know Mexico's teeming urban reality. She joined a Jesuit-led parish team which attended to a variety of pastoral and social needs of the parishioners. Rosemary lived with a community of Mexican Sisters and found her experience enriching. She wrote: "I endeavored to live community life with them and to take on some of their values, many times more Christian than mine."
Five years later she joined the Maryknoll Sisters in Copilco, Mexico City where she continued to do social work and led several bible study groups. Heeding the call from the Maryknoll Sisters' Center for volunteers to come to do promotion and fundraising, Rosemary returned to the United States in the fall of 1982. For the next three years she enthusiastically shared her rich experience in Mexico with American Catholics.
In 1986 Rosemary encountered a new culture when she accepted an invitation from Maryknoll Sisters in Guatemala to join them in Mezquital, located on the outskirts of Guatemala City. There she established a Social Service Center which focused on the needs of families, especially women and opened a literacy program for women, many of whom didn't speak Spanish. In the evenings she led bible study groups and helped develop small Basic Christian Communities.
Eight years later Rosemary returned to Mexico, this time to Oaxaca, where the majority of the population was of the Zapotec culture. There her wealth of experience in social work, pastoral care and in bible study groups was a great asset to the team composed of Maryknoll Sisters and Lay Missioners.
Rosemary's brother, Maryknoll Father Thomas Garrity, had been in Peru his entire missionary life. In December 2000, at the age of 80, he returned to Maryknoll. Rosemary was concerned about her brother and wanted to be of help to him. Now 78, Rosemary decided it was time for her also to leave her mission work in Mexico, and asked to be assigned to the Rogers Community at Maryknoll, New York "to be available to my brother." After Fr. Tom died in September 2005, Rosemary volunteered her services to the Maryknoll Sisters' Center Eden Community Pastoral Care team.
In 2011, she requested to join the Chi Rho community where, although "retired", she generously contributed wherever she could. Rosemary was assigned to the Eden community in 2016 where she died. Ever the generous woman, Rosemary donated her body to science.
We are happy to welcome with us today many members of Sister Rosemary's devoted family. We also welcome our Maryknoll brother, Father Gerald Persha who will preside at this Memorial liturgy.