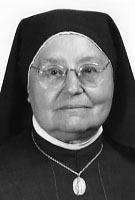 Sister Rosita Hanak, MM
Born: July 2, 1915
Entered: December 8, 1937
Died: October 27, 1994
Today, All Souls' Day, we celebrate the Liturgy of the Resurrection for Sr. Rosita Hanak, who lived 79 years of fidelity to God through her own unique ways of doing mission. She spent 57 of these years in Maryknoll. Sr. Rosita died in our Residential Care Facility at 1:10 pm on October 27th, also Mother Mary Joseph's 112th birthday.
Sr. Rosita was one of the Maryknoll Sisters who never had overseas mission experience. As a novice, she understood that "she may never leave this motherhouse" and yet promised to do whatever is given to her to do as well as she possibly could. Reflecting on the totality of her life, I sensed a depth of commitment to mission which she lived out mostly here at the Center. From this Motherhouse, she reached out to people in need in Westchester County. She was called "the pilgrim of Ossining" and "the missioner of Westchester County".
To many of our Maryknoll Sisters, Sr. Rosita was known for her generosity, for her faithfulness to duty, childlike simplicity, and a keen sense of God's presence in her life. She was quiet, simple, and prayerful. Being with her gave a sense of being with a holy person. One of her friends shared that on All Saints' Day, when looking at a glass-stained window, she said that "a saint lets God's light shine through". All her life, Sr. Rosita let God's light shine through. She reminded us of a quality which Mother Mary Joseph used to describe a Maryknoll Sister: "limpid simplicity of soul".
Mary Pauline Theresa was one of five children, two sons and three daughters. Pauline Theresa was born on July 2, 1915 in Brooklyn, New York to Anne Katherine Martiska from Austria and Paul Hanak from Hungary. The family moved to Union City, New Jersey when Pauline was a small girl and attended St. Joseph and Michael Church in the Newark Diocese. She graduated from the former St. Joseph Parochial School and after two additional years of study, she worked as a finisher in a local pen factory until she entered Maryknoll on December 8, 1937.
At 22, she came "to serve God and to save souls". She was happy at Maryknoll and was professed on June 30, 1940. Then she was assigned to the Seminary kitchen. As she was preparing for her First Profession, she wrote that her ideal Maryknoll Sister is one who is:
"characterized by a joyful generosity. It is easy to be joyfully generous when all goes well, but when things go wrong is when the real test comes. To be generous one must first learn to be obedient, to be generous and faithful in sorrow, what perfect conformity to the will of God. Without this selflessness and generosity, we will never win souls to Christ. To be generous means to give ourselves completely, not minding inconveniences, food or climate, to get accustomed to what the people do and not to get them to get accustomed to what we like personally, in general to be one with the people… After being generous, a Maryknoll Sister must be holy… this holiness radiates to all around like a magnet… souls are drawn to Christ."
Sr. Rosita made her Final Vows on June 30, 1943. In the years that followed, Sr. Rosita worked at the College kitchen in the Venard, Clarks Summit, Pennsylvania for 14 years until 1957. Her next assignment was to be in charge of the Seminary pantry at St. Teresa's for 6 years followed by work in the Motherhouse sewing room. In 1964, she was assigned to Boston Chinatown to join the community of 4 Sisters and help in our mission to the Chinese immigrant population there. Two years later, she was back in Bethany where our elderly Maryknoll Sisters lived at the time as Refectorian. Then in 1973, she was back at the Motherhouse doing portress duty and other needed household tasks. She stayed here doing work in the Mailroom and helping Sr. Anne Cecilia Balberis in the bakery until an illness struck in January, 1993.
Besides all of these supportive services which Sr. Rosita did for us here at the Center, she did remarkable work in visiting nursing home patients for more than 20 years in Westchester County. In 1986, when asked to write something about her ministry, she wrote:
"I work 4 days a week, 2 hours in the bakery and the rest of these days in the mailroom. Wednesday and Saturday, I visit most of the Nursing Homes in Westchester County, about 25 of them, about 6 a week. I go by bus or buses. I have done this since 1971 when the long-term sick at Grasslands were moved to Nursing Homes. I go as far as Yonkers, New Rochelle, Mt. Vernon, and the other direction, Peekskill, Cortlandt, and Lake Mohegan and many in between, there are 4 Nursing Homes in Ossining. Sr. Corazon comes with me mostly on Sunday afternoons to friends in Ossining and Briarcliff or Nursing Homes and a few hospitals. May the good Lord give us the strength and love to continue to cherish the poor and lonely."
The trips that went with these visits did not go unnoticed. Sometimes, it was the taxi drivers that gave her free rides or one of our Maryknoll Sisters who saw her as she made her rounds to the nursing home facilities and hospitals. Her photo appeared in a local paper, The Daily Item of Portchester, New York on October 17, 1975 entitled "Autumn Pause". It showed Sr. Rosita in her gray habit and veil pausing "during an Indian summer walk to pick some colored leaves along route 133 at route 9A in Ossining". The photo was taken by staff member Howie Swetz.
On two separate occasions, Sr. Rosita was one of those who received a Service Award at Cedarwood Hall, Westchester County Medical Center. In 1985, she attended an Annual ceremony that recognized the valued services of volunteers who "add that special touch". She was awarded for having contributed 802 hours over 15 years. In 1987, she received the 20-year pin Award from the Medical Center. Much earlier in 1978, the Maryknoll Sisters Senior Region Newsletter ran an article about the "five Sisters from the Center who are involved with feeding patients at Grasslands County Hospital who were honored at the Annual Volunteers' Luncheon." Sr. Rosita was one of them along with Sisters Philippa Keough, Agnes Devlin, Brigid Collins, Luella Veil and Anne Cecilia Balberis. It also noted that Gerry Twigg, a "Maryknoll Lay Missioner who attended the Assembly" was a nurse at Grasslands in the late '60s and received her desire to be a missioner after meeting our Sister volunteers at Grasslands."
Sr. Rosita's thoughtfulness was not limited to visiting her friends in Nursing Homes and hospitals. She maintained contact with these friends. She remembered their birthdays and followed through 4 generations of some of our nearby neighbors here in Ossining and Newcastle. Before she died, Sr. Rosita almost finished addressing her Christmas mail. This thoughtfulness is also shared with our own Maryknoll Sisters. Among others, she has maintained good communication with many past Central Governing Boards. In her usual candor, Sr. Rosita wrote to Claudette after Marlene and she met with a group of our older Sisters for the traditional CGB visit. She said, "I hate meetings, so much wasted time, yours yesterday was like a retreat and we responded like it was a retreat." She ended that note with: "please continue to pray for me … it is not fitting to be so sensitive under a thorn-crowned head".
Sr. Rosita went about her mission in a faithful way. She continued to pray, to visit the sick and lonely, to remember Sisters and other friends through September, 1994. On October 5, 1994, she was admitted to Phelps Memorial Hospital Center in North Tarrytown, New York. I visited her a few days after she was admitted to the ICU and looking back, I was touched by her other-centeredness. Seeing me, she remarked that there is a Filipina nurse working in Phelps in that Unit and she asked the nurse in attendance for her name. Being a Filipina, I was touched by her thoughtfulness. This fits with the memories shared by Sr. Elizabeth Britz, her entrance group that Sr. Rosita constantly made efforts to unify their group. Days later, she was transferred to Montefiore Hospital in New York City. When the decision was made that her condition would not improve, Sr. Mary Rosita asked to "come home to Maryknoll". She was brought home on October 26th and the next day she died peacefully.
We welcome Sr. Rosita's family and friends. We also welcome our Maryknoll brother, Fr. Joseph Towle, M.M. who will lead us in the liturgical celebration for Sr. Rosita. Let us thank God for Sister Rosita, our gentle sister and bridge-builder who through her gentleness and generosity has become a unifying presence for us today. Let us pray in appreciation of her life which showed us Jesus' words:
"This is the will of the Father, that everyone who looks upon the Son and believes in Him shall have Eternal Life." (John 6:40)