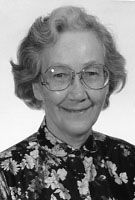 Sister Ruth Evans, MM
Born: August 30, 1919
Entered: September 7, 1943
Died: May 1, 2009
Regarding the day of her death, Sister Ruth Evans, quoting Sojourner Truth said, "I am going home like a shooting star." Sister Ruth went home like a shooting star in Maryknoll Residential Care IV, on May 1, 2009. It was the Feast of St. Joseph the Worker, a most fitting day for one who had so often described with admiration the people, with whom she spent fifty years of her adult life, as the hard working people of Hong Kong. Sister Ruth was 89 years old and had been a Maryknoll Sister for 65 years. Her parents were Richard Taylor Evans, and Marian (Macgown) Evans. She had a brother William and two sisters, Sister Margaret Therese, SND, and Mary Vorwerk.
Sister Ruth left with us an account of her life which she wanted read at her funeral. This is what she wrote:
"I was born [August 30, 1919] in Beidaihe, a summer resort situated just south of the Great Wall of China. On clear days we could see the wall as it meanders along the Shanhaigwan Mountain Range. The best way to describe Beidaihe is to say that it is a bit of heaven dropped on to the coast of North China. It was my privilege to spend my summers in this idyllic spot. From my earliest years I appreciated the beauty all around me. There were no Catholic churches in Beidaihe; therefore I was baptized in the French Cathedral in Tianjin, on October 13, previously my feast day.
"My father went to China in 1908 at the invitation of Beiyang University that wished to start a Department in International Law. My father taught for some years and then started his own law practice in Tianjin. He had a Chinese partner, Mr. Chou; their help was mutual. My father practiced the corporal works of mercy throughout his life. This love of people filled him with enthusiasm and joy; he reached out to help anyone in trouble. We also opened the doors of our Tianjin home to many a person in need of sheltering.
'My mother also went to China in 1908, as a Protestant missionary under the auspices of the American Board Missionary Society (Congregationalist). I could, therefore, rejoice in the title "mish kid" as I was the daughter of a missionary. My parents met in China and were married in 1912. I was the third daughter and was followed by a twin brother and sister, a brother and my sister, Nora. I pay tribute to my mother in her total commitment to mission. My friends in both Tianjin and Beidaihe were, for the most part "mish kids" like myself. I joined them in church services and Sunday school while retaining my fidelity to the Catholic Church. I suppose I was ecumenical before my time. Anyway, I claim a Protestant heritage which is very precious. As a family we went to Mass on Sunday in the Jesuit Church, which Teilhard de Chardin made his headquarters when in Tianjin. We chose other services when in Beidaihe.
"I was very happy growing up in China, my summers spent in the glory of Beidaihe, and my winters in Tianjin. I experienced the love and nurturing of a close knit family. Would that all the children of the world could know an upbringing of such loving care! My one disappointment was that I had very few Chinese friends. Therefore, I applied to Yenching University, (now Beijing University) and was accepted. For two blissful years (1937-1939) I was at Yenching. I received a fine education and made friends among the women students. My years at Yenching deepened my love for the land of my birth; my Chinese heritage became increasingly precious to me.
"In the summer of 1939 I left China and my loving family, sure that my heart would break, but somehow I stayed 'glued together.' The whole experience of leaving was a great culture shock. I completed my college education at the University of California at Berkeley, and two years later (1943) I entered Maryknoll. Of all my rich heritages it is Maryknoll which is the most precious and means the most to me. It is a miracle that I am a Maryknoll Sister. This is my greatest and deepest love. For this gift of my vocation I am profoundly grateful." This concludes Sister's personal reflections on her life.
At her reception in 1944 Sister Ruth received the religious name, Sister Margaret Veronica. She pronounced her First Vows at Maryknoll, New York on March 7, 1946, and was assigned to Hong Kong in August of the same year. She made her Final Vows in Hong Kong in 1949. For her first ten years in Hong Kong, Sister taught at Maryknoll Convent School in Kowloon and at Maryknoll Sisters School on Hong Kong Island where in 1959 she served as assistant principal of the Primary Section. In 1961, Sister Ruth launched a Chinese primary school, Our Lady of China Primary School, in the Kwun Tong area of Kowloon. The Chinese characters for the name of the school more accurately translate as God Bless this Chinese Primary School. In 1973, Sister Ruth came to Maryknoll, New York, for Congregational Service. Having completed her Congregational Service, she returned to Hong Kong where she was assigned to the Chinese University as Directress of the women's section of the Adam Schall Hostel for students.
In 1980 Sister began working with elderly Chinese women in the village of Dragon Stream. In the winter of 1983 she joined the Sisters at the Ying Shui Home for the Elderly in Yuen Long, and remained there until her retirement. It was with the elderly, Sister Ruth said, that she became increasingly aware of the depth of Chinese spirituality as expressed in China's language, customs and culture. She considered this, "one of the joys of missioners as they grow into ever deeper knowledge of the countries which become their second home."
Sister retired at Monrovia in 1998. When she returned to the Maryknoll Center in New York in the year 2000, she took China, Hong Kong and Macau for her Prayer Ministry. In 2001, she asked to add Tibet to that group. In order to care better for her health needs, Sister was transferred to Maryknoll Residential Care in 2003.
We gather today to say good bye to a missioner who indeed loved, with a very special love, the people she had been called to serve, a people whose special gifts she admired deeply, and who held a special fascination for her from the time she was a child until her death.
We offer condolences to Sister Ruth's family and friends.
We welcome and are grateful to our Maryknoll brother, Father Larry Lewis, who will preside at this Liturgy of Christian burial.