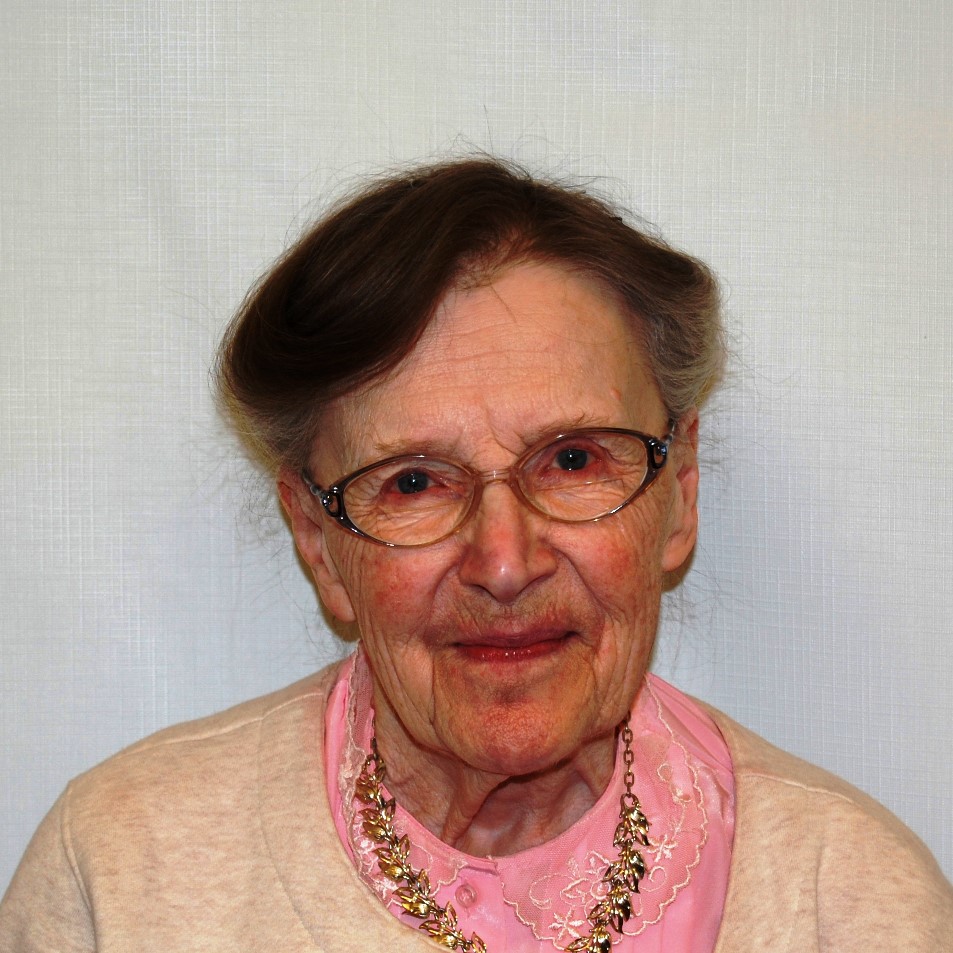 Sister Ruth Marie O'Donnell, MM
Born: August 20, 1927
Entered: September 10, 1951
Died: February 25, 2023
As several sisters finished the last "Hail Mary" of the rosary, Sister Ruth Marie O'Donnell peacefully returned to the God she served faithfully all of her life. An hour earlier, Ruth Marie a lover of music, was serenaded with gentle guitar music played by Lee Marvin, who works with the Maryknoll Sisters Integrative Health and with whom she formed a special musical relationship. Ruth Marie was 95 years old.
Ruth Marie was born on August 20, 1927, in Port Arthur, Ontario Canada to Thomas Leonard and Hazel Pauline (Kirwin) O'Donnell. She had two siblings, her brother James and sister Noreen Keefe, who both pre-deceased her. The family parish was St. Patrick's in Fort William. Ruth Marie attended St. Patrick's School from Grade School through High School graduating in 1945. She studied Music at the Toronto Conservatory of Music from 1936-1946. In 1948, Ruth Marie studied Pharmacy at the Ontario College of Pharmacy in Toronto, graduating in 1950.
Ruth Marie entered the Maryknoll Sisters on September 10, 1951, and on March 7, 1954, she made her first profession of vows at Maryknoll, New York. After her first profession of vows, Ruth Marie was assigned to St. Anthony's School in the Bronx where she taught 7th grade. A year later, she was assigned to Maryknoll High School in Honolulu where she taught Chemistry, Physics, Biology, and Religion from 1955-1958. Then in 1958, Ruth Marie was assigned to Hong Kong where she taught at the Maryknoll Primary School. At the opening of Our Lady of Maryknoll Hospital in Wong Tai Sin, Ruth Marie served as the Pharmacist. Besides filling prescriptions for the patients, she spent hours opening and classifying sample medicines in order to save costs for both the patients and the hospital. Often, she would get all the Sisters and the Legion of Mary girls sorting out donated medicines with her. Ruth Marie would go out into the Out Patient waiting room to distribute vitamins and minerals to poor refugees from China. This gave her the chance to carry on a wonderful conversation with them. By the time she left them, everyone in the waiting room would be smiling and laughing.
On March 7, 1960, Ruth Marie made her final profession of vows in Hong Kong where she worked until she returned to Maryknoll in 1969 and was assigned to Bethany, which at that time was the retirement home for the Maryknoll Sisters.
In 1973, Ruth Marie went to Boston Chinatown where she began twenty years of service to the residents of Chinatown where she became a "Jack/Jill of all trades" serving any and all needs of the residents of the area. During this time, she also held positions as recording secretary of the Chinese-American Civic Association (CACA); a Board member of the South Core YMCA, and joined the CACA Multi-Service Advisory Community and Adult Education Community. She was also a Charter member of the Pagoda Park Recreational Development Group and the Administrator of the Maryknoll Boston Chinatown Center. There, Sr. Ruth Marie offered English classes and other services to migrants, hoping to aid their transition to citizenship in the United States. In 1987, Ruth Marie involved herself in a Bio-Safety Committee at Tufts University working with recombinant DNA. She stayed in Boston until 1992. From February through December 1992, she did family ministry in Canada.
Ruth Marie retired to Monrovia, California, in 1993 and returned to Maryknoll Sisters Center in New York one year later. At the Center, she taught piano and did volunteer pastoral work with Hispanics at St. Anne's Parish in Ossining, New York. To help her with this ministry, she went to Bolivia to learn some Spanish. In Bolivia she avoided robbery by telling the perpetrator that she did not speak Spanish, only Chinese! Ruth Marie was blessed with the language of love.
She moved from the Rogers Community to the Main House Community on June 9, 2000, becoming a member of the Chi-Rho Community in 2002. As her health declined, she moved to Eden Community on June 1, 2018. Ruth Marie contributed her love and prayers to her beloved Maryknoll as she moved through these various stages of retirement communities until her death on February 25, 2023. To the end, she maintained her elegance and gentleness.
We thank our brother, Maryknoll Father Michael Walsh, M.M. who is presiding in this mass of Christian Burial for Sr. Ruth Marie.